Different standard voltage, different connection types, different power outlets…
Home charging your Model 3 in the UK isn't the same as it's in the United States.
While most of the resources on the internet are dedicated to the US audience, I've compiled this buying guide specifically for the UK Model 3 owners.
So for the UK-based Model 3 folks like you, I visited forums, watched YouTube videos, and even read the UK government's Electric Vehicle Homecharge Scheme to educate you on the subject matter and find the best Model 3 home chargers that'll make your charging process far easier.
If that sounds interesting, let's start with the best products that actual UK owners recommended.
Best Tesla Model 3 Home Chargers in the UK
1. Best Tesla Model 3 Home Charger UK Overall: Tesla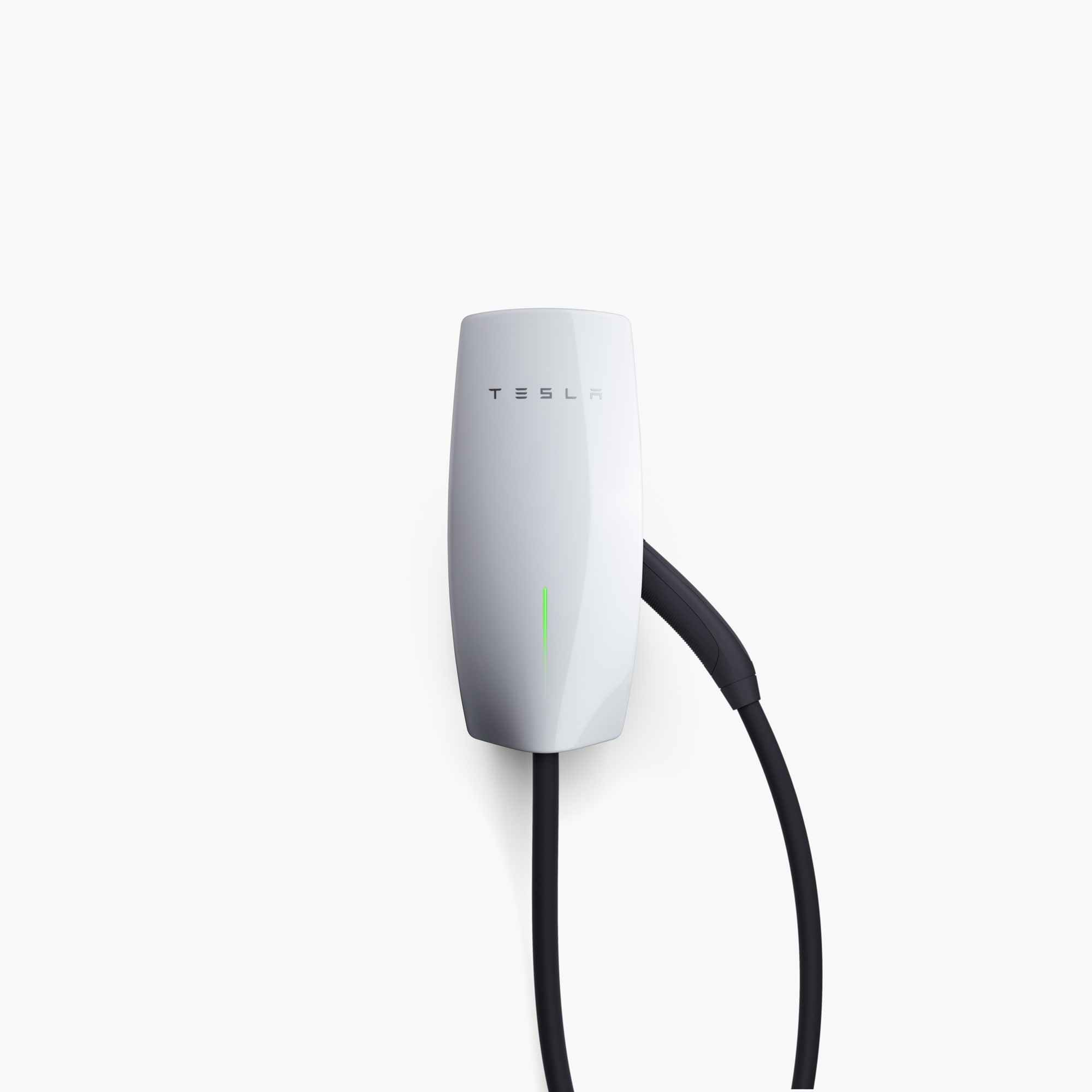 Key Specifications:
Voltage: Nominal 200–240 V AC single-phase
Power: @ max amps. Power output is 11.5 kW.
Length of the Cable: 8.5′ or 18′
Protection Degree: Type 3R
I agree with you.
Some aftermarket chargers (reviewed next) are better than the Tesla home charger in terms of performance and budget.
Still, it's my first choice. Why? For starters, it's an OEM product that is installed and set up by a Tesla-verified technician. Thus, getting it right is more of Tesla's headache than it is yours.
Second, my garage's look will only be completed with my Tesla being charged by the Tesla charger. This is subjective, though. You might disagree with me.
And finally, the Tesla home charger is now equipped with Gen 3 features, such as smart Wi-Fi, being manageable through the Tesla app, and many more.
But for owners based in the UK, you'll be disappointed to know that the Tesla wall connector doesn't qualify for the OZEV grant. This means you'll be covering the installation yourself, which can cost anywhere near $1000.
If you are a Tesla fan and prefer OEM products that do a great job, the Tesla wall connector is all you need.
While researching though, I read a TMC thread that talked about some issues they faced while installing or right after installing the Tesla home charger.
Apparently, setting it up and connecting it to Wi-Fi is a hard row to hoe. Here's what an owner said:
It took me ages to get it to connect to its wifi and set it up. Follow the instructions and be patient. I had to keep swiping down and refreshing on my Safari browser until it connected.

Once it finally connected I could set it up on my home wifi and then choose the amperage. I haven't had to touch it since.

Undecided_2
So persevere and it'll work. There's no exact reason why this happens, but most of the owners seem to face it.
The solution is to follow the installation guidelines properly, and you'll eventually be able to get it going.
To summarize, even though the Tesla wall connector is a bit expensive, the perks it comes with can't be denied. It is durable, performs great, and looks exquisite. What more do you need?
PROS
✅ You can get installation services directly from Tesla
✅ Rock-solid build quality
✅ Manageable through the Tesla app
✅ Sleek design
CONS
❌ Not eligible for OZEV grant
❌ Expensive
2. Runner-Up Tesla Model 3 Home Charger UK: Rolec
Key Specifications:
Voltage: 16A 230V AC/50Hz (single phase), 32A 230V AC/50Hz (single phase)
Plug/Socket/Connection Type: Tethered
Power: 3.6kW (16A) 7.2kW (32A)
Length of the Cable: 5 m (approx. 4.5 m external), 10 m (approx. 9.5 m external)
Protection Degree: IP rated and UV stabilized
The Rolec Wallpod isn't cheaper either, but I'm inclined to give this home charger the runner-up position because of its awesome offerings.
Such as?
Well, let's see… I found it to be the best smart home charger for EVs that can be linked to a solar panel setup, hence providing zero-carbon and zero-cost solar charging.
It's kind of like an investment into the future that'll save you from some hefty electricity bills.
And combine it with the OZEV grant, you'll also be saving a lot of installment cost too.
So if you want a reliable, sophisticated, and economical home charger for your Model 3 in the UK, this is the way to go.
Speaking of reliability, here are some comments from real-life Tesla owners about the Rolec Wallpod:
In regards to reliability, I had mine installed in Sep last year and had been working fine up until a month or so ago. Had it repaired a few weeks back as the rcbo kept tripping, worked ok for a week or so and now doing the same thing. Currently using 3 pins which is far from ideal!

Christiez
My Rolec experience so far FWIW – No noise whatsoever when charging. A clonk when it starts to charge and a clonk when it stops. Mine is fixed to the side of my house and therefore the clonk is noticeable compared to say, having it on a garage wall for instance but because I use the nightly off peak electricity tariff (00:30 – 04:30) it doesn't bother me. I've had the unit 6 months with no issues

Keeper
We've established that this charger works great with these comments, but there's a downside mentioned too if you didn't notice, i.e. the clonk.
Now it was pointed out in a forum discussion that a clonk is heard when it starts charging and when it's done. The clonk is loud enough to wake you up if you're a light sleeper.
Another issue that a few owners faced was related to the internal breaker. The good news is that Rolec will replace it with no questions whatsoever.
To summarize, the overall value beats a few downsides. With the OZEV grant, it won't break your bank too. If you're not willing to get the Tesla home charger, I'd encourage you to go for this one.
PROS
✅ Zero-carbon, zero-cost solar charging
✅ Effective and efficient
✅ Eligible for OZEV grant
✅ Economical
CONS
❌ A loud, annoying clonk is heard while connecting and disconnecting the charger
3. Alternative Choice to Rolec: MyEnergi Zappi
Key Specifications:
Voltage: 230V AC single-phase or 400V AC three-phase (+/- 10%)
Plug Type: Tethered
Power: 7 kW (1-ph) or 22 kW (3-ph)
Length of the Cable: 6.5 m
Protection Degree: IP65 Weatherproof
Just like the Rolec, MyEnergi also believes in greener technology, and their Zappi home charger is just one example.
With a solar panel setup, you can get your Model 3 charged free of cost while looking out for your environment.
But this isn't the only thing that makes this home charger excellent.
Per my research, customers from the Tesla community have been really satisfied with their purchase — except that a few weren't really a fan of their ECO+ mode.
It came to my attention that a good number of owners complained about the ECO+ mode that it keeps connecting and disconnecting the charger. This came out to be the reason:
There are small differences between modes I think

– Eco + will always charge at a minimum of 1.4kw, pulling from the grid if needed to do so, but using excess from solar if there is some

– Eco ++ will only charge using excess once above 1.4kw, unless boosting

the fast mode would have pulled the full 7kw until hitting the car's desired charge limit

Mrklaw
What this means is that the ECO+ mode will only work if your grid is supplying enough power. Otherwise, it'll disconnect. So on cloudy days, I believe you'll have to use it on ECO mode or just as a fast charger (both work perfectly).
Apart from that, I couldn't find any major downside to this smart home charger for the Model 3.
Did I say smart? Well, it means you might also be eligible for an OZEV grant if you get Zappi installed. With the installation cost down, I believe this deal is an absolute steal.
PROS
✅ Greenest home charger on the block
✅ ECO+ mode boosts charging
✅ Quite efficient
✅ Eligible for OZEV grant
CONS
❌ ECO+ mode can be troublesome
Charging at Home Quick Start Guide
If you're a first-timer, getting your electric vehicle charged at home can be quite confusing.
What to do? What not to do? A small mistake and you're banging your head in a wall… GODDAMNIT.
Well, save yourself from all the distress; just read the ABCs of this process below and I promise you'll be just fine.
First Thing First: Are You Eligible for the OZEV Grant?
This is the single most important thing for UK Model 3 owners as the OZEV grant can reduce your EV charger's cost by £350.
The redesigned Electric Vehicle Homecharge Scheme (EVHS) is now known as the EV Chargepoint Grant and is available to:
Those who live in apartments or flats
People who live in rented housing (flats and single-use properties)
Social housing providers and landlords
Please be aware that, as of March 30, 2022, EVHS grant money will no longer be available to owners of single-unit accommodations such as bungalows or terraced houses.
How to Get Your Home Charger Up and Running
Jordan from the Artisan Electrics YouTube channel is an experienced electrician and a master of electric vehicle charging stations from the UK.
In the following video, he explains 10 must-knows that you can't miss if you're going to install a charging station at your home:
Time stamps:
00:00 START
00:27 What size is your main cutout fuse?
05:02 Do you have a looped service?
06:22 How do you find your MPAN (Meter Point Administration Number)?
07:20 Do you have main bonding to the gas and water?
10:20 Is there space in the existing consumer unit?
12:45 What if you have no space in the existing consumer unit?
13:56 Where do you want the charge point to be located?
16:08 What is the cable route from the consumer unit to the charge point?
18:00 What charge speed do you need?
20:21 What functions do you need with the charge point?
22:45 What brand, type, color, and finish do you want?
Just go through this YouTube video and you'll be able to get your charging station up and running in no time.
Charging Time: How Long Does It Take to Charge a Tesla Model 3?
The time required to charge your Tesla Model 3 depends on the electricity supply your household has, i.e. is it single-phase or three-phase?
Most UK residences have single-phase electrical supplies that use alternating current (AC) power, in which the voltage and current flow change magnitude and direction cyclically, often 50 to 60 times per second.
Although some home EV charge stations can deliver up to 22 kW, single-phase supply will limit the charge point's output to a maximum of 7.4 kW, which is more than enough to charge your EV overnight.
Theoretically, it'll get your battery fully charged in eight hours. However, variables like the charger's power output may affect this time positively or negatively.
If you'd like to upgrade your home to a three-phase supply, just get in touch with your local distribution network operator (DNO) and they'll be more than happy to assist.
Of course, this will result in the charge time getting cut in half as your charger will use the whole 22 kW now, given that your EV is capable of handling it.
Charging Cost: How Much Will Charging My Tesla Cost?
The charging cost for your Tesla can't be estimated accurately as a number of factors come into play, including energy tariff, EV efficiency, the power required to convert from AC to DC, and many more.
So instead of making my own assumptions, here is a case study from Pod Point that calculated the Model 3 charging costs almost accurately:
5 Crazy Useful Tesla Tips and Tricks Few Owners Know About
These 5 rare tips can save you so much time and stress – and few owners know about them (even after years of ownership). Sign up below to learn more. It's free!
By subscribing, you agree to get emails from TeslaTuneUp. We'll respect your privacy and you can unsubscribe any time.
Final Thoughts: Best Home Charger for Tesla Model 3 UK
That was all you needed to know about the Tesla Model 3 home chargers in the UK.
If you didn't notice, I only shared three products with you that, in my opinion, are market-leading as of this writing.
Ultimately, I'd recommend you to go with the Tesla Wall Connector only if you can manage the cost.
Otherwise, Rolec and Zappi are equally good options with a few downsides but plenty of upsides.
Whatever home charger you choose for your Model 3, make sure you go through the setup basics so that you don't hit a blind alley while getting the station up and running.
Muhammad Hassan
Engineer by trade and writer by passion, Hassan is an automotive enthusiast who thinks EVs are the future. At TTU, he discusses the coolest features and products Model 3 owners look for -- so they can better experience their cars. In his free time, he enjoys tea, reading, and listening to podcasts.
5 Crazy Useful Tesla Tips and Tricks Few Owners Know About
These 5 rare tips can save you so much time and stress – and few owners know about them (even after years of ownership). Sign up below to learn more. It's free!
By subscribing, you agree to get emails from TeslaTuneUp. We'll respect your privacy and you can unsubscribe any time.