Why is Betty so dirty? I think she needs a quick shower! 
WHAT? You thought I was referring to "someone"? Hell no! You seem flat-footed regarding this enthralling National Name Your Car Day Survey.
According to this survey, almost 40 percent of owners name their vehicles. And since "Betty and Betsy" are the most widely used car names, there's a good chance you'll sit next to them (i.e., Betty or Betsy) the next time you brake at a traffic light.
Why do we name our cars? Most of us name our personal belongings and stuff to identify them as ours. Unless you paint it on your car's body or obtain a personalized license plate, there is usually no mechanism for "officially" assigning a name to your vehicle.
This was all about ordinary car owners, but for the owners of mighty Tesla, things are way special! Because you can "formally" name your Tesla (all models) by following a few basic steps that are as easy as shooting fish in a barrel.
Yes, you heard it right! Tesla, with its awe-inspiring tech solutions, has not only made it possible for owners to name their Tesla formally but also made it quite handy for people to keep track of services and notifications in case they have multiple Teslas.
Without any further ado, let's get into the flesh and bones of this subject and see how you can assign a fun name to your Tesla
How to Name Your Tesla Model 3/Y in 2022?
As claimed earlier, the process of naming your Tesla is quite straightforward. Coming up with an appropriate name for your Tesla might be more arduous than programming it later after you have it.
And after you have completely followed the procedure, this name will be displayed not just in the "About Your Tesla" area on your car's touchscreen but also on the Tesla mobile app.
The procedure for naming your Tesla is the same regardless of what model you own ( Y, 3, X, or S). So without lagging further, let's name your Tesla now:
Sit in your car as it's necessary to be in your Tesla to name it; you can't do it from the Tesla app.
Tap the car icon along the bottom nav on your Tesla touchscreen and tap "Software."
The software section briefs you about some relevant info about your Tesla like the type of hardware used in your Tesla, subscription packages you are using (like Premium Connectivity or Full Self Driving), and your Tesla's current software version.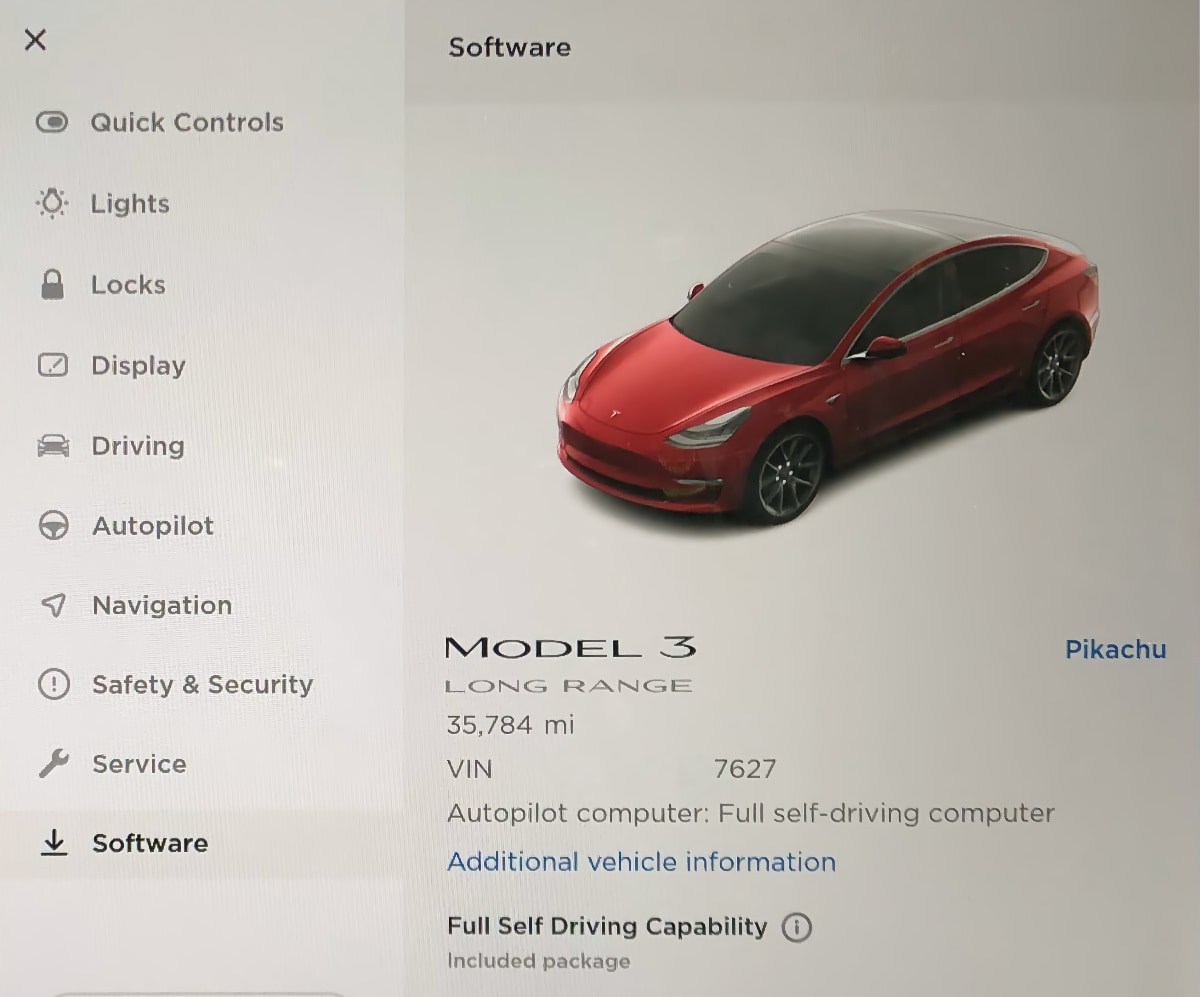 Under your Tesla's photo in this section, you'd notice your Tesla's specific model name on the left and your car's name in blue on the parallel. If your Tesla is not named by you yet, you'd see this text on the side: "Name your Vehicle."
Tap on "Name Your Vehicle" and a new screen will appear on display.
Rename your Tesla per your choice on this screen.
Here's a quick tutorial from nukem384 YouTube channel:
So this is all about naming your Tesla in a simple and succinct manner.
However, the start of this procedure is mostly dependent on the basic step of "coming up with a name for your Tesla," and believe me, this is the most opaque, hazy, and unclear stage.
Why shouldn't it be? As you're obliged to choose such a name for your Tesla that reflects your amped-up personality. So let us resolve this uncertainty right now and address this persisting question.
What Should You Name Your Tesla Model 3?
You may name your Tesla whatever you like. However, here are some suggestions that I think you should bear in mind while naming your Tesla:
Name your Tesla anything that you will easily remember while checking the Tesla app or software in your vehicle.
Stick to traditional names like Chad, Simpson, or Loki, or you could even name it after an old pet or toy.
Choose a name you can readily share with your friends and can easily identify as your car.
I advise you not to deviate from the path like Elon did while naming his offspring (X, A-12, Æ).
You may even add digits to your car's name, such as Tesla20, Ohm35, Satti69, and so on, to spice up things a little.
You should keep your Tesla's name to 50 characters or less so that it displays correctly on the screen and mobile app.
5 Crazy Useful Tesla Tips and Tricks Few Owners Know About
These 5 rare tips can save you so much time and stress – and few owners know about them (even after years of ownership). Sign up below to learn more. It's free!
By subscribing, you agree to get emails from TeslaTuneUp. We'll respect your privacy and you can unsubscribe any time.
Creative Tesla Model 3 Names Inspired From Actual Owners
Here's a collection of some imaginative Tesla Model 3 names inspired by real-world owners. You may also use these names to pay tribute to pop culture while naming your Tesla.
Desdemona
Eleanor
Terminator
Indestructible
Brum
Bumblebee
Boomer Siren
Underdog
Turtle Taxi
Waggy
Guardian
Spit Fires
Jitter Bug
Wired
Haji-Storm
T-1000
Rayani28
Satti69
Aladeen
Gugu-Gaga
Rosie
R2D2
Some Names Are Magical
There are hundreds of ideas available when it comes to naming your Tesla. However, some names are truly amazing! When you name your Tesla after some British classics, it receives bonuses such as "EASTER EGGS."
If you're an inquisitive guy like myself, you could be interested in discovering the various Easter eggs that can be unlocked by renaming your car to specific triggers that will unleash these hidden jewels. You should try the following triggering names:
Monty Python
Use one of the following names to activate the easter egg:
Biggus Dickus
Mr. Creosote
Patsy
Rabbit of Caerbannog
Unladen Swallow
If you do, this is what happens:
The "42" Effect
Change the name of your Tesla to 42. Rather than 42, your Tesla will be labeled "Life, the Universe, and Everything," a reference to the film The Hitchhiker's Guide to the Galaxy.
Don't be lazy and test it on your own. It's also a great method to see if you understand the entire process of naming your Tesla.
Final Thoughts
Tesla includes a plethora of built-in features that enhance the driving and ownership experience and fully reflect your heightened individuality.
One such feature is the ability for distinguished owners like you to give your vehicle a name that not only is something you tell people about but also is labeled in your car's software and mobile app.
To conclude, owning and driving a Tesla is a perplexing and exciting experience of its own, especially if you've never driven or owned an electric car before. Name it as if it were a part of your personality and enjoy the ride!
Muhammad Hassan
Engineer by trade and writer by passion, Hassan is an automotive enthusiast who thinks EVs are the future. At TTU, he discusses the coolest features and products Model 3 owners look for -- so they can better experience their cars. In his free time, he enjoys tea, reading, and listening to podcasts.
5 Crazy Useful Tesla Tips and Tricks Few Owners Know About
These 5 rare tips can save you so much time and stress – and few owners know about them (even after years of ownership). Sign up below to learn more. It's free!
By subscribing, you agree to get emails from TeslaTuneUp. We'll respect your privacy and you can unsubscribe any time.