My fellow drivers in Canada and Northern U.S. know how critical heated seats are.
Those -20℃ (or 0ºF) mornings are extremely unpleasant when you're sitting on cold leather seats for your commute.
Luckily, Tesla won't have you suffering from a cold bum.
As part of the standard package, all Tesla Model 3's come with power-adjustable heated front seats.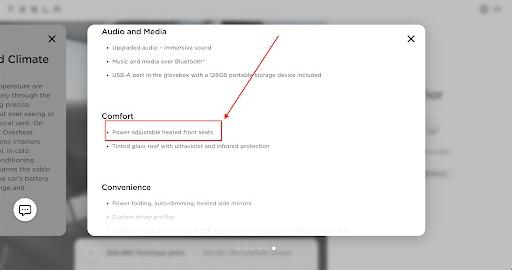 Since early 2020, Model 3 owners have had the option to enable the rear heated seats through an in-app purchase.
At $300, some of you may think this upgrade is unnecessary.
Plenty of drivers disagree, though — even some outside of chilly Canada or the Northern States.
How (& Why) to Get Fired Up With Your Tesla Seats
There's something comforting about snuggling into a heated seat.
Troubles melt away in a warm seat that you can control right from the navigation screen.
For chronic back pain sufferers, heated seats can be a much-needed relief, especially for long drives.
The pinpointed heat eases the pain and soothes sore muscles.
There are 3 levels of heat to choose from — and you can simply tap the screen to make your selection at any given time.
Pick the level that suits you best and make changes while driving if things get a little too hot to handle or you want to crank it up.
If you're new to this cozy feature, here's a short clip on how to adjust the heated seats in your Tesla Model 3:
Also, your Tesla remembers the last heat level your front seats were in.
When you turn on the car again, it'll automatically restore the heat to that previous level.
Here's the interesting way in which AndrewF, a Tesla Owners Online user, came to this realization:
"I have noticed some particular behavior of the heated seat system that isn't documented in the manual.

In my ICE vehicle, if I've been using the heated seats, they are automatically re-set to the "off" state every time the car is turned off. This is not the case in the M3.

I noticed this on the weekend when my wife and I went out for dinner on a cool evening and my wife had her seat heater on. Several days later, when driving to work on a weekday, I picked up a file folder that had been sitting on the seat and noticed that it was hot, and that the seat heater had been cooking away unnoticed on my daily drive."
This feature is handy to quickly warm yourself up after a stop.
But if you've been driving with front passengers, always remember to turn off the front passenger seat's heat later on.
Upgrading Your Heated Rear Seats — For The Comfort of Your Passengers
All Model 3 vehicles are built with the hardware necessary for heated rear seats.
If you have a larger family or work as a rideshare driver on apps like Uber or Lyft, the ability to heat all 5 seats becomes increasingly important.
To enable this feature, all you need to do is open the app while connected to Wi-Fi, pay $300 for the upgrade, and your rear seats can be heated in mere minutes.
The Hidden Savings of a Heated Interior 
We are all creatures of comfort and a Tesla Model 3 is meant to be a bit of luxury on wheels.
For Tesla owners, this means turning the heat on before getting into the vehicle.
Tesla recommends doing this in colder climates by opening up the app and tapping 'Climate' > 'Turn On' to activate preconditioning.
This will allow you to set a temperature that you're comfortable with.
But here's where the heated interior features pay off:
The added benefit of heated seats is that you can stay warm in the vehicle at a lower internal cabin temperature.
This saves you money in the long run as heated seats are a more efficient way to warm yourself up than blowing heated air through the vents.
Besides, using the HVAC system is the number one battery drainer in winter, according to a study by AAA. 
It showed that HVAC use decreased the overall range in electric vehicles by as much as 30%.
Get yourself some comfy driving gloves and keep your jacket on so you avoid having the heat cranked for your entire drive.
If you can get comfortable by warming your seat, you'll save yourself some precious dollars, charging time, and battery life.
This is something Tesla confirms on its website. On the "Conserve Energy on the Road" section of their Winter Driving Tips article, they state:
"If possible, lower the cabin temperature setting and use seat heaters for added warmth."
This is because, again, the heated seats will pull considerably less power from the battery than the internal HVAC system.
Final Thoughts: Does the Tesla Model 3 Have Heated Seats?
It's simply a no-brainer to have heated seats these days, especially with a leather interior. Tesla's vegan leather is no exception. 
Thankfully, Tesla's Model 3 comes with heated front seats standard.
The addition of the rear heated seats might not be necessary for everyone, but it's a worthwhile upgrade if you frequently have passengers on the back.
Overall, $300 is a fair price —  and remember that the use of heated seats could actually save you some precious money (and time) over the longer term.