Whether you own a Model 3, a Model Y, or any other Tesla, you already have a huge screen to play with.
But this isn't a screen your kids in the back seat can watch or play with.
For that task, a tablet/iPad holder comes in handy. I'll save you hours of research by sharing the most effective iPad mount ideas (and products) Tesla owners are using to get the job done.
Let's get right into it!
6 Creative Ways to Hold Your iPad or Tablet in Your Tesla
Tesla owners have gotten creative to fulfill this common — yet underserved — need. I've organized the best ideas owners have shared, starting with the easiest and safest options.
1. Use Your Headrest as the Base
Overall, the most recommended option by the Tesla community is a headrest-supported iPad holder. With either a Velcro or a mechanical attachment, it's seen as a safe and very affordable option.
We'll cover two well-reviewed products in this category below, one of which can extend to the center of the car, making it easy for all three rear passengers to watch.
2. Use Your Cup Holder as the Base
Many products mix a traditional tablet holder with an adjustable base that can fit into any car with round cupholders.
Though a very safe mechanism, the practicality may be questionable if small kids in the back seat can't fully see the tablet or iPad.
3. Suck It Up…
I mean, use a suction cup–based product. They're a super flexible choice because you can attach them to any glass — front windshield, windows, glass roof, etc. — but often seen as riskier in case of an emergency brake.
For this reason, a strong mechanism and a reputable brand like SeaSucker or AboveTek are strongly recommended. It's the only way you'll feel comfortable that the iPad will stay in place in an accident.
4. Use a Magnetic Base
Though not as popular for tablets given their weight, some owners have used a magnetic base to put their iPads just below the screen in the center console.
I see the argument for trying a similar approach on the Model 3's or the Model Y's rear air vents, though the position may require kids to look down and be very uncomfortable during long trips.
5. Build Your Own
Some Tesla owners have engineered their own solutions. Lost Bolt, a Tesla Motors Club user, is one example.
If you've got the skills to build your own solution, then this could very well be a fun DIY project.
6. Squeeze It In
This one surprised me when I first heard about it, and it will only work with certain iPads. I'll let this owner say it in his own words:
We actually squeeze the iPad in the gap between the 2 front seats… Works well!

lozza
Simple enough. And free. I bet you didn't think about that one.
***
Since headrest-based, cupholder-based, and suction cup–based iPad mount systems are easier and safer to set up, let's now discuss specific product brands owners recommended.
Best Tesla iPad Holders
Best Headrest-Supported Tesla iPad Holder: Macally
With 14,000+ ratings and 4.3 out of 5 stars, the Macally headrest-supported Tesla iPad holder really checks all the boxes for customers.
It is affordable and easy to install/uninstall and can be rotated at 360 degrees (portrait/landscape/up/down). You'll also get adjustable clamps for iPads, game consoles, and 4.5″ to 10″ smartphones. Utility at its best!
It's rather bulky though. That's why many owners suggested storing the mount when not in use. Its bulkiness can be awkward for passengers, and given its easy uninstall procedure, you can do it in a breeze.
This product comes in two variations: a clamp-based model and a strap-based model. An owner complained that he couldn't adjust the clamp-based model between his car seats. If that's the case with you, you can go with the strap-based model.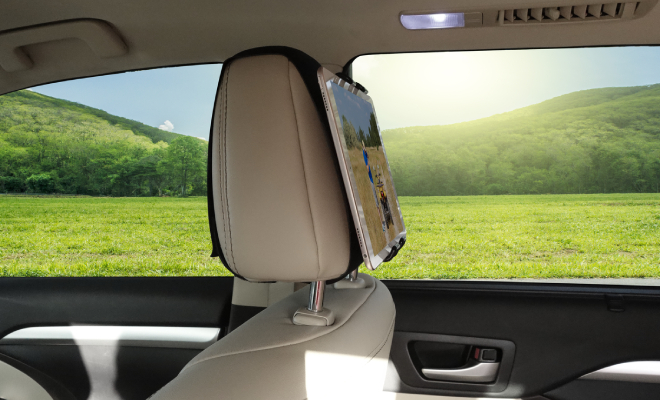 To summarize, if you think that the headrest-supported iPad holder will suit you the best, there's currently no better option to consider in the market.
Pros
✅ Can be centered
✅ Very affordable
✅ 360-degree rotation (portrait/landscape and up/down)
✅ Adjustable clamps for iPads, game consoles, and 4.5″ to 10″ smartphones
✅ Easy to install/uninstall
Cons
❌ Rather bulky
❌ Can't use it for rear-facing on a Tesla. Use their strap-based model for this.
Best Cup Holder Tesla Model Y/3 iPad Holder: Cellet
This iPad holder has got some shortcomings. For starters, the widest gadget it can fit is the iPad mini. A full-size iPad is out of the picture.
Secondly, as there is no hinge joint, angle options get very limited.
Finally, some owners complained about its material being extra susceptible to cold. In a colder climate, it might not fit or get tightened properly.
But on the brighter side, this cup holder/iPad holder is among the best sellers and has served many Tesla owners well.
In normal climates, Tesla owners have verified that it fits quite tightly and handles bumps in the road like a champ. You can also install/uninstall it quite easily.
For the Model X's second-row pop-out cup holders, this iPad holder might prove to be very practical.
If its few shortcomings won't bother you, I'd highly recommend this cup holder/iPad holder for your Tesla Model 3/Y.
Pros
✅ Fits very well (Tesla owners have confirmed it)
✅ Can be centered
✅ Easy to install/uninstall
✅ 19,000+ total ratings on Amazon, with 90% positive reviews
Cons
❌ No hinge joint, limited angle options
❌ Won't fit wider gadgets
Best Suction Cup Tesla Model Y/3 iPad Holder: AboveTEK
I understand the suction cup technology isn't trusted much as it can fail under circumstances such as sudden breaks.
But as far as this particular product is concerned, you've got nothing to worry about as hundreds of customers have vouched for its incredible quality, hence verifying the company's claim of "zero shock design."
They used it on the windows, sunroof, dash… One owner took it a little bit further and used it in a plane cockpit…
Overall verdict? It sticks perfectly.
Apart from that, this iPad holder has all the good qualities a holder must have, including 360-degree rotation, easy to install/uninstall, able to adjust to wider gadgets such as the iPad Air, etc.
One problem though. You'll need to use an Allen wrench to adjust this iPad holder, which comes with the package. Consequently, frequent adjustments will get a bit annoying. Also, if you keep tightening the suction cup, it'll break, and you'll have to ask for a replacement that the company may or may not give.
On the brighter side, however, the company also offers a money-back guarantee, so if you aren't happy with it, just return the product and get a refund (of course, terms and conditions will apply).
For me, the usability far outweighs the very minor points for improvement. And the next time you need a suction cup–based holder, I'd encourage you to go with this mount.
Pros
✅ Zero shock design
✅ 360-degree rotation
✅ Money-back guarantee
✅ Will fit wider gadgets such as the iPad Air
✅ Easy to install/uninstall
Cons
❌ Need to use an Allen wrench to make adjustments
❌ Constantly tightening the suction cup might cause it to break
5 Crazy Useful Tesla Tips and Tricks Few Owners Know About
These 5 rare tips can save you so much time and stress – and few owners know about them (even after years of ownership). Sign up below to learn more. It's free!
By subscribing, you agree to get emails from TeslaTuneUp. We'll respect your privacy and you can unsubscribe any time.
Notable Mentions:
I found enough social proof for this headrest-supported iPad holder, so I decided to give it a place under notable mentions.
Several Tesla owners tried and recommended this iPad holder, verifying its quality and usability.
It works pretty well with a wide variety of gadgets, including the iPad mini, iPad Air, Samsung Galaxy Tab S2, etc.
It's also pretty easy to install and uninstall. A job that your seven-year-old kid will happily do.
One putting-off factor is that it's not rotatable. Only a tilt function is available, so if it's attached to the driver's seat headrest, the child sitting behind the passenger's seat won't be able to see and might start a civil war.
If you can handle this kind of situation, you have my blessing. It'll be a fruitful investment for you.
The SeaSucker brand specializes in suction technology — their incredible suction cup–based bike racks are evidence of that.
It's safe to say that they know a thing or two about suction cups, and this particular iPad holder has a great chance to last a long time.
I found this product mentioned a few times in Tesla forums, but there isn't much social proof available as of now. The Amazon reviews are very much in favor of this product though.
For experimental purposes, this iPad holder definitely deserves a shot. It might prove to be a good investment.
Final Thoughts: Best Tesla iPad Mount
Most Tesla owners are family men, and they know surviving a long trip with kids isn't easy. And to keep them engaged, a combination of an iPad and a holder is necessary.
Ultimately, it'll depend on the type of iPad holder you'd prefer based on your circumstances.
I've shared the top products for each category. Determine what type you require and take the shot. You won't regret it!
Zac Ludicrous
Mechanical engineer by profession. TSLA shareholder before the hype. EV enthusiast all day long. Zac enjoys learning about the future of battery technology, autonomy, and EVs. He considers Tesla Model 3 the most important vehicle of the 21st century -- and is in a quest to improve the ownership experience of every Model 3 owner he possibly can.
5 Crazy Useful Tesla Tips and Tricks Few Owners Know About
These 5 rare tips can save you so much time and stress – and few owners know about them (even after years of ownership). Sign up below to learn more. It's free!
By subscribing, you agree to get emails from TeslaTuneUp. We'll respect your privacy and you can unsubscribe any time.