Roomy, comfy, elegant… The Model 3 seats are a whole package.
I went through hundreds of forum posts and dozens of YouTube videos to come up with the most authentic and user-tested information about the Tesla Model 3 seats that you can take advantage of.
We'll explore our subject matter from various aspects such as aesthetics, practicality, convenience, and more in this ultimate guide.
So without further ado, let's hop into it.
Tesla Model 3 Seats: Stepping Inside the Car
Model 3 Seat Overview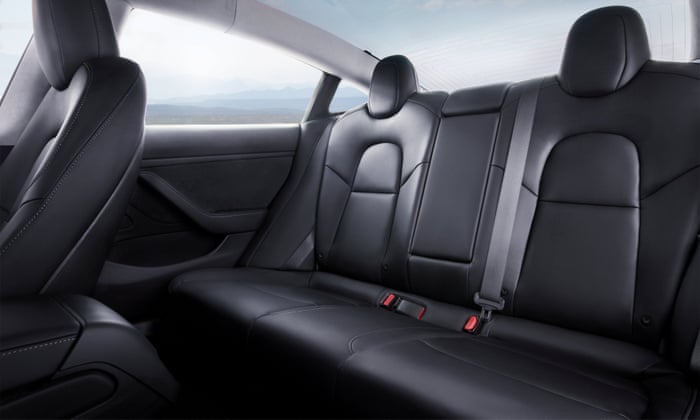 The Model 3 can easily accommodate five passengers.
The front seats are comfortable and spacious, with appropriate support for lengthy rides. The rear seats, on the other hand, are thought to be a little cramped per some critics.
The standard Model 3 features cloth seats, but if you add $2,000 to your car budget, you can upgrade to Tesla's vegan leather seats.
And for an additional $300, you'll be able to buy "power-adjustable heated seats."
You also have the option of having black or white upholstery. Although black feels more minimalist, white is favored by the Tesla community (even though it is harder to maintain).
Furthermore, the Model 3 has the IIHS-rated second-best LATCH system, so if you purchase this vehicle, you'll have peace of mind since safety is important.
Seating Capacity
Does the Model 3 seat five people comfortably?
To find out, we're going to break it down into sections.
Front seats
Let's go over the basics first:
The front headroom is 40.3″.
The front hip room is 53.4″.
The front legroom is 42.7″.
The front shoulder room is 56.3″.
The front seats in the Model 3 are designed well for long travels in terms of both comfortability and functionality.
The 8-way power-driven and height-adjustable technology in the Model 3 seats allow you to adjust them as you want. If you want to sit a little higher or at a distance from the dashboard, it's your choice.
Also, the Model 3 seats are bucket shaped to hold you in the correct position, so if you're going for some faster speeds and a lot of turns, you rarely need to re-center your body because these seats got your back.
Now if we consider some other sedans like the BMW 330i or Ford Mustang Match-E, they look roomier and more spacious, but if we go into the details, considering the Model 3 is a sedan and Match-E is an SUV, they're not that far different.
Plus, the Model 3, with its minimalistic interior, feels more spacious.
If you compare a Tesla with another Tesla, the Model S offers better leg space than the Model 3, but it has less headroom.
The Model X, however, is a five-seater, but it has less legroom compared with the Model 3.
Joseph from OCDetailing effectively broke down this information in one of his YouTube videos:
Rear Seats
Before 2018, rear seats were flat. This means that they didn't have the thigh bolsters unlike the front seats, and that created extra space between the thigh of the passenger and the seat.
There were no complaints in terms of headroom or cabin capacity, but when it came to legroom, things went a bit south.
Now that was the story of 2017. In 2018, Tesla introduced Gen 2 seats in the Model 3 which at first was considered as a minimal upgrade with minor changes.
But to the community's surprise, these Gen 2 seats, which didn't look much different at first, turned out to be practically much different.
The front seats are comparably lower than Gen 1 seats. There's an increase in bolsters which makes them more grippy and firm, and there is now more thigh support on the base than before.
The real improvement, though, is on the rear side. The seats are not flat anymore. They've got bolsters, they've got more legroom, and they're a little leaned back.
Bjorn Nyland did a quick comparison of the old and new Tesla Model 3 seats in one of his YouTube videos:
Apart from the old versus new talk, the Model 3's rear seats are also foldable.
This dramatically increases the trunk capacity, expanding it from 15 cubic feet to 43 cubic feet, which is three times the capacity. That's a huge trunk there!
This feature is mostly utilized by car campers.
Set up your bed kit, enjoy the starry night, and have a beautiful good night's sleep.
Seats' Material: Why Tesla Choose Vegan Leather
PETA had been pushing car manufacturers for a long time to not use animal leather for car interiors. What did the car manufacturing companies do? They made some announcements.
Volvo announced that their vehicles will be leather-free by 2030.
Ford aspired to use animal-free materials for their cars, and now the Ford Mustang Match-E 2021 is all vegan leather.
Toyota also started working on SofTex, their vegan leather, and it's available in some of their premium models.
Tesla started creating their synthetic leather, and by 2019, the Tesla Model 3 became 100% vegan that even the steering wheel was now leather-free.
What Is Vegan Leather?
It's not leather but a leather-like fabric made from non-animal sources.
Here is a quick overview of why vegan leather is better than real leather:
Appearance
Obviously, real leather has a natural appearance because it's natural, and it has limited color options. It feels soft, and the texture is smooth compared with other kinds of leathers.
Vegan or synthetic leather has the closest appearance to real leather and may even look the same, but it has a variety in terms of styles and colors.
Durability
Organic materials, no matter how finely processed, will wear out. That's what exactly happens to real leather seats; hey, turnoff!
The material lasts for a considerable period, but it doesn't age well, and that was not a big deal until vegan leather didn't come into the market.
Now that you have the same-looking material which lasts longer and ages well, you probably no longer want to go with the real one.
Maintenance
Let me put you in a situation where you spilled your coffee on your seat and it gets stained, but not with vegan leather seats.
Real leather is absorbent and is susceptible to staining. You can find yourself laboring a lot just to clean your seats.
Vegan is easy to clean because it has a water-repellent nature. It doesn't absorb any liquid, and you can just wipe out any stains. Very little maintenance can help it age well.
Cost
If I say that vegan leather is better than real leather, a lot of people are going to disagree, but let me tell you that it is cheaper than the real one, is eco-friendly, and is easy to produce.
Now a few of you might have changed your minds, and the rest will eventually follow.
Okay! In layman's terms, the car is going to cost a little less on its purchase, and the maintenance cost is also going to decrease with that. How about this?
One more reason to rush toward vegan leather is that it can turn out to be a good selling strategy as it is about protecting biodiversity. However, people will prioritize vegan leather over real leather because it is cheaper and reliable.
Why Has Tesla Chosen It?
Tesla has been producing cars with a practical approach, and for the company, functionality matters. These cars, on a mass scale, are cheaper but more efficient.
Elon Musk is a big advocate of a sustainable approach in business. In 2018, he declared that "climate change is the biggest threat humanity faces this century."
Following the statement, we've seen a lot of eco-friendly stuff from Tesla, and in an eco-friendly car, using eco-friendly seat materials is one of the best picks for the company itself.
5 Crazy Useful Tesla Tips and Tricks Few Owners Know About
These 5 rare tips can save you so much time and stress – and few owners know about them (even after years of ownership). Sign up below to learn more. It's free!
By subscribing, you agree to get emails from TeslaTuneUp. We'll respect your privacy and you can unsubscribe any time.
Tesla Model 3 Seats: How Do They Hold Up?
Minimal maintenance of your Model 3 seats can bring out pretty impressive results.
Watch this review from a Model 3 owner. The quality of the seats remained as good as new after two years of day-to-day use.
Pretty impressive!
White seats have become a matter of great concern. But this time, it's not leather; it's vegan leather, and this material doesn't get pale over time.
About the quality, the seats don't develop cracks or rough texture unless you're committed to making them do this.
To put it simply, after two to three years of use, the car seats don't remain as they were on day 1 because they're not new anymore. But if you compare the Model 3 seats with other vehicles' seats, the seats are as good as new after you use them for this long.
So yeah, they hold up pretty well!
White Seats vs Black Seats
You've been using dark mode and bright mode in your phone, and now Tesla takes that to your car.
How? The Model 3 seats are available in two colors, white and black.
Black Seats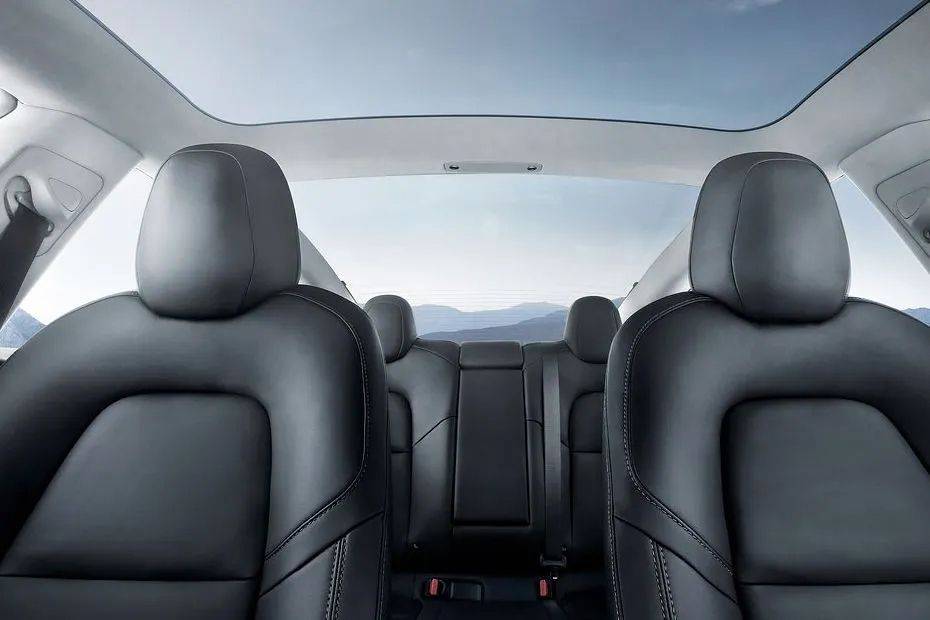 The interior of the Model 3 is mainly black, and with black seats, it just gets all black.
The color is minimalist and doesn't show much dirt or stains, and you don't need to clean your black seats every day.
Cons are when you live in hot parts of the country. Black absorbs the sunlight, and it doesn't feel good in the summer to have your back burnt by black.
White Seats
White seats, on the other hand, look way better than the black ones.
The car interior gets more like a panda look with white seats. Well, pandas are cute.
Practically, white seats demand cleaning more than the black ones, but it's not because they get stains; it's because they show them.
Now that's a big difference. These Model 3 seats show dirt grain and maybe some fabric print, but you can wipe them off easily.
While researching, I came across a Tesla owner on YouTube who explained why he picked white seats over black ones.
So Which One to Pick?
My take is, if you're buying a Model 3 to drive it around the block just to show off, you should go for white ones because they look extremely exotic.
Also, if you don't mind taking care of your car, then the white seats will go well with you.
Another reason to buy white seats is that they don't get hot as black ones.
Read this to have a better understanding:
>>Get Tesla's White Seats, For Goodness Sake!
A comparative guide between black and white Tesla Model 3 seats
Black seats can take a little rough time with you and don't require proper cleaning, and from an aesthetic perspective, if you have a black Model 3, it becomes an all-black look, which most owners dig too.
Heated Seat: Who's It For & Does the Model 3 Have It?
Tesla introduced heated seats as a $300 OTA upgrade for both the Model 3 SR and SR+ variants back in 2020.
The seats have the necessary hardware for heated seats, so you can upgrade them through the car's center console or the Tesla mobile app.
Initially, it just came for the front seats, but later, the rear seats were also upgraded.
This was for 2020 models. Now all the Model 3 versions include these heated seats (both front and rear), along with heated steering in stock versions.
To control the heat levels, head to your Model 3 console and choose the temperature that suits you.
Also, you don't get rear-seat heater controls. Only the driver or passenger can control the climate of the car. So if you want to change the temperature, you need to ask the front-row passengers.
But why should you spend $300 to get this upgrade?
If you're driving your car at some heart-freezing temperatures, heated seats are going to make a lot of difference to the driving experience, which is definitely worth the upgrade for you.
Using heated seats to warm your Model 3 also saves power because it requires less energy compared with blowing heaters (Elon is saving you some money and extra miles here).
So heated seats, yes! We have them in the Model 3, and they're worth the upgrade.
For more information about this feature, check out our article: Tesla Model 3 Heated Seats
Model 3 Seat Accessories
The Model 3 allows you to make little changes in your electric car with plenty of accessories and attachments available in the market.
Seat accessories are no exception. You can modify your Tesla Model 3 seats with these attachments.
So what's the deal? Let's find out.
Seat Covers
If you don't want your kids to ruin your seats, you better use seat covers. Almost every vehicle allows you to use seat covers, and so does the Model 3.
These covers protect your seats from getting dirt and stains, and they keep them almost new.
Custom freaks who want to add some style to their Model 3 can go for the printed one.
These covers will not resist any of your seat features (heated seats, etc.) because that's what the company prioritizes.
We have already published an article discussing the best seat covers for the Model 3, but for your convenience, I'll discuss the best choice here too.
Best Tesla Model 3 Seat Covers: TAPTES
TAPTES is your best choice if you want seat covers for your Model 3 that are comfy and stylish and don't interfere with its safety features.
A potential consumer has a lot of options with 15 colors available and two distinct leather types. All of the seats' safety features will continue to function normally even with their covers on (owners have tested and verified this).
If you want to know even more, I also wrote an exclusive in-depth review on the Taptes Model 3 seat covers.
Seat Pillows/Headrests
Going for a long drive?
Consider adding seat pillows for both driver and passenger seats to add extreme comfort to your journey by reducing neck or back pain.
Especially if you go on long trips more often, then spending some dollars to get seat pillows would be wise. It will cost you around $100, and it'll be worth every cent.
Best Seat Pillow For Model 3: RPM Tesla
RPM Tesla offers this pillow (compatible with all Tesla models) for as low as $99.
It may be adjusted in three ways: thickness, height, and angle.
The manufacturer posted a video that addresses typical problems, such as how to install and modify these pillows:
They're made of the same vegan vinyl material as the Tesla seats, and they come in a variety of colors to match the inside of your Tesla.
Seat Upgrades
The Model 3 seats are designed for comfort, functionality, and safety, but if you want something more and have some extra funds, then you can upgrade them.
Two ways to go:
Add some attachments like headrests, seat covers, heated seats, etc. to your default seats or change them.
Use more premium seat upgrading kits.
But before you decide to go with the second option, keep in mind that it might get too expensive and there is a good chance that you don't end up liking the result.
So if you decide to go that route, make sure that you've seen an already upgraded Model 3 personally to have better expectations.
Booster Seats
If you have a baby boss in your family, then the protocol demands something other than the regular seats—booster seats.
The LATCH system provided in the Model 3 allows you to install a booster seat in all passenger seats.
Tesla, however, suggests:
Do not seat an infant or a child in the front passenger seat, even if using a child safety seat or booster seat and the front passenger airbag is turned off. The front passenger seat may inflate when a collision occurs causing DEATH or SERIOUS INJURY to the child. Children must ride in the rear seats only.
To learn about the best pick, installation methods, safety warnings, and all other information about booster seats, check out the Model 3's Owner's Manual.
Frequently Asked Questions
Do the Tesla Model 3 seats fold down?
The front seats of the Model 3 don't fold down, but the back seats fold down completely.
This increases the cargo space dramatically but can increase the amount of perceived noise or vibration.
Here is how you can fold/unfold the Model 3's rear seats:
How many car seats fit in a Model 3?
The Model 3 comes with five seats. Three child seats can be installed in it.
The booster seat comes behind the driver seat, and other child seats come behind the passenger seat.
Watch this video to guide yourself about fitting three car seats into the Model 3.
How To Clean Tesla Seats?
There are two ways you can go about cleaning your Tesla seats:
Go traditional: use soap and water.
Buy yourself a good interior cleaner.
Now the first method may or may not work depending on the nature of the stain. But giving it a shot will never be a bad idea. If it saves some bucks, who cares!
And if you decide to choose the second option, here's our roundup of the 8 best Tesla Model 3 interior cleaners to keep your Car (and vegan leather seats) like new.
Can I adjust the Model 3's headrest ?
Yes, you can, but only in the vertical direction. Here is a quick video demonstrating the whole process:
Conclusion
I think it's 100% safe to say that half of a car's experience depends on the quality of its seats. If they are not comfy enough, no amount of luxury features can make up for that.
I'm not going to make any bold statement, but Tesla sold 112,687 units of the Model 3 in 2021 across Europe, making it the best-selling electric car in the region.
This shows that the Model 3 must be quite comfortable.
I have laid down everything there is to know about the Model 3's seats. If there is anything you'd like to add, feel free to comment down below.
Happy driving!
Muhammad Hassan
Engineer by trade and writer by passion, Hassan is an automotive enthusiast who thinks EVs are the future. At TTU, he discusses the coolest features and products Model 3 owners look for -- so they can better experience their cars. In his free time, he enjoys tea, reading, and listening to podcasts.
5 Crazy Useful Tesla Tips and Tricks Few Owners Know About
These 5 rare tips can save you so much time and stress – and few owners know about them (even after years of ownership). Sign up below to learn more. It's free!
By subscribing, you agree to get emails from TeslaTuneUp. We'll respect your privacy and you can unsubscribe any time.