To pinpoint which Tesla logo puddle lights owners like you recommend the most, I pored over dozens of Tesla forum threads, Amazon reviews, and YouTube videos.
This article will share an in-depth review of each recommended product along with proof that Model 3 owners have tested it successfully.
But first, let's discuss some common problems owners faced after purchasing aftermarket puddle lights—so you know what to expect:
Complaints Expressed by Tesla Owners After Purchasing Puddle Lights
Lights Dim When Multiple Doors Are Opened
A user named "StormCruzzer" started a thread expressing the following issue:
Whenever he opened the front and rear doors simultaneously, the rear door's puddle light dimmed significantly.
Others expressed the same concern.
People realized this is a common problem and that it might be due to power limitations.
As expected, logo puddle lights require more energy as compared to a simple light pattern.
Unless you intended to show off your puddle lights with all four doors opened at once (it's tempting… I know),
This isn't something you need to be concerned about.
But don't be surprised if it happens.
Annoying Rattling Sounds
Another user by the name "Candleflame" mentioned a strange rattle sound his puddle lights made at certain bass levels.
Some expressed the same concerns while others denied facing such issues.
It might just be the result of human error while installing the product — or a stroke of bad luck as it's not happening to everybody.
If you like music at full volume, it's important to consider whether customers have reported these issues — so you don't have to withstand annoying noises along with your favorite music.
Your Car Will Get Locked… Temporarily
While researching through Reddit, a savvy Model 3 owner faced a weird issue while replacing his puddle lights.
As soon as he unplugged the stock lights of one door:
His car got locked
Windows went up
And the car reported that that door was closed
Though once he finished replacing puddle lights everything came back to normal, it's an important consideration as not every seller includes this on their installation instructions.
***
Let's now dive into each one of the best Tesla logo puddle lights on the market.
Best Tesla Logo Puddle Lights Overall: Abstract Ocean
"Stop buying Abstract Ocean's logo puddle lights!! It's always sold out and I need a pair."

Gavyne
"Abstract Ocean ones are great. Have had them in for almost three months."

dano9258
"Awesome quality and awesome service. A little different than others. Highly recommend them."

bahree
Need I say more?
These comments from Tesla owners are self-explanatory: Abstract Ocean's puddle lights are an incredible value.
They absolutely know a thing or two about LED lights for Tesla vehicles after selling over 100,000 units of these products.
These puddle lights are super easy to install; plug 'n' play kinda scenario.
No expert hands are required—you can install the product yourself.
There's an extended cable included that makes the installation a lot easier.
Here's a comprehensive video from Abstract Ocean themselves showing the whole procedure:
If you want practical, durable, and bright logo puddle lights for your Tesla, Abstract Ocean is the way to go.
All this popularity brings a problem, though: the product (and in particular the Tesla logo) is sold out most of the time.
You'll have to keep an eye on their website and order as soon as they restock. Or you can opt for their other options — like "3", "X", "Y", and so on.
I also heard some few and far between cases where owners faced some rattling problems when they play music with strong bass.
Nothing that would trouble most customers.
All in all, given the love Abstract Ocean enjoys from the Tesla Community, these Tesla logo puddle lights are an absolute steal.
Pros:
✅ Compatible with Tesla Model S/3/X/Y.
✅ Super bright.
✅ Easy to install.
✅ 1,800+ reviews and counting.
✅ Unlike others, their "T" design matches the Tesla logo perfectly.
Cons:
❌ The "T" variant is out of stock most of the time.
❌ Some owners faced rattling issues while playing music with strong bass.
5 Crazy Useful Tesla Tips and Tricks Few Owners Know About
These 5 rare tips can save you so much time and stress – and few owners know about them (even after years of ownership). Sign up below to learn more. It's free!
By subscribing, you agree to get emails from TeslaTuneUp. We'll respect your privacy and you can unsubscribe any time.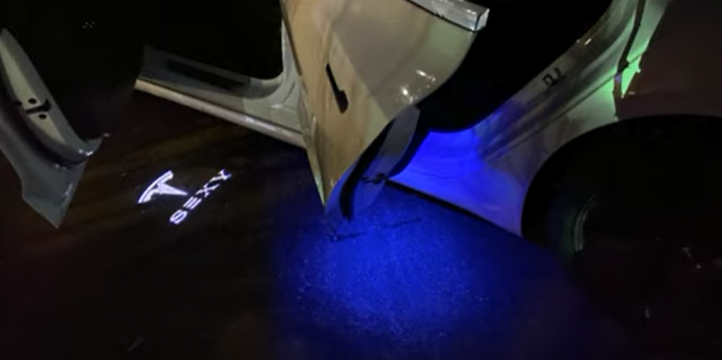 These are the second most popular puddle lights I came across.
The unique proposition here is customization.
They sell their products on their own website — but they seem to be partnered with Supercharged Accessories as their products are also available there.
You can personalize your puddle lights with a range of colors:
Brilliant White
Chill Blue
Ice Blue
Purple
Deep Red
Moreover, you'll also get an extended cable that helps tremendously during the installation process.
Tesla's wires are known to slip back into the door — so these cables are huge time-savers.
The end result is super bright, personalized puddle lights showing a sleek Tesla logo.
Hear what Sara from SaraJAwesome YouTube channel thinks about them:
Often, Tesla Owners confuse these with Abstract Ocean. Both are worthy choices.
There's also a 1-year warranty when you buy from Supercharged Accessories' website.
If something wrong happens, they'll give you new lights or a full refund — so you've got nothing to lose!
One thing to note is that their site is currently on "Liquidation Sale." Though this could be a marketing tactic, it also brings concerns about whether they're going out of business soon.
Don't be surprised if you click through and their products are not available anymore.
Pros:
✅ Compatible with Tesla Model 3/S/X/Y.
✅ Super bright.
✅ High quality.
✅ 1-year warranty.
✅ Available in multiple colors.
Cons:
❌ May become unavailable soon
❌ Many colors are often sold out
Best Tesla Logo Puddle Lights on a Budget: Motrobe
Motrobe's Tesla logo puddle lights enjoy a good reputation on Amazon with an overall rating of 4.4 out of 5 stars.
The newest version features an extension cord that makes the installation easier.
The seller claims these lights fit the whole Tesla lineup — so I went through the reviews to verify that this is the case.
The vast majority of Tesla owners (whether they own a Model S, 3, X, or Y) found the product to be a great fit, easy to install, and super bright.
On the other hand, there were a few who faced some fitment issues and complained the quality wasn't that great.
Motrobe's installation instructions are somewhat confusing according to customers, so read on to benefit from the installation guide I'll soon discuss.
And a particular customer was happy with his purchase — but after 3 months, the plastic shell of one light cracked and distorted the "T" logo. All other puddle lights remained intact, though.
I wouldn't be turned off by this individual case — as one crack failure out of 380+ reviews sounds fair. No product is perfect.
Motrobe also offers lights with or without the "Tesla" letters. Consider which version you prefer — and order the one that fits your needs best.
Pros:
✅ Compatible with Tesla Model 3/S/X/Y.
✅ 380+ Amazon reviews (4.4 stars on average).
✅ Bright "T" logo.
✅ Very affordable price
Cons:
❌ A customer faced some cracking issues after 3 months of use.
❌ Their installation guide can be confusing.
Notable Mentions:
Carwiner is the most notable brand on Amazon selling puddle lights for Teslas.
They had an older version that was full of flaws—bad quality, less brightness…
However, the product is different now — and their overall rating of 4.7 out of 5 stars with 300+ total reviews proves it.
They've made so many changes recently it gives me confidence they'll continue to improve their offerings. By the time you read, they probably had a better product overall.
LED quality is great and can endure high temperatures easily (this means no cracks in the long run).
It's super easy to install, the "T" logo is sharp and bright, and overall, it's a good value for money.
The only issue that appeared repeatedly in reviews happened during uninstallation.
Apparently, it's difficult to get them back out. Some people ended up breaking it while trying.
So, be careful there. Apart from that, it's a worthwhile affordable option.
Farmogo is a relatively new Amazon brand offering puddle lights.
Despite this, their puddle lights have grown in popularity, showcasing an overall rating of 4.6 out of 5 stars and 250+ total reviews as of this writing.
After comparing customer reviews on both Carwiner and Farmogo, I wonder if these are the same products with different names!
Customers have had nearly identical experiences with both the products:
Great quality, sharp logo, brightness on point…
Difficult to get back out, high chances of breaking when uninstalling…
If my first 3 recommendations didn't resonate with you — and you're fine with hard-to-uninstall lights (knowing you'll only uninstall them when they stop working),
Take either Carwiner or Farmogo as your next product to consider.
The Tesla Logo Puddle Lights to Avoid
Now, I don't have any personal grudge with Taptes or anything like that (just getting it out there)…
In fact, I've recommended some quality, affordable products they offer — like their 3D floor mats.
However, we strive to state the facts at TeslaTuneUp for a better user experience.
While researching for the best products, I found the Tesla community throwing tantrums at Taptes.
Here is an example:
"I'm done with all of the Chinese crap from Amazon and from companies like Taptes."

VaxAce
It tickled my curious brain so I went through and read the whole thread.
The main issues, apparently, were caused due to horrible customer service and late delivery times.
And when finally someone got the puddle lights, it was of very bad quality.
Though they have 4 out of 5 stars on their website, the community suspects they're either fake — or the company has removed ALL bad reviews that have come in over the years.
Although there are products from Taptes the community likes, their puddle lights need to be avoided at all costs.
Puddle Lights Installation Guide
Installing aftermarket puddle lights in your Tesla is super easy—5 minutes per door at most.
No matter what model you own, the installation process is similar.
Also, all the aftermarket puddle lights follow almost the same design as the OEM ones do.
So there are no major modifications needed whatsoever.
Let's break this guide into easy steps:

(NOTE: In the video I linked above, Sara installation her lights on the spot in 2 minutes flat. Here's the video again for easy reference.)
Step 1:
Take a plastic prying tool. Ideally, a pointy one (there are very affordable quality tool kits on Amazon).
Many would recommend using a flathead screwdriver, but you may end up scratching the paint of your car. Use at your own risk.
Step 2:
Stick the prying tool on one side of the puddle light. With little force, you'll be able to get the puddle light out.
Step 3:
Again, with the help of the prying tool, disconnect the cable.
Caution: Hold on to the connecting cable after you disconnect it. Otherwise, it'll slip back into the door, resulting in a lot of trouble (e.g. you may have to dismantle the whole door).
Step 4:
Replace the OEM lights with the aftermarket ones. Use the extended cable if you want. That'll make the installation easier and rule out the "caution" note I discussed in Step 3.
Step 5:
Snap the light back up and you're done!
Frequent Buyer Concerns
Does Tesla come with puddle lights?
Yes, all models of Tesla come with OEM puddle lights.
However, while Model S/3/Y has puddle lights in all 4 doors, Model X only has puddle lights in the front doors.
Also, the OEM puddle lights aren't bright at all — so many Tesla owners upgrade to aftermarket ones for this reason.
Are puddle lights illegal?
No, puddle lights aren't illegal. Many people confuse them with the flashy ground effects lighting (otherwise known as UnderGlow) that is indeed illegal in many states.
Our Tesla Logo Puddle Light of Choice
Ultimately, Abstract Ocean fitted the bill for most of the Tesla owners–despite their constant out-of-stock issue.
However, people are willing to wait until AO gets restocked.
Even if we think from a general perspective, this company has sold over 100,000 LED units–that's something to consider!!
At half the price, however, there's something to be said about Motrobe, the budget alternative discussed above.
If you don't want to wait weeks (potentially months) for your favorite product to restock, the logo puddle lights Motrobe sells on Amazon will do the trick.
Zac Ludicrous
Mechanical engineer by profession. TSLA shareholder before the hype. EV enthusiast all day long. Zac enjoys learning about the future of battery technology, autonomy, and EVs. He considers Tesla Model 3 the most important vehicle of the 21st century -- and is in a quest to improve the ownership experience of every Model 3 owner he possibly can.
5 Crazy Useful Tesla Tips and Tricks Few Owners Know About
These 5 rare tips can save you so much time and stress – and few owners know about them (even after years of ownership). Sign up below to learn more. It's free!
By subscribing, you agree to get emails from TeslaTuneUp. We'll respect your privacy and you can unsubscribe any time.