As a rally enthusiast, I'm the kind of guy who would put mud flaps even on my Corolla, though I'm never gonna take it rally racing.
For the Model Y, however, getting that rally-inspired look is not the only reason why I would put mud flaps.
You need mud flaps for many other reasons, and the Model Y's ability to go fast is one of them.
Mud flaps play a major role in protecting the paint around the wheels as hard acceleration causes small rocks to get caught up in the momentum.
Then comes centrifugal force which will shoot these rocks onto your Model Y's paint.
The aftermath will look something like this:
Notice that inside curve — that's where the road grime gets easy access to hit the paint as it did in this case. And the same will happen with every other Model Y if the issue is not properly addressed.
You are just one crappy weather away from having your Model Y looking like this. Most owners are putting mud flaps first thing after picking up their vehicles for a reason.
There have been too many horror stories of destroyed paint, which could have been prevented only if they had put the mud flaps in time.
Benefits of Having Mud Flaps on Your Tesla Model Y
The biggest benefit is the protection they give to the paint around the wheel area, which is prone to damage from road grime.
I am not talking about damage caused by burnout. Simply hard acceleration is enough to cause damage.
Burnouts will cause a lot more damage and don't ask me how I know.
In other words, Tesla's neck-bending acceleration is a double-edged sword that destroys the paint on the lower side of the vehicle.
This is when the mud flaps come into the picture. After having these protections on all four sides, you won't have to worry about the paint chips (fingers crossed!).
All right, let's be real. Tesla's paint job is not that good to begin with, which is why I have dedicated a whole week of research on how to protect your Tesla Model Y's paint job (other than using the mud flaps).
You might also have to put PPF on the rear side as the rock chip damage can be seen on the front side of the rear wheels, which is weird (happens due to the overall design).
Here's a picture of how much damage is expected.
So you would also have to install a PPF in the rear as the rear side is prone to damage as you can see in the picture.
Here's a detailed guide on how to apply PPF on your Tesla Model Y.
Now you might ask, if this issue is so serious, then why don't you get mud flaps from the factory?
Well, the answer is simple. You don't get a charger with an iPhone, right? You have to buy it separately.
If you don't like how Tesla is more like Apple, you can always go for aftermarket mud flaps, and boy, are they plenty.
Tesla's Model Y Mud Flaps: OEM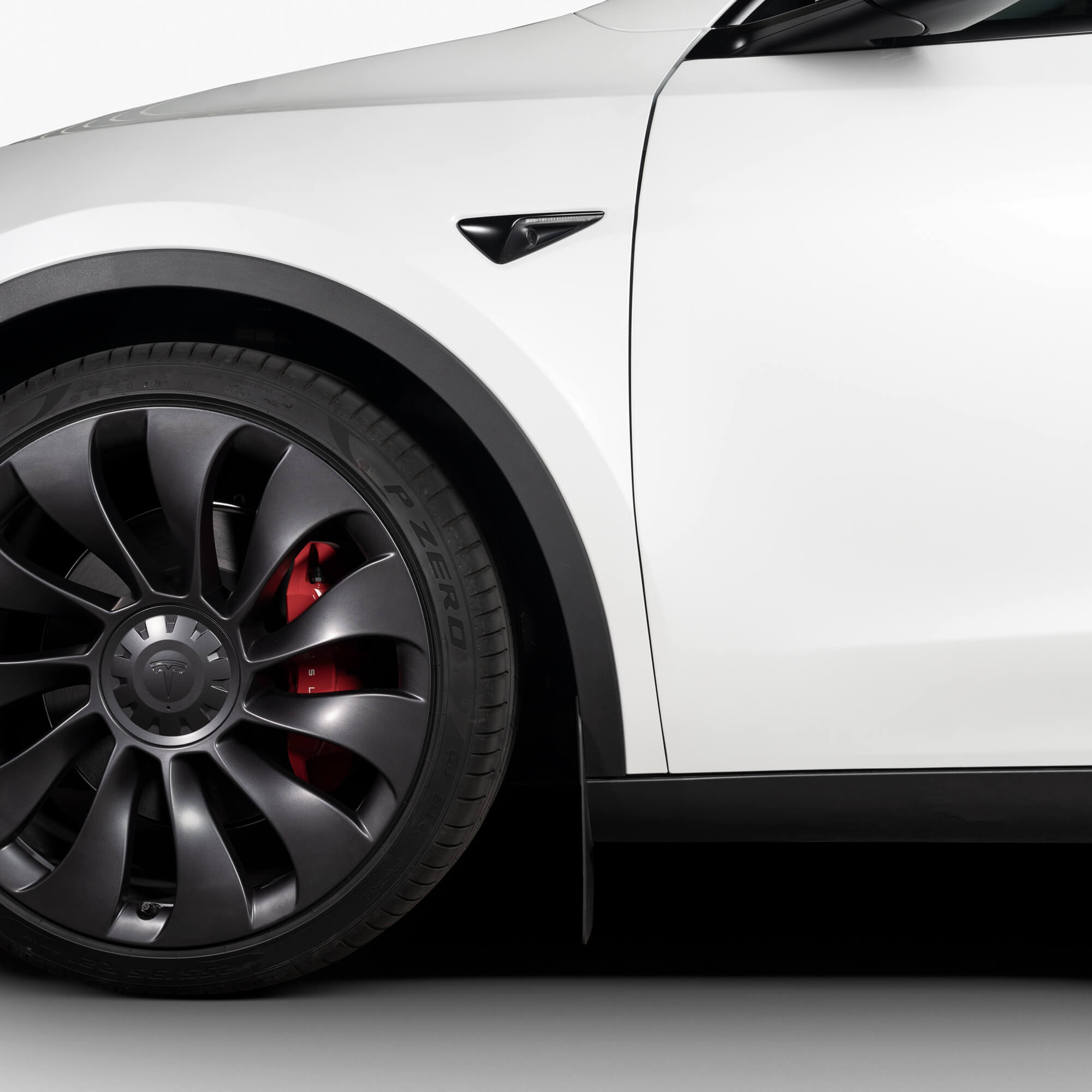 The OEM mud flaps are great at doing their job; however, I am not a fan of how they look.
They provide good coverage, and when it comes to Performance models with 21″ wheels or even bigger, the OEM mud flaps perform like a charm.
They cost $40 with the installation hardware, and Tesla also gives you an option of an all-weather protection kit, which includes a PPF film for the rear and a squeegee for application, aside from the mud flaps. This option will cost you $90.
The problem with the Tesla OEM mud flaps is that they are a bit too thin, and aesthetics-wise, they aren't that good-looking.
The plus point for these mud flaps is the flexibility of the material — which means that even if they do get hit by a rock, the chances of breaking are low compared with the cheaper aftermarket ones.
On a side note, installing the mud flaps is probably the easiest DIY job you can do on your Model Y. Plus, it won't affect your warranty.
When it comes to fitment, well, these are OEM, so it would be great without a doubt.
The fact that they are providing you the installation hardware means they are trusting you with it.
So roll up your sleeves and go all in.
PROS
✅ Great coverage and protection
✅ Best fitment
✅ Very flexible material
✅ Easy to install
CONS
❌ Not good-looking
❌ Very thin
Now let's go to the best aftermarket mud flaps available for your Model Y.
5 Crazy Useful Tesla Tips and Tricks Few Owners Know About
These 5 rare tips can save you so much time and stress – and few owners know about them (even after years of ownership). Sign up below to learn more. It's free!
By subscribing, you agree to get emails from TeslaTuneUp. We'll respect your privacy and you can unsubscribe any time.
Best Aftermarket Mud Flaps for Tesla Model Y
There are so many aftermarket mud flaps out there that it can be hard to choose just one.
To make your search easier, I have narrowed it down to the best three that are the best bang for your buck.
Evannex
✅ Best quality
✅ Very easy to install
✅ Awesome fitment
✅ A little more expensive than OEM
A-Premium
✅ Good quality
✅ A little difficult to install
✅ Great fitment
✅ Great value
✅ Awesome coverage
KIKIMO
✅ Good quality
✅ Easy to install
✅ Great fitment
✅ Inexpensive
✅ With one-year warranty
I found several other mud flaps that are quite popular, such as those from Bomely, RPM, BASENOR, and Motrobe, but most of them had fitment issues, so I didn't include them on this list.
Nansure almost made it, but it had a problem with Performance models with 21″ wheels as it only worked about 80% — there was still 20% damage that it couldn't stop.
For Performance models with bigger wheels, the only suitable option, other than the OEM mud flaps, is Rally Armor. However, it costs four times the price of the OEM.
If you happen to have a Model 3, you can check out the best mud flaps for your vehicle here.
Overall Best Tesla Model Y Mud Flap: A-Premium
One reason I put A-Premium on the top of this list is its thoughtful design.
I really like the design — it looks very nice.
When I looked into the fitment aspect, A-Premium mud flaps outperform the competitors.
Many other mud flaps were loose on the front.
Unlike other competitors, A-Premium placed an extra clipping point in its overall design that prevents it from becoming loose.
The overall design is definitely something to compliment about. It prevents dirt accumulation and provides great coverage overall to prevent rock chips.
And when it comes to the price point, they are amazingly sweet on your wallet — the type of quality for the price is worth it.
The only downside to this product is that it doesn't come with warranty, which is okay, given the fact that their quality is good.
When it comes to DIYing the installation, it might be a little challenging for those who are not the wrenching type.
Watch this YouTube video to see how A-Premium mud flaps perform when put against competition such as the RPM mud flaps.
This video will also give you the DIY instruction, making it much easier.
From the side-by-side comparison, it is clear that A-Premium is the better choice.
PROS
✅ Awesome coverage
✅ Great value
✅ Good fitment
✅ Does not accumulate dirt and debris
CONS
❌ No warranty
❌ Not the easiest to install
Runner-Up Tesla Model Y Mud Flaps: EVANNEX
This is one of those brands that won't give you much trouble thinking whether or not it's good.
I found the EVANNEX mud flaps to be the best in terms of both quality and looks.
Their fitment is also something to compliment about.
Overall, they performed the best among their competitors.
There is no way that you're not going to get attention on these mud flaps. They have a very nice, premium feel to them, which goes along with the overall design of the Model Y.
Their only drawback, in my opinion, is their price point. They clearly cost more than their competitors — only slightly more than the OEM ones — but for good reason. You get what you pay for.
EVANNEX could be the overall best, but A-Premium gives the same quality, if not better, for a much lower price.
Looks wise, both Evannex and A-Premium have their own flavor. I personally like A-Premium's design more.
However, if you prefer your mud flaps to look more stock, you can opt for EVANNEX as they look quite simple and refined. You wouldn't be able to tell that they are aftermarket.
Here's a detailed walkthrough video of how to install the EVANNEX mud flaps with ease. (Though made for the Model 3, the process for the Model Y is exactly the same.)
But if you are the kind of person who prefers written instructions, you can read through this PDF version.
If you live in the Bay Area, these mud flaps will not give you any trouble.
If you are thinking about whether or not they have warranty, well, they don't. If they get damaged, that's it, end of story.
However, if you live in an area that sees a lot of snow or has a lot of gravel to go through and you happen to have the Performance model with 21″ wheels, these mud flaps won't be the best choice.
I would recommend the ones from Rally Armor for wheels bigger than 19 inches.
Smaller mud flaps won't work if you have bigger wheels, so you might have to resort to other options.
If Rally Armor isn't your cup of tea, you can opt for a cup of coffee, I mean, the OEM ones. Their only drawback is their aesthetics, which I am not really a fan of. However, they get the job done pretty well.
PROS
✅ Great quality
✅ Awesome fitment
✅ Premium look
✅ Easy to install
CONS
❌ A bit more expensive than OEM
❌ Might not give full coverage for 21″ wheels or bigger
❌ No warranty
Best Budget Tesla Model Y Mud Flap: KIKIMO
This is where the price looks too good to be true. You might not even believe it — that's how inexpensive they are.
The quality is something I was concerned about at first. But when I dug deeper to see where it stands in terms of quality, it's not bad at all. And for this price point, I couldn't ask for more.
It's made of ABS thermoplastic, which is fine with me.
To make the deal even better, KIKIMO also offers a one-year warranty. Insane, right?
I did find that KIKIMO had a fitment issue with its Model 3 mud flaps, but as for Model Y, there was none. The reviews on Amazon also back it up quite nicely.
The overall design is something to mention as the inside tends to accumulate dirt and debris a bit more compared with the competitors.
However, unlike other competitors, the instructions that come with KIKIMO mud flaps are fantastic.
These mud flaps have done so well that I even considered them as the overall best. However, they fall short in terms of quality when compared with A-Premium.
But again, with this price tag, I couldn't ask for more. I give it my personal favorite badge.
PROS
✅ One-year warranty
✅ Inexpensive
✅ Good quality
✅ Good fitment
CONS
❌ Hard, plasticky look
❌ Dirt and debris accumulation
Tesla Model Y Mud Flaps Installation Guide
As there are so many different mud flaps out there, each with its own unique design, a specific guide won't give you much benefit, so I came up with a universal installation guide instead.
Step 1: Cleaning
The first step is to thoroughly clean the wheel well area where you're installing the mud flaps. If the rivets get a little bend due to dirt and debris on the inside, they won't fit properly and would come loose easily.
Step 2: Removing the Factory Bolts
After cleaning, remove the two bolts that are keeping the fender liner in place. You can use a plier tool for this job.
Some mud flaps require you to remove the 10 mm bolt under the fender area as they have an attachment point there as well.
Step 3: Putting the Mud Flaps in Place
You can work your way through by placing the mud flap in its place and using the rivets to hold it in place, which come as the installation hardware with the mud flaps.
Step 4: Happy Driving!
Now that the mud flaps are successfully installed, you can now drive to your heart's content and say goodbye to those rock chips!
Step 5 (Optional): Putting a PPF Film
Even though this step is optional, it's going to offer a lot of benefits in the long run. Instead of applying PPF to your whole vehicle, you can apply it only to the panels prone to damage, including:
The area around the wheels, especially the front side of the rear wheels
The front bumper (hood is optional)
The area before the front wheel well
The side skirts
Frequent Buyers' Concerns
Does Tesla Model Y come with mud flaps?
Sadly, the Tesla Model Y does not come with mud flaps from the factory. You would have to order them separately. When ordering from Tesla, it's best to wait until you are assigned a VIN number so that if turns out you prefer some aftermarket ones over the Tesla OEM mud flaps, you can have your money back within 30 days.
Are mud flaps for Tesla Model Y worth it?
Tesla Model Y mud flaps are definitely worth it — so much so that they are a necessity for most people. I have read so many horror stories of Model Ys having their paint completely ruined, which could have been prevented had it been PPF-ed or had mud flaps been installed in time.
The design around the wheel well area is prone to damage by road grime. Without mud flaps, you are just one bad weather away from becoming one of those horror stories.
Final Thoughts
After thorough research, I settled on four best mud flaps for the Model Y.
If you are residing in the Bay Area and the weather won't be a huge problem, you can basically go with any of the mud flaps mentioned in the list.
My personal favorite is KIKIMO as it gives you the cheapest price, along with a one-year warranty.
A-Premium is the most loved by the community, and this option will give you the best bang for your buck. Their mud flaps also look the best, but you don't get a warranty.
However, if you live in an area that sees a lot of snow, KIKIMO or A-Premium won't work for you. The best option for heavy winters is either the OEM mud flaps or those from Rally Armor.
Zac Ludicrous
Mechanical engineer by profession. TSLA shareholder before the hype. EV enthusiast all day long. Zac enjoys learning about the future of battery technology, autonomy, and EVs. He considers Tesla Model 3 the most important vehicle of the 21st century -- and is in a quest to improve the ownership experience of every Model 3 owner he possibly can.
5 Crazy Useful Tesla Tips and Tricks Few Owners Know About
These 5 rare tips can save you so much time and stress – and few owners know about them (even after years of ownership). Sign up below to learn more. It's free!
By subscribing, you agree to get emails from TeslaTuneUp. We'll respect your privacy and you can unsubscribe any time.