Do you remember KITT from Knight Rider? KITT was a car that could drive itself.
Everyone had a fantasy to own that car. God, I was crazy about it.
Fast-forward to the modern-day, that is not a fantasy anymore. You can actually own that car.
Not that one exactly, but thanks to Tesla Autopilot, a similar one!
I have come up with a complete guide about Tesla's Autopilot Mode after a rigorous research for hours.
Without further ado, let's hop into it.
What Is Tesla Autopilot?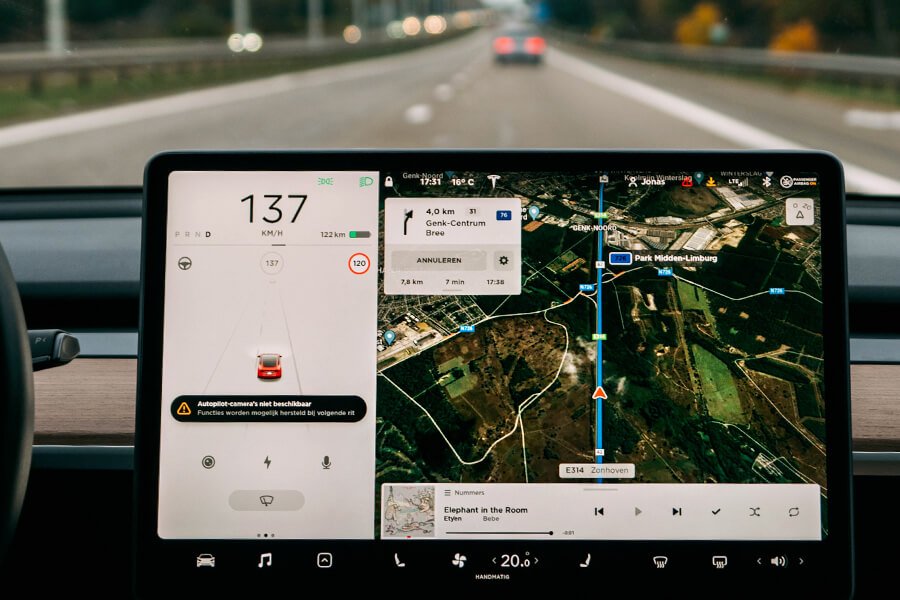 This is the 21st century, and futuristic things are becoming the new normal—just like your Tesla driving.
What enables a Tesla to do that? The answer is, of course, Autopilot mode.
Autopilot is an advanced combo of hardware and software systems that allows a Tesla to drive itself to a limited degree without any interference from the driver.
Simply put, your car has an AI which can "see" the cars and objects around it.
The hardware uses 8 external cameras,12 ultrasonic sensors, and an onboard computer to provide Autopilot features, such as accelerate, brake, and steer within a lane, and the software makes sure the hardware works perfectly.
When Did It Become Available in Tesla Vehicles?
Tesla started developing the first generation of their Autopilot technology (HW1) in 2014. Initially, one camera, 12 ultrasonic sensors, and radar sensors were included in the early release.
In 2016, Tesla released Autopilot hardware version 2.0 (HW2). This version was entirely built in-house, with an increase in the number of cameras from one to eight and the addition of a new Nvidia GPU.
Tesla upgraded the Autopilot hardware to version 2.5 (HW2.5) in 2017, which is the version that the Model 3 was first shipped with.
The year 2019 saw the release of Autopilot version 3.0 (HW3), a significant update that was the first to employ a chip design developed by Tesla itself.
Have a look at the table below to know when each Tesla vehicle acquired this feature:
| | | | | |
| --- | --- | --- | --- | --- |
| Autopilot Version | Model Y | Model 3 | Model X | Model S |
| HW1 | – | – | 9/2015 | 9/2014 |
| HW2 | – | – | 10/2016 | 10/2016 |
| HW2.5 | – | 7/2017 | 8/2017 | 8/2017 |
| HW3 | 3/22/2019 | 3/22/2019 | 4/12/2019 | 3/13/2020 |
| HW4 | 2021 | 2021 | 2021 | 2021 |
Note: All information has been obtained from Tesla.
Available Packages for Autopilot
There are three packages available for Autopilot mode. Let's break down some of the important details about these packages.
Basic Autopilot
Basic Autopilot comes with every Tesla and is focused to assist the driver.
This package includes:
Traffic-Aware Cruise Control: Matches the speed of your car to the surrounding traffic
Autosteer: Assists in steering within a clearly marked lane and uses traffic-aware cruise control
It performs basic functions such as accelerating to a pre-set speed, braking for cars and pedestrians, and minimal steering to keep the car in the lane.
It also performs emergency braking, blindspot monitoring, collision alerts, and cruise control.
So when you're driving on highways or a route that requires minimal steering, the standard mode will assist you through your journey perfectly.
Full Self-Driving Capability (FSD)
FSD comes as an upgrade to Basic Autopilot to make your driving experience more awesome.
This package includes extra features, which are as follows:
Traffic-Aware Cruise Control: Matches the speed of your car to the surrounding traffic
Autosteer: Assists in steering within a clearly marked lane and uses traffic-aware cruise control
Auto-Lane Change: Assists in moving to an adjacent lane on the motorway when the indicator is engaged by the driver
Navigate on Autopilot: Designed to get you to your destination more efficiently by actively guiding from a highway's on-ramp to off-ramp, including suggesting lane changes, navigating motorway interchanges, and taking exits
Autopark: Helps parallel or perpendicular park your car with a single touch
Summon: Moves your car in and out of a tight space using the mobile app
Smart Summon: Your car will navigate a more complex environment and parking spaces, maneuvering around objects as necessary to come to find you in a car park within your direct vicinity
Traffic Light and Stop Sign Control (Beta): Identifies stop signs and traffic lights and automatically slows your car to stop on approach with your active supervision
FSD is also getting a feature that enables your Tesla to autosteer on city streets, but there's no word on exactly when.
Tesla is allowing owners to opt for the FSD Beta Program so they can access new features and updates before they roll out to other users.
Enhanced Autopilot
Enhanced Autopilot is a middle-ground option with the best features of FSD for a relatively less price.
It's more like a budget package that includes all features of Basic Autopilot plus Auto Lane Change, Auto Park, Summon, and Smart Summon FSD.
It will also get Navigate to Autopilot but won't get Autosteer on City Streets (when the feature launches).
Also, this package is not launched in the United States and is limited to the UK.
How Much Each Package Costs
Prices are as follows:
Basic Package: Free
FSD: $12,000 (You can either pay fully or get a monthly subscription at $199/month)
Enhanced Autopilot: $4,000 (Again, either pay fully or subscribe for $99/month)
You're eligible for the upgrade if your car has Autopilot 3.0 hardware and Basic or Enhanced Autopilot.
How to Upgrade From Basic Autopilot to FSD Package
You can upgrade from Basic Autopilot to the more premium FSD using your Tesla app or your Tesla account.
Via Tesla App:
Open the Tesla app.
Tap "Upgrades".
On the top of your screen, tap "Subscribe".
Tap the checkbox next to "Full Self Driving Capability".
Tap "Subscribe".
To cancel the upgrade, follow the same procedure and tap "Cancel" in place of "Subscribe".
Via Tesla Account:
Sign in to your Tesla account.
Next to your car, select "Manage".
Select "Buy Upgrades".
In the top right corner, toggle to "Subscribe".
Under Full Self Driving Capability, select "Add".
To cancel the upgrade, follow the same procedure and select "Cancel" in place of "Add".
Is the FSD Package Worth the Upgrade? What Does the Community Say?
It's quite difficult to reach a conclusion in this case because it's entirely subjective. It would ultimately be a matter of personal preference whether you want to have this feature or not.
But to help you decide, here are some actual posts from Tesla owners explaining why they prefer or do not prefer upgrading to the FSD package:
FSD is an easy decision for me as well. I'd rather dump it in the market. After driving "FSD" cars I think AP1 is the best AP version. It does exactly what I need it to: reduce driver fatigue on highways.

• Lane changes on highway (overtake slower cars):
◦I disengage AP before I pass, but AP1 can do this with a user input

• On and Off ramps for highway
◦ I 100% want to be in control while merging

• App summoning features – drive/navigate through a parking lot
◦ I've used this once and it took to open the app, locate the car, get a GPS lock, and then finally move it than if I were to just get in the car
• Use the key fob to drive the car forwards and backwards (useful for tight spaces or when over a deep puddle)
◦ Have never had to do this
• Autopark
◦ Has almost hit parked cars multiple times
• Stop sign and stop light aware stopping
◦ The green light notification is nice, but not for $10k
• Future release – additional options at a later date (likely more within your span of ownership)
◦ 2 weeks, right?
• Raised value – Remember when FSD was $5,000 in May of 2019? In under 3 years I added $5k of value to my 2017 X (market inflation set aside)
◦ Used, FSD doesn't really add value IMO, but the jury is out on that

ngng
Depends how you plan to use your car and for how long. If you do a lot of road trips, at least enough to justify having the subscription most of the time and you plan to keep your car longer than 4 years, 2 months – then the $10K can work out nicely. That $10k isn't going to be a huge percentage of your car's total cost (vs Model 3 SR+) and if you can afford a Model X, then $10K isn't going to break the bank.


Of course, $10K is still a lot of money that could be better spent if you aren't planning to use that feature enough to justify that initial cost. Party tricks aside, the real value of FSD will come when city driving is finally released and working well – which is likely going to take a few years (software is hard).


For me, I plan to subscribe to FSD for 2 months in the Summer and December when we do most of our family road trips. I'm probably not keeping my current car 12 years.

awesomejt
Nah the price for full self driving is ridiculous for a freaking beta state for that matter even for 5k its ridiculous imo

im still from the crop that i buy a vehicle to drive myself so i see very little value for me for full self driving personally having cruise control and blind spot is nice enough for me AP is a bonus, i had an 18 accord with honda sensing for free and worked fine but barely used anything other than lane keep assist on low

dino007
5 Crazy Useful Tesla Tips and Tricks Few Owners Know About
These 5 rare tips can save you so much time and stress – and few owners know about them (even after years of ownership). Sign up below to learn more. It's free!
By subscribing, you agree to get emails from TeslaTuneUp. We'll respect your privacy and you can unsubscribe any time.
How to Operate Tesla Autopilot Features
Activating Traffic-Aware Cruise Control
In the Model S and Model X, pull down once on the cruise control stalk on the left of the steering column. In the Model 3 and Model Y, pull down on the gear selection stalk on the right side of the column once.
To set the speed limit:
Go to "Controls" > "Autopilot" > "Set speed" and choose either Speed Limit or Current Speed.
To set Speed off-set:
Go to "Controls" > "Autopilot" > "Set speed off-set" and choose Fixed off-set or Percentage off-set.
**
Fixed off-set: The car adjusts cruise speed by specific numbers of mph (km/h) on all roads.

Percentage off-set: Cruising speed is adjusted as a percentage of the road's detected speed limit.
Enabling AutoSteer
To engage Autosteer in the Model S and Model X, pull the cruise control stalk on the left of the steering column toward you twice. In the Model 3 and Model Y, pull down twice on the gear selector stalk on the right of the steering column.
The Autosteer Cancels When:
You press the brake pedal.
You start steering manually.
You exceed the maximum speed at which Autosteer operates — 90 mph (150 km/h).
You shift.
A door is opened.
An automatic emergency braking event occurs.
Navigate on Autopilot
To engage this feature, you must first enable Autosteer by going to Controls > Autopilot > Autosteer and then enable the Navigate on Autopilot feature. Camera calibration will be required, and the latest version of Navigation maps must be downloaded via Wi-Fi.
On the Model 3 and Model Y, Navigate on Autopilot can be engaged on most highways by moving the gear lever twice downwards in quick succession. On the Model S and Model X built between 2012 and 2021, Navigate on Autopilot can be engaged on most highways by pulling the cruise stalk toward you twice in quick succession.
Auto Lane Change
To initiate automated lane change, you must first enable Auto Lane Changes through the Autopilot Controls menu within the Settings tab. Then when the car is in Autosteer, a driver must engage the turn signal in the direction that they would like to move.
Autopark
To use Autopark, press on the brake and shift the gear selector into Reverse. Keep your foot on the brake. Start Autopark will appear in blue text on your touch screen — press this to start the feature and release the brake and steering wheel. Autopark will then begin to maneuver the vehicle into the parking space by controlling your car's speed, gear changes, and steering angle.
Smart Summon
To use Smart Summon, open your Tesla app, tap Summon, and then select the Smart Summon icon. To activate the feature, press and hold the COME TO ME button. Alternatively, tap the target icon, set the target destination of your choice by adjusting the map, and then press and hold the GO TO TARGET button. You can stop your car from driving at any time by releasing the button.
**
For more in-depth information, head over to Tesla's support center.
Helpful Guide From YouTube
Cody from the Cf Tesla YouTube channel goes into great details while walking you through the features of Tesla Autopilot:
Limitations: What Autopilot Can't Do
Despite the name, Autopilot doesn't mean that you can leave your electric car unsupervised while driving.
It is, after all, an AI that is also in the development phase. Relying completely on it can put you and other vehicles in grave danger.
Having said that, let's discuss some of the limitations.
10 Limitations of the Tesla Autopilot
Poor visibility (due to heavy rain, snow, fog, etc.)
Bright light (due to oncoming headlights, direct sunlight, etc.)
Damage or obstructions caused by mud, ice, snow, etc.
Interference or obstruction by the object(s) mounted onto the vehicle (such as a bike rack)
Obstruction caused by applying excessive paint or adhesive products (such as wraps, stickers, rubber coating, etc.) onto the vehicle
Narrow or winding roads
A damaged or misaligned body panel
Use of gray or aftermarket glass
Interference from other equipment that generates ultrasonic waves
Extremely hot or cold temperatures
Tesla's Autopilot is classified as level 2 autonomous; however, a car needs to be classified as level 5 to be entirely driverless.
Fun Fact:
It's not even legal to make level 5 autonomous vehicles in the United States. 
Tesla Autopilot Safety Features
Tesla has advised us to be cautious when using Autopilot, but it has also incorporated certain active safety features to help the driver.
They are as follows:
Automatic Emergency Braking
Detects cars or obstacles that the car may impact and applies the brakes accordingly
Forward Collision Warning
Warns of impending collisions with slower-moving or stationary cars
Side Collision Warning
Warns of potential collisions with obstacles alongside the car
Obstacle Aware Acceleration
Automatically reduces acceleration when an obstacle is detected in front of your car while driving at low speed
Blind Spot Monitoring
Warns when a car or obstacle is detected when changing lanes
Lane Departure Avoidance
Applies corrective steering to keep your car in the intended lane
Emergency Lane Departure Avoidance
Steers your car back into the driving lane when it detects that your car is departing its lane and there could be a collision
These active safety features are designed to assist the driver, but they're not responsive in every situation, so a driver must remain alert during the drive.
All Tesla vehicles that came after 2014 have these features.
Frequently Asked Questions
Can I try Autopilot before purchasing?
You can experience Autopilot or FSD on a test drive at one of Tesla's store locations. 
How do I check what Autopilot hardware I have?
Check your configuration from the touch screen. Go to Controls > Software and confirm Autopilot computer type. Then press "Additional Vehicle information".
Conclusion
I have laid down everything you need to know about Tesla's Autopilot mode.
It's a completely useful tool that helps you particularly in long driving distances as long as you take care of its limitations.
Autopilot is not meant for autonomy. It's meant for driver assistance, and to that, it keeps up.
So don't get the wrong idea because we're far away from a car that doesn't require humans to operate.
Until that day, try getting comfortable with what we have at present.
Happy driving!
Muhammad Hassan
Engineer by trade and writer by passion, Hassan is an automotive enthusiast who thinks EVs are the future. At TTU, he discusses the coolest features and products Model 3 owners look for -- so they can better experience their cars. In his free time, he enjoys tea, reading, and listening to podcasts.
5 Crazy Useful Tesla Tips and Tricks Few Owners Know About
These 5 rare tips can save you so much time and stress – and few owners know about them (even after years of ownership). Sign up below to learn more. It's free!
By subscribing, you agree to get emails from TeslaTuneUp. We'll respect your privacy and you can unsubscribe any time.