No front grill on the Tesla Model 3… Dude, I sure miss it!
Tesla has a strange sense of aesthetics regarding their cars. For instance, if you look at its Model 3, you won't notice any front bumper grill (reminds me of a dolphin though!).
Although minimalists are celebrating this change, some old-school guys like me want it back.
Since Tesla has no plans about bringing it back, after-market mods are the only solution we have, and in today's guide, we'll discuss everything about the Model 3 grill.
With me!
Tesla Model 3 Grill: Mesh or Decal (Visuals Included)
To make your Model 3 look more stunning and to add a catchy vibe to it, you can go with either a mesh or a decal front grill.
Let's break it into sections and talk in detail.
Tesla Model 3 Mesh Grill
Mesh is the go-to material for many car enthusiasts when it comes to designing custom car grills to add some spark to their car's front look.
From metals to carbon-fiber mesh grills, you can find tons of exciting designs in the aftermarket to enhance your vehicle's road presence.
In addition, the mesh grill protects the inner components like the radiator from accumulating dust and debris.
Since the Model 3 only has a radiator protective grill on the front, you can only add the mesh grill to that section.
Just like Model 3 owner hridge2020 did:
Tesla Model 3 Decal Grill
The decal grill isn't actually a grill… It's a sticker mimicking a grill to make your Tesla stand out on the road.
Other than that, it has no purpose!
As it's also an aftermarket upgrade, there are plenty of options that you can choose from to customize your Model 3 front bumper.
For example, this guy from the Fosterhere YouTube channel put an Aston Martin front grill on his Tesla Model 3:
Normally, car owners have to choose between mesh or decal grill, but you can go for both if you want to.
Put a decal on the front and replace the radiator protective grill with a custom mesh grill. The choice is entirely yours!
Best Grills for Tesla Model 3
I have ranked Temple Performance as the winner of the day not only because of its extraordinary look but also because of its credibility among the Tesla community.
I saw many owners on Tesla Motors Club pretty impressed by it.
Met John Temple of Temple Performance Cars last night at our Cruise-In in Marana, AZ and started talking about our Model 3's. He is from Atlanta, GA. and here visiting family. He showed me this picture of his M3 with this Grille he makes from 3M Film. His wife loves the car hated the front end, so he came up with this. Pretty impressive.

CAR3NUT
It's a decal grill that incorporates the mesh pattern with ultra-realistic details to give a cool look to your Model 3 when you're out in the sea of cars.
Watch this YouTube video from Mike Frickle, who upgraded his Model 3 using Temple Performance Grill:
If you like the gill but want a different shape, Temple Performance has got your back!
You can choose from a variety of modish designs, including a carbon fiber finish, depending on the statement you want to give.
To ensure quality, the decal is made with 3M films, which are the top choice of car manufacturers because of their fade resistance and longevity.
In terms of price, the Temple Performance Model 3 grill has a slightly higher price for a decal, but the product is worth paying for.
Pros
✅ Ultra-realistic look
✅ Multiple design options
✅ Provides fade resistance
✅ Has a long life
Model 3 owners are often worried about the damage to their front radiator grill fins, as well as to the radiator itself. Good news, we have a solution for that!
RPM Tesla's radiator protective grill is a must-have accessory to protect your Model 3 from dust, rocks, and other road debris.
Made with the finest ABS plastic and stainless steel wires, this mesh grill offers lifetime durability so you don't have to spend extra dollars for replacing it.
However, you'll need to maintain a cleanup routine as the grill accumulates dirt and looks nasty at times.
The grill comes at an economical price, and the best thing about it is that you don't have to pay for any installation costs… Saves you money again!
Wondering how to install it yourself? Let's watch this YouTube tutorial:
To get this radiator protective grill for your Model 3, just place your order at RPM Tesla and get it delivered to your doorstep.
Pros
✅ Protection against road debris
✅ ABS plastic and stainless steel material
✅ Looks elegant
✅ Economical price
Cons
❌ Demands a cleanup routine
If you're looking for a front bumper grill but don't want to abandon the "Tesla factor" of your Model 3, Temple Performance Model 3/Y Grill is your best choice.
In fact, billysteeghs from Tesla Motors Club applied it to his Model 3, and the community really dug it:
I think I like this look. Especially moving the Tesla logo from the frunk to the front grille area just above the license plate.

FB49
Where did you purchase this variation? Still on the fence about adding anything to the front of mine.

CAR3NUT
Designed like the Model S Plaid's stock grill, this decal grill provides a sleek guise to your Model 3 by adding elegance to its personality.
In addition to its various design patterns, you can choose between multiple shapes depending on your type of look.
Also, it is not permanent and can be peeled off like a Band-Aid, allowing you to change it occasionally whenever you feel like freshening up your EV's aesthetics.
As far as quality is concerned, the decal is made with M3 polyvinyl film that provides long life and durability to it.
You can buy this decal grill from Temple Protection's official website. It's a little expensive, but you can get it at a fair price during sales, which they often have on their website.
The package includes a decal grill and an instruction manual which can be useful for a DIY project.
Pros
✅ Mimics the Model S Plaid's grill
✅ Elegant and sleek design
✅ Easy to replace
✅ Provides durability and longevity
Cons
❌ Fairly expensive when not on sale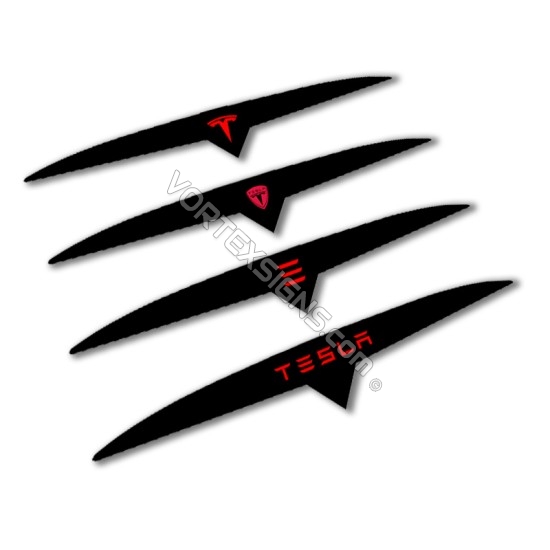 For those who're not willing to spend more than $100 on a front grill but still want it for their Model 3, Vortex Signs Tesla Grille is the optimal solution that comes for a fraction of the price.
Made with Oracal 651 Vinyl, this decal grill provides great durability and adhesiveness to last for a long time.
The look, however, isn't as impressive as the Temple Protection grill, but normally, it looks good, and Tesla owners are actually considering getting one like this.
I've been considering getting a fake grill. I like the thin one resembling the S' grill, similar to but not necessarily the one shown below. Quick web searching shows many merchants, and styles. Has anyone found a good quality fake grill, from a reputable merchant they'd recommend?

Thanks

haroldo
It's a pity they are totally flat so up close they are obviously a big sticker. However from a few feet they are quite convincing. They do at least protect one of the most vulnerable stone chip areas at a modest cost. I plan on trying one but still researching.

Yperformance
If you're a custom freak, Vortex Signs Tesla Grille can be your favorite pick as it offers multiple grill designs and five different color options, including matte black, gloss black, metallic silver, red, and white.
In addition, you can select a custom-embedded Tesla logo to add further detail to this front grill.
The package includes a grill, a squeegee, and an applicator bottle so you can install it yourself without paying any extra cost.
If you want this Tesla grill for your Model 3, just hop on the Vortex Signs official website and choose your favorite combination.
Pros
✅ Multiple design options
✅ Multiple color choices
✅ Custom-embedded Tesla logo
✅ Includes squeegee and applicator bottle
✅ Economical price
Cons
❌ Looks somewhat fake
❌ Isn't easy to replace
5 Crazy Useful Tesla Tips and Tricks Few Owners Know About
These 5 rare tips can save you so much time and stress – and few owners know about them (even after years of ownership). Sign up below to learn more. It's free!
By subscribing, you agree to get emails from TeslaTuneUp. We'll respect your privacy and you can unsubscribe any time.
Other Products to Consider
Best Tesla Model 3 License Plate Bracket: Quick Bandit
Pros
Fits: All Model 3 years and trims
Mounted on: Bumper, behind the upper/lower grills
✅ Clever design to install/uninstall quickly (< 10 sec)
✅ Weatherproof plastic material
✅ No sensor or airflow interference
✅ Lifetime warranty
Cons
❌ Expensive compared with its plastic competitors
>>Want to explore more options? Here is our roundup of the 5 easy-to-install Model 3 license plate brackets.
Best Tesla Model 3 Front Lip Spoiler: Maier Racing
Pros
✅ Track-proven performance
✅ Handmade in California
✅ Comes with installation instructions
Cons
❌ Expensive compared with plastic options, as expected
❌ Involved installation
❌ Ground clearance reduction seems closer to 1″
>>For more insights on Model 3 front lip spoilers, hop into our conclusive guide to the best Model 3 lip spoiler.
Pros
✅ Premium quality
✅ Performance-inspired design
✅ Includes required installation hardware
✅ Facilitates license plate holders
✅ Multiple color options
Still confused about making a decision? Head to our one-stop guide about the Model 3 aftermarket front bumper.
Frequently Asked Questions
Why does the Tesla Model 3 have no grill?
The Model 3 is an electrically powered vehicle that doesn't have a combustion engine in the front. Hence, it doesn't require any grill on the front.
Which Tesla has a grill?
The Tesla Model X and Model S come with a sleek front gill, but that doesn't serve any purpose other than aesthetics.
Is it worth getting a decal grill for Tesla Model 3?
Although decal grills aren't original, they are economical and make your Model 3 stand out from the crowd. From that point of view, they're worth it.
Final Thoughts: Tesla Model 3 Grill
As a well-known fact, the front grill of your vehicle makes more difference to its look than any other part, so you must choose it wisely.
Whether you want to go subtle or wild, I have laid down every option, from plain carbon fiber to savage mesh looks for your Model 3.
If you ask me, I'll suggest you try the Temple Protection front grill as it looks real and provides a lot of designs to match your vibe.
Looking at the price point, you have cheaper options like Vortex Signs, but make sure that you're confident about the look before investing in it because compromising the look defeats the whole purpose of getting a grill.
Muhammad Hassan
Engineer by trade and writer by passion, Hassan is an automotive enthusiast who thinks EVs are the future. At TTU, he discusses the coolest features and products Model 3 owners look for -- so they can better experience their cars. In his free time, he enjoys tea, reading, and listening to podcasts.
5 Crazy Useful Tesla Tips and Tricks Few Owners Know About
These 5 rare tips can save you so much time and stress – and few owners know about them (even after years of ownership). Sign up below to learn more. It's free!
By subscribing, you agree to get emails from TeslaTuneUp. We'll respect your privacy and you can unsubscribe any time.