Did you know that damage caused by lifting your Model 3 incorrectly isn't covered under warranty?
Nope…
Reason being ignorant shops have damaged many Teslas by lifting them via the side rails — or worse, the battery.
For you to avoid unfortunate damage during tire rotations or whenever your car is lifted,
I spent more than 20 hours researching the best Tesla Model 3 jack adapter available.
Below are my top picks as well as the questions I wish I'd know before making a decision.
Metallic vs. Plastic Pads: What Are The Benefits?
Metallic jack pads are seen as longer-lasting choices.
While this is true, plastic jack pads should also last years — usually outlasting your Model 3 ownership — and most people find them good enough for what they need.
Plastic, and in particular rubber, brings the benefit of added friction, avoiding slippage and reducing the risk of battery or paint damage.
Metal, on the other hand, is more expensive, heavier, and due to its own weight, may struggle to stay inside the jacking point without a force being applied.
To counter this, however, most metallic jack pads are made of lightweight aluminum —
And one ingenious product even includes a magnet to hold the pad in place.
Ultimately, material choice is a personal preference. Both materials will get the job done in a safe & reliable manner.
Tip: Every Tesla model shares the same jacking point dimensions. Model 3 jack pads below should fit Model S, X & Y.
As Model Y has a different manufacturing process, though, some customers find it tends to have a slightly looser fit.
Best Tesla Model 3 Jack Pad Adapter Overall: Teslapucks
As a brand that emerged to create jack pucks for Teslas, it's no surprise they're the most popular choice among the pack.
At 25 bucks per set of 4, the proposition is hard to beat as other sellers charge similar prices per unit.
The pads have a rubberized coating to prevent metal damage — and they were invented by a Tesla owner in a quest to protect his own vehicle.
If you're looking for a practical, affordable choice to protect your car whenever it's lifted, look no further than these pads.
Unfortunately, some customers complain about a disgusting tire smell.
Let these pads be in the sun for a few days to reduce this stinky annoyance.
According to one particular review, these do seem to fall loose on Model Y as I warned earlier in the article.
They fit the Model 3, Model S, and Model X vehicles perfectly, though.
Pros:
Fits: All Model 3 / S / X years. May fit Model Y.

✅ Most reviewed product on its category
✅ Very affordable for a 4-unit package
✅ Hard vulcanized rubber protects battery & paint
✅ Includes mesh storage bag
Cons:
❌ Potentially disgusting tire smell
Runner-Up Model 3 Jack Pads: BASENOR
Although less popular than Teslapucks, Basenor offers a no-compromises jack pad set at an even more affordable price tag.
If you've spent more than 20 minutes looking for Tesla accessories on Amazon, you're probably familiar with this brand's quality.
The jack pad's fit is so precise that a customer accidentally drove around, forgetting to remove the pads from his Model 3's underbody…
They stayed in place through bumps and sharp corners!
Customers are amazed by the fast shipping and responsive customer service as well, which is a differentiator.
The tire smell issue isn't as prominently mentioned on this product. Whether it's due to fewer reviews overall remains a question.
Overall, this is a must-have accessory for DIYers or non-DIYers alike.
Although not all shops are ignorant on the subject (some even refuse to work on Teslas without pads),
Not all will have a set available at all times to protect your vehicle.
Take matters into your own hands, order a pack and keep them in your frunk for when shops need it.
Pros:
Fits: All Model 3 / Y / S / X years and trims.

✅ Established Tesla accessories brand
✅ Very affordable for a 4-unit package
✅ Rubber protects battery & paint
Cons:
❌ No storage bag included
❌ Potentially disgusting tire smell
❌ May not hold on to the chassis
Premium Tesla Model 3 Jack Pad Adapter: ReverseLogic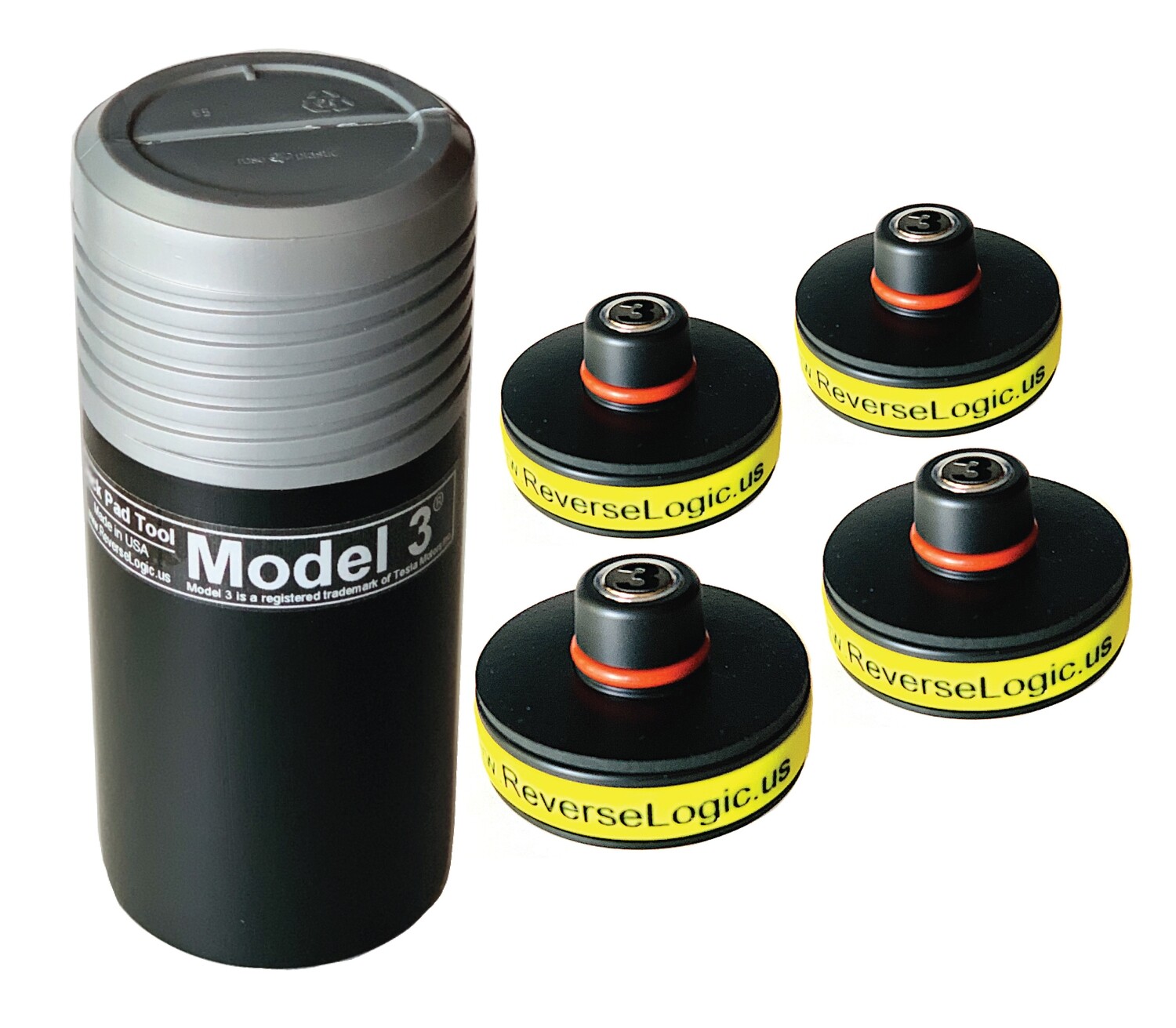 This Tesla Model 3 jack pad adapter set isn't cheap — but it justifies its higher price tag with three characteristics:
Its unique, low-profile design allows for taller jacks to lift your vehicle.
Its silicone O-ring and low-density polyethylene washers offer superior protection compared to traditional rubber or aluminum.
And its magnetic top firmly attaches the jack pad adapter to the chassis regardless of whether a force is being applied.
The magnet, in particular, is an interesting feature not seen in other products — and it makes an audible click when it's properly inserted, making for a smooth user experience.
Unlike O-rings, the magnet ensures the product continues to function even if the jacking point deteriorates.
You're paying for these benefits, though, as the product demands a premium.
It isn't available on Amazon for Prime customers to take advantage of —
So you'll have to get it via eBay or directly from their website.
Aside from its 4 pack, the jack pads come available in a 2-unit package.
If you can't justify $100 and rarely need more than 2 lifting pads, the 2-unit variant may be what you're looking for.
Pros:
Fits: All Model 3 / Y years.
Model S / X pads available.

✅ Magnetic top to attach to chassis
✅ Low-profile design for taller jacks
✅ Silicone O-ring
✅ LDPE washers for superior protection compared to rubber
✅ Made in the U.S.
Cons:
❌ Expensive
❌ Not available on Amazon
❌ 2-unit package includes no storage bag
Budget Aluminum Jack Pads for Model 3: Yuangang
With 4 different colors, these jack pads brings the ideal trifecta:
A metallic core, rubber liners for additional protection, and a reasonable price.
Although one particular customer said the o-ring split prematurely, most customers are happy with the product as proven by its perfect, 5-star Amazon rating.
It happens to have many Model Y owners raving about its fit, too.
If you own a Model Y and are looking for quality jack pads with a great fit, these may be your safest best.
They fit the rest of the Tesla lineup as well, of course.
The high-quality bag to keep your pads organized is also a big plus many customers appreciate.
Pros:
Fits: All Model 3 / Y / S / X years and trims.

✅ Interesting color options (black, silver, blue, or red)
✅ Perfect, 5-star rating
✅ Made of lightweight, durable aluminum
✅ Loving bag to keep pads organized
Cons:
❌ O-ring may split prematurely
Tesla Model 3 Jack Pad Adapter on a Budget: CPROSP
Although these jack pads still do what they're supposed to — and do so at the lowest price possible,
Some customers claim the product is "too soft," doesn't stay in place, and shares the peculiar odor competitor customers complained about.
For the practical man or woman who wants to spend as little money as possible, this one is worth a look.
Despite being the cheapest, however, I wouldn't say it offers the best value.
For a few extra dollars, you could get one of the higher-quality Tesla Model 3 jack pad adapter sets listed above.
Pros:
Fits: All Model 3 / S / X years. May fit Model Y.

✅ One of the most affordable options available
✅ Works as intended
✅ Good fit (measurements picture included for consumer peace of mind)
Cons:
❌ May get squished easily
❌ Questionable durability
❌ No storage bag included
Frequent Buyer Concerns
How do you get a Tesla Model 3 into Jack Mode?
Unlike the Model X and S vehicles that have an air suspension, Tesla Model 3 has no air suspension system nor "Jack Mode" available.
How do you jack up a Model 3?
The official jacking procedure can be found on Model 3's Owners Manual:
Follow the steps below to lift Model 3. Ensure that any non-Tesla repair facility is aware of these lifting points.

1. Position Model 3 centrally between the lift posts.

2. Position the lift arm pads under the designated body lift points at the locations shown.

WARNING: DO NOT position the lift arm pads under the Battery or side rails, as shown in red.

3. Adjust the height and position of the lift arm pads to ensure that they are correctly located.

4. With assistance, raise the lift to the desired height, ensuring the lift arm pads remain in their correct positions.

5. Engage any lift safety locks. Follow the lift manufacturer's instructions.

Source: Model 3 Owner's Manual, 2020.44
Remember to place your brand-new jack adapters on the jacking point before lifting your vehicle as you would any other.
Here's a visual example if words and images aren't clear enough:
Does Tesla Model 3 come with a jack?
No. Passenger vehicles rarely include a jack as a standard feature.
How long do tires last on Tesla Model 3?
Under normal circumstances, Model 3's factory tires are expected to last 40,000 miles.
Tesla's Model 3 Owners Manual recommends tire rotations every 6,250 miles to even out wear between all four tires.
Can Costco change Tesla tires?
Yes, just make sure they have a set of jack pad adapters like the ones described above.
Some Costco facilities may refuse to work on your Tesla if they don't have a way to do the job while protecting your car's chassis and battery.
Our Tesla Model 3 Jack Pad Adapter of Choice
To lift your vehicle and ensure non-Tesla repair shops protect your expensive battery, order a set of Teslapucks.
As cheesy as the brand name sounds, and although an inexpensive product, I was impressed by its build quality.
Hundreds of people can't be wrong about the product: it works like a charm — and for a deal of price.