Whether you're listening to a podcast series on Sirius XM or a wide range of music on Spotify courtesy of Tesla Premium Connectivity, crystal-clear audio is definitely a must for an enjoyable driving experience.
And, fortunately, the Tesla Model 3 never ceases to amaze! It boasts a sound system that would make any audiophile have his dancing shoes on.
Let's delve deeper into it and have a more profound insight into what speakers are in the Tesla Model 3.
An Inside Look Into Tesla Model 3 OEM Speakers
Are you an audiophile as mad as I am?
If yes, then you must have heard of the great Bang & Olufsen, dubbed as "the wildest audio brand of its time." Anyone who follows premium speakers is aware of their formidable sharp and clean sound systems!
They are without a doubt the most powerful tones on the market. But mind it! If you crave high levels of performance and luxury, they aren't cheap.
What if I tell you that sound experts who previously worked at Bang & Olufsen contributed to the development and production of speakers for the Tesla Model 3?
It isn't a claim by any random guy on the internet. This claim was made by Sir Elon Musk himself!
Replying to an audio reviewer's comparison between the Tesla OEM speakers and the luxury Bang & Olufsen, Elon said, "Tesla audio engineers come from B&O & many other companies. They literally rōq. Our system is highly programmable, so we keep improving it via OTA codec updates."
According to prominent audio reviewer Paul Maric, the Tesla Model 3's audio system "sounds better than the $12,000 Bang & Olufsen option on an Audi A8."
The likes of lead audio engineers like Markus Koch spent over a decade at Harman and Bang & Olufsen before joining Tesla in 2015. He is said to have momentarily left Tesla for a brief stint at Byton before rejoining the Tesla family in 2019.
According to some other reports, Tesla has recruited a number of talented audio professionals and engineers from Jawbone and Amazon Lab126 for the production of echo speakers.
To summarize, the Tesla Model 3's speakers aren't manufactured by some audio company; rather, Tesla manufactures them themselves with the help of the best audio engineers in the market.
Where Are Speakers Located in Tesla Model 3: SR+ Versus LR
Let's check out the magic spots where the Tesla Model 3 OEM speakers are placed: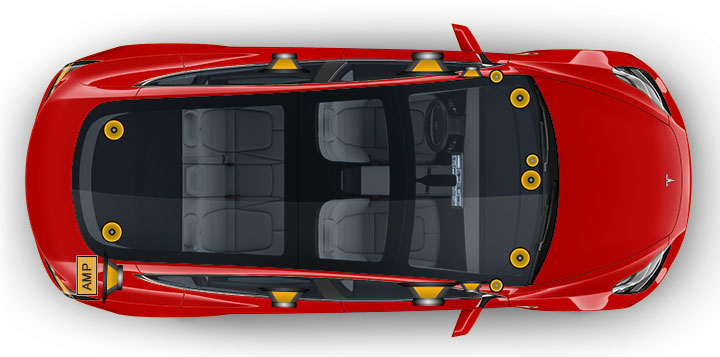 But! "What's the size?" Let's grab the measuring tape or scale and check what's their actual size in SR+ and LR Premium variants:
| | | |
| --- | --- | --- |
| LOCATION | SR+(Partially Premium Variant) | LR(Fully Premium Variant) |
| Front Dash | 1-inch tweeter2–4-inch mid-ranges | 1-inch tweeter3–4-inch mid-ranges |
| Front Doors | 2–8-inch woofers | 2–8-inch woofers |
| Side Mirrors | Not available | 2–1-inch tweeters |
| Back Doors | 2–4-inch mid-ranges | 2–4-inch mid-ranges |
| A-Pillar | Not available | 2–2.5-inch mid-ranges |
| Rear | Not available | 2–4-inch mid-ranges1–8-inch subwoofer |
Speaker Components
For a crisp, clean deliverance of notes from the speakers, optimum impedance and watts are of cardinal importance. Grab your ohm meter and engineer hat because we're about check this all in 3, 2, 1:
| | | | |
| --- | --- | --- | --- |
| Type | Size | Impedance | Watts |
| Tweeter (Active) | 25 mm | 4 ohm | 25 W |
| Tweeter (Passive) | 25 mm | 4 ohm | 25 W |
| HD Effects | 60 mm | 4 ohm | 02 W |
| Full-Range | 100 mm | 3 ohm | 33 W |
| Woofers | 200 mm | 4 ohm | 80 W |
| Subwoofers | 200 mm | 2×40 ohm | 160 W |
More intrinsic data regarding the Tesla Model 3 OEM speakers
A premium amplifier is placed next to the subwoofer in the rear of the cabin in the Model 3 that assists the system in providing power to the dual-coil subwoofer, the rear trunk speakers, and all the door speakers.
Dash amplifiers are split between the left and right vehicle controller modules.
A passive design tweeter is connected via a crossover to the center mid-range in the front center of the cabin.
All speakers get a distinct amplifier channel in the premium trim levels of Tesla Model S/X. If we assume that the Model 3 is designed the same way, this will mean there are 14 amplifiers.
Mounting different amplifiers for each speaker provides the hearer with a way better acoustic tuning that truly intensifies the immersiveness of the audial experience, and that creates a difference because typical vehicles contain ordinary stereos that use four amplifiers only.
How Do Model 3 Speakers Stack Up Against Competitors?
New vehicles appear on the market every now and then, but one thing is for sure: Nobody, except Tesla, gives such cardinal attention to speakers.
And since Tesla is a monarch of this realm, there is absolutely no doubt that the Tesla Model 3 smoothly outperforms all its rivals.
All features of the Tesla Model 3 OEM speakers are critically acclaimed by several tech reviewers, but a graceful amount of evidence shows us that the speakers used in the LR (premium) version of the Model 3 provide a slightly better sound quality than the standard variants (SR+).
The YouTube channel TotallyEV, known for its practical Tesla reviews, performed an in-car audio review of the Tesla Model 3 SR+ vs. LR premium:
In the following review by TotallyEV, the Model 3 sound system squares off against the speakers offered by one of its top competitors, Polestar 2:
In a direct comparison with its other competitors in town, Tesla Model 3 speakers outperformed them all smoothly. Reviewers note that the Model 3 and Model Y share similar audio components, but some owners insist that everything just sounds a bit better in the former:
I had the Model 3 with premium audio for 2 years (VIN 144xx), just took delivery of Model Y (VIN 31xx). Here's my quick observation, based on about an hour using the same playlist (some Strauss, Bach, Holst, GusGus, Donald Fagen, Röyksopp, SHAED, Lindstrøm, Pink Floyd, Pat Metheny, The Orb, etc.), the source is iPhone 11 Pro from Apple Music (with high quality streaming 256kbps AAC) over BT.

The two sound very similar, but the max sound level on Model 3 is higher (smaller car volume with same amplifiers and speakers, I presume). Also, low bass is noticeably stronger on Model 3 compared to Model Y, but overall they are very similar and pretty great for OEM stereo. Took the rear license plate holder off right away, but still had some more rattles on the Y. Unlike the video above, I felt the Y was not quite as good overall as the 3.

Sam123
5 Crazy Useful Tesla Tips and Tricks Few Owners Know About
These 5 rare tips can save you so much time and stress – and few owners know about them (even after years of ownership). Sign up below to learn more. It's free!
By subscribing, you agree to get emails from TeslaTuneUp. We'll respect your privacy and you can unsubscribe any time.
Tesla Model 3 Speakers Upgrade
Even though the majority of the Tesla owners are quite satisfied with the audio quality of the Tesla Model 3 OEM speakers, there's still a high chance that some curious owners might not be much convinced and are consequently looking for an aftermarket upgrade, in that case.
Well, if you're that same curious fella, let's discuss some of the speaker upgrades that you can do in your Model 3.
#1 OEM Model 3 Premium Audio Upgrade: Tesla OEM Subwoofer
This can't be added while you're making an order for your Tesla; you have to wait for the never-ending delivery time, and after following a little appointment, you may have your Tesla's OEM subwoofer.
It may sound strange, but it is not available through Tesla's online retailers. Even if you want to DIY, an appointment must be scheduled because it's purchased through the service chat. This subwoofer's part number is 1079747-00-D, and it will cost you roughly $300.
Don't worry, even if this option does not work, you can still receive these subwoofers by calling the service center directly. And if the crew cooperates, you'll get your desired OEM subwoofer without any difficulty.
And once you have the subwoofer, all you need is an amplifier and some speaker wire to enjoy the premium audio in your Tesla cabin.
Talking about amplifiers, the best amplifier for the Tesla OEM subwoofer is Alpine KTP-445U. To make yourself a little bit more at ease in this DIY procedure, you must have a Hansshow DIY upgrade wire harness kit as well.
Is this upgrade worth it? Absolutely. The sound will be a treat for an audiophile's ears.
#2 Best Aftermarket Tesla Model 3 Audio Upgrade: Pioneer 8-Inch Subwoofer
There are several aftermarket subwoofer alternatives for audio upgrades, but the Pioneer 8-inch subwoofer reigns supreme.
Even though it uses the same amount of battery power as an 8-inch OEM subwoofer, the sound quality is far superior and sharper. The improved base quality over OEM subwoofers is essentially what gives value to these aftermarket subwoofers.
They, like the OEM woofers, require an amplifier and a pair of speaker cables for connection. The Alpine KtP-445U may also be used with the Pioneer subwoofers.
>>For more detailed instructions and upgrades, check out our buying guide to the best Tesla Model 3 speaker upgrades.
Final Thoughts: What Speakers Are in Tesla Model 3?
After the release of premium Tesla models like S and X, a high standard was established for their speaker quality and sound system. Despite several doubts and low expectations of the masses, Elon did it again.
Because when it came to the placement of proper speakers for a relatively cheaper variant of the Tesla Model 3, Elon left no stone unturned and generously refused to make any cuts in the audio quality.
Consequently, it can be observed that even the Tesla Model 3's base speakers are arguably far superior than the proposition of most of its direct competitors.
The fact that Tesla itself manufactures these premium-quality speakers is another eye-popping attribute.
If you're a person with a premium audio background, you still have an option to make an upgrade and serve your ears with the type and tone of the music you want.
Zac Ludicrous
Mechanical engineer by profession. TSLA shareholder before the hype. EV enthusiast all day long. Zac enjoys learning about the future of battery technology, autonomy, and EVs. He considers Tesla Model 3 the most important vehicle of the 21st century -- and is in a quest to improve the ownership experience of every Model 3 owner he possibly can.
5 Crazy Useful Tesla Tips and Tricks Few Owners Know About
These 5 rare tips can save you so much time and stress – and few owners know about them (even after years of ownership). Sign up below to learn more. It's free!
By subscribing, you agree to get emails from TeslaTuneUp. We'll respect your privacy and you can unsubscribe any time.