I browsed through 22 forum threads, 6 Reddit discussions, and watched 6 YouTube videos just to find out that the majority of Model 3 owners recommend the same handful of summer tires.
Similar to our recent article on the best winter tires for Tesla Model 3, only a few brands are at the top of owners' shopping list.
If you're looking for quiet and efficient summer tires with warranties of up to 70,000 miles, this list is for you.
Why Use Summer Tires for the Model 3?
Before we introduce you to the best Tesla Model 3 summer tires available, we need to answer this big question first: 
Why use summer tires when you already have all-season tires? Is buying summer tires worth it?
Although using all-season tires during summer is acceptable, they're not designed to withstand extreme heat.
If you are living in states like Florida, Texas, Arizona, and California, where the summer temperature is higher than the country's average, all-season tires can wear much faster.
Summer tires, on the other hand, are made of a specially engineered type of rubber that is heat resistant. They also generate less road noise and are more energy-efficient due to increased road grip. 
Using summer tires instead of all-season tires can actually save you money on electricity and tire maintenance costs while offering more riding comfort.
Now that you know all these, let's get into the 5 best summer tires for the Model 3 according to owners.
Best Summer Tires for Tesla Model 3 Overall: Michelin Pilot Sport 4S 
Michelin is the favorite tire brand of the Tesla community. so no wonder it's on top of our list. 
Hundreds of Model 3 owners and tire experts rave about these well-known performance tires.
In fact, Tesla itself includes these tires in their 20" summer tire package (4x 235/35/20) and their 18" package (4x 235/45/18).
According to Campus Automotive Inc., a family business that offers car repair, towing, and recovery services in Virginia, 
The Michelin Pilot Sport 4S is simply the best ultra-high-performance summer tire on the market. It works at high temperatures and grips like crazy. The inner ribs have silica compound for wet grips and have a rim protector.
Both car owners and businesses recommend the Michelin Pilot Sport 4S. Even racecar drivers attest to their performance and durability. 
NASCAR driver Patrick Long called it "the best tire" and claimed that "it has great grip and performance across a huge variety of conditions." 
Unfortunately, however, Tesla only offers these tires on their wheels-tires package.
If you don't want to change your wheels, save some precious dollars by shopping around on Discount Tire, Tire Rack, or another established tire shop — rather than spending $2,000 to $4,000 on Tesla's site.
The downside of this path is that the Pilot 4S will lack the Tesla-specific acoustic foam, affecting road noise.
If you end up having to settle with slightly different tire sizes, road noise can become ever more noticeable.
Orwell of Atlanta said, "The sound difference between the two sizes is obvious. The Tesla-specific sizes are quieter." 
Regardless of whether you find these with foam or not, road noise is still decent.
And with a superb grip on both wet and dry roads, great efficiency, and a long-standing track record, these Michelin tires are truly your safest bet.
Recommended sizes: 
Pros
✅ Tesla-specific tires
✅ The best when tested against other brands of summer tires
✅ Trusted by most Model 3 owners
✅ Maximum road grip results to energy-efficiency
Cons
❌ Acoustic foam is hard to find in non-Tesla shops.
❌ Different sizes may also increase road noise.
3 Range Boosting Hacks That Elon Doesn't Want You to Know About
These 3 rare upgrades can increase your range by as much as 13.3% – and few people know about them. Sign up below to learn more.
By subscribing, you agree to get emails from TeslaTuneUp. We'll respect your privacy and you can unsubscribe any time.
Quiet Summer Tires (Low Tire/Road Noise): Continental ExtremeContact DWS 06 
The Continental ExtremeContact DWS 06 is known as one of the best Michelin PS4S alternatives not only for its cheaper price but also for its quieter ride. 
It's less grippy than PS4S but still considered above average compared with other tires, as described by the happy customers.
Always been a big fan of the Continental ExtremeContact Sport tires, they're less grippy than Michelin P4S, but offer better ride quality and tire noise levels at a significantly reduced price. P4S if you want max performance, otherwise the Conti Sports are really excellent daily driving performance tires.

Mike Elliott, Model 3 owner
Although specifically designed as summer tires, the Continental ExtremeContact Sport is very responsive in both wet and dry road surfaces.
It drives like a completely different car. No more understeer, great traction in the rain and a lot more confidence in general.

fluxemag
In the following video, Fernando C. compared the noise between Michelin Primacy and ExtremeContact DWS 06 on his Model 3. 
Despite the Continental having no acoustic foam like the Michelin MXM4, this owner admits he couldn't tell the difference.
After careful examination, he seems to conclude that the Continental is slightly quieter. Some commenters agreed.
In a follow-up video, this owner also admitted there was no efficiency loss whatsoever, proving these tires have no compromises when compared to the Michelin stock tires.
And that's despite the fact that many owners opt for tires sizes slightly wider than stock (e.g. 245 or 255 rather than 235). Though keep in mind wider tire sizes can start to impact range noticeably.
You may have to choose wider tires if the Tesla-stock 235's aren't available for your wheel size.
Another big reason Model 3 owners are buying the DWS 06 is due to its cheaper price compared with Michelin, Pirelli, Goodyear, and other leading brands. 
However, keep in mind some customers say the tires may wear slightly faster than these more expensive brands. 
Despite this, many users said it is worth the money and nearly 90% said they will buy it again.
Recommended sizes: 
Pros
✅ Highly affordable
✅ Performs well in wet conditions
✅ Efficient tires. No range loss.
✅ Low tire/road noise
✅ Offers better riding comfort
Cons
❌ May wear faster than other leading brands
❌ Wider sizes may have a slight impact on range.
Best Summer Tires for Tesla Model 3 on 19" Wheels: Hankook Ventus V12 Evo2
The Hankook Ventus V12 Evo2 is a summer tire designed for maximum traction and excellent handling performance. Its thick sidewall design with a sophisticated tread pattern offers drivers a unique and comfortable driving experience.
The improved Evo3's are what Tesla lists on their 19" Sport Wheel and Tires packages (4x 235/40/19). 
Keep in mind that neither Evo2's nor the newer Evo3's are only available in the exact OEM tire sizes for the 18" or 20" wheels.
Like others on this list, you may have to pick a slightly different width depending on the availability.
As an example, YouTuber The Electric Israeli drive-tested 466 miles on his Model 3, and the tires appear to be 225/40 in size. 
This narrower width could be one of the reasons he claims "they were extremely efficient during the summertime," though I'd still expect great efficiency at 235-wide sizes. 
He also says the tires were extraordinarily smooth, grippy, and had very little road noise.
Although 74 degrees is not considered extremely hot, this test does prove these tires' ability to withstand long-distance trips.
The Hankook Ventus V12 evo2 has been compared side by side many times with other brands like Michelin, Continental, and even Yokohama, but the former always gets the win. 
Obviously, there is a good reason why many in the Tesla community love these tires.
After having 5,000 miles, I'm very happy. They can hook up faster on full acceleration than the Michelin which I had previously. I was supposed to get a Continental after 5k miles but I'm sticking with them. They are great for value and performance.

CHG-ON
As far as road noise is concerned, the V12 evo2 is quieter than the Michelin PS4S, but probably slightly noisier than the ExtremeContact DWS 06. 
Many users agree that Ventus V12 is really grippy during summer, but some say it's not performing well in wet conditions. 
Definitely, a worthy investment as long as you proceed with caution on wet road surfaces, especially when the tread depth is down to 4 to 5 mm. 
Recommended sizes: 
Pros
✅ Built for maximum grip during hot summer
✅ Uses highly durable string chords as ply
✅ Cheap with occasional rebates
✅ Very efficient (Evo3 used on Tesla's 19" wheel package)
Cons
❌ Not performing well in wet conditions
Best Summer Tires for Tesla Model 3 for Rain and Snow: Falken Azenis FK510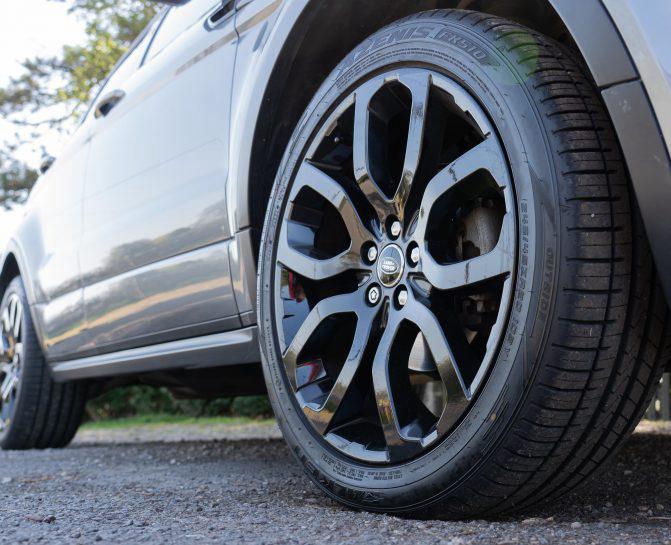 The Falken Azenis FK510 is designed specifically for summer use but is maximized to handle wet and cold weather conditions during winter.
In this way, these tires resemble all-season tires closely. This can prove useful for Canadian or U.S. Northern regions where it can snow in most months of the year. 
YouTube user Electric Gainz described his experience after driving his FK510-equipped Model 3 to Canada in deep snow. 
In the following YouTube video, user Tech Forum compared the Falken Azenis FK510 with the Michelin Pilot 4S after having 10,000 miles on his Model 3 with 20" wheels. 
He said the Falken FK510 performed better because, after 10,000 miles, there are no noticeable issues as opposed to the PS4, where the front tires capped faster than the rear.
Tire installer Brandon Whispell from Texas, who runs summer tires for most time of the year, also said that Falken Azenis FK510 tires are his favorites. 
If the line between summer and winter in your region is blurry and not as black and white, these are definitely tires you'll want to consider.
Recommended sizes:
Pros
✅ Tested and proven good perming tires on wet surfaces and snow
✅ Quiet and smooth
✅ Far less expensive
Cons
❌ Brand not as well known.
❌ Treads may wear faster than leading brands.
Best Summer Tires for Tesla Model 3 with 70k-Mile Warranty: Pirelli Cinturato P7
Similar to the FK510 above, what separates the Pirelli Cinturato P7 is it's constructed as a summer tire but infused with all-season technology, allowing it to handle all weather conditions. 
In the following YouTube video, Richard and John compared the difference between the Pirelli Cinturato P7 and the Michelin Pilot S4S. 
Although both of them did not spot any difference due to better road conditions, the 70K-mile warranty offered by Pirelli makes a much more compelling proposition than the 30K-mile offered by Michelin for PS4S.
TaurusKing Tesla Motors Club user has 32k miles on his slightly different size 245/45R19 Pirelli Cinturato P7 and he loves them. 
Take note that he used the old version of P7. The new version released in 2020 has been upgraded massively as reported by SlashGear. 
Recommended sizes: 
Pros
✅ Low road noise
✅ On par with Michelin P24s but cheaper
✅ 70k-mile warranty
Understanding Tire Codes Before Buying
Do you see a series of numbers and letters embossed on the surface of a tire and wonder what they mean?
Tires come in different types and sizes, and these numbers and letters convey important information about the tire. 
This coding is standard and I'll explain each component below.
You should check for these codes when looking for summer tires for your Model 3—with the standard stock tires as a reference.
Tire Width
In most tires, the first 3-digit number (sometimes following a letter) is the tire's width measured across in millimeters. The rim where the tire is attached, however, is measured in inches.
Aspect Ratio
This refers to the percentage of the sidewall height measured from the rim to the outside surface of the tire. In the above example, the aspect ratio is 60, but the Model 3, which uses 18″ tires, has an aspect ratio of 35 and 40. 
R (Radial)
Radial is the industry standard required for tire manufacturers. This simply refers to how the tires are constructed. Radial tires have better road grip and contain plies made of a blend of durable materials like polyester, strong cords, and even steel wires.
Wheel Diameter
The wheel diameter is the measurement of the tire across in inches. The Model 3 uses 18″ tires, but aftermarket replacements, especially summer tires, can be as big as 20″.
Load Index
This is the maximum capacity of the cargo the tire can hold. Model 3 stock tires use 94, and when buying a replacement tire, make sure to not go below 85.
Speed Rating
The last letter is the tire's speed rating. The speed rating changes depending on the tire's diameter and width. Ask for the load index and speed rating chart when buying a tire.
If you want to make sure that you are buying tires with the correct specifications, you may also check TireSize.com for the exact tire specs for your Model 3.
Best Summer Tires for Tesla Model 3 of All?
Not all states have the same weather conditions, but regardless of your location, the Michelin Pilot Sport 4S offers the best overall value in terms of wet and dry traction, longevity, and efficiency.
If you want high-quality tires that thousands have tested in real-world conditions, they are definitely worth the investment. 
If you're on a budget or live in an area with blurred summer-winter lines, the Falken Azenis FK510, although not as popular of a brand, may suit your needs best.
Consider your needs (and the road and weather conditions you drive in regularly),
And I'm confident that, just like hundreds of Model 3 owners, you'll end up happy with any of the tires on this list.
Zac Ludicrous
Mechanical engineer by profession. TSLA shareholder before the hype. EV enthusiast all day long. Zac enjoys learning about the future of battery technology, autonomy, and EVs. He considers Tesla Model 3 the most important vehicle of the 21st century -- and is in a quest to improve the ownership experience of every Model 3 owner he possibly can.
3 Range Boosting Hacks That Elon Doesn't Want You to Know About
These 3 rare upgrades can increase your range by as much as 13.3% – and few people know about them. Sign up below to learn more.
By subscribing, you agree to get emails from TeslaTuneUp. We'll respect your privacy and you can unsubscribe any time.