I thought owning a Tesla Model 3 was just like having another car — in terms of being able to fit just about any tire. Clearly, I was wrong.
After reading more than 20 pages of forum threads and going through 6 videos, I found that only a select few sets of tires fit Tesla owners' needs.
If you're looking for the best tires for your Model 3 regardless of season, continue reading. I'll share all my findings.
If you want tires specifically for winter or summer, however, I wrote about the best winter tires and the best summer tires in extreme detail in other articles.
This article focuses on what specs to look for to maximize your tires' longevity, road noise, and efficiency. I also outline the most recommended tire models for specific circumstances later on. So stay tuned.
What to Look for When Buying Tires
When shopping for tires, you should compare the following specs and features to make the best buying decision:
1. Tire Code
Have you ever noticed a bunch of letters and numbers embossed on the tire's sidewall?
Just like any other product, tires have model codes and specifications, and these letters and numbers indicate the tire's specs.
Here's what they mean: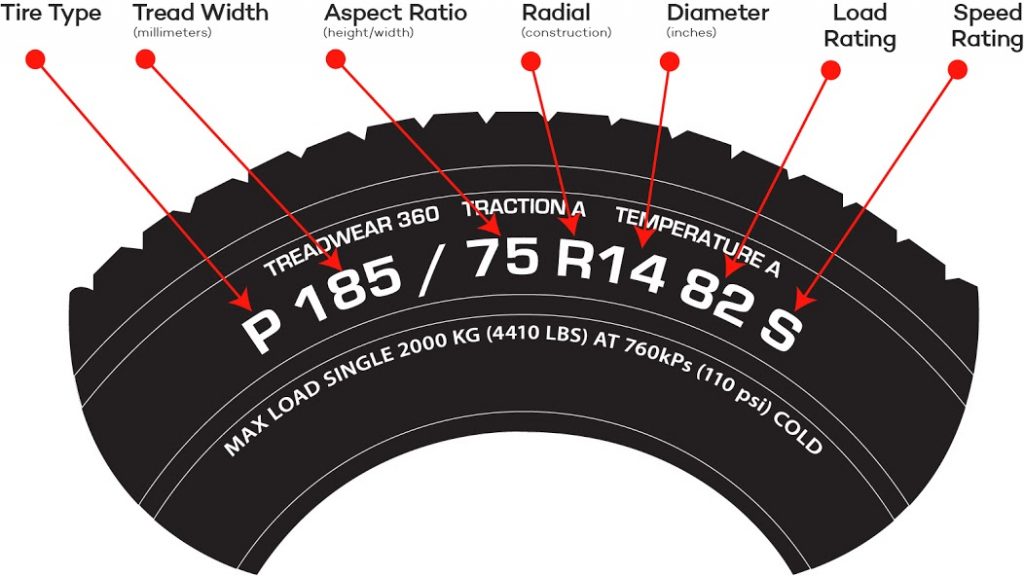 Width
This is common in most tires and simply means the width of the tire measured across from front to back in millimeters.
Aspect Ratio
This is the percentage of the tire wall measured from the rim to its outside surface.
R (Radial)
Radial refers to the tire's composition or how it is built. This is the industry standard required for tire manufacturers. Radial tires usually contain a mix of strong materials like nylon, polyester, steel wires, and other durable materials.
Wheel Diameter
This is the measurement of the tire across in inches. The Model 3 uses 18″ to 21″ depending on the rim diameter.
Load Index
This refers to the maximum weight the tire can hold. Model 3 OEM tires have a load index of 94. When buying a replacement tire, make sure to go with the same or over, but not below 85.
Speed Rating
The speed rating changes as the tire diameter and width change.
You can always consult with this tire size chart to make sure you're buying tires with the correct specs.
2. DOT Code
DOT stands for the US Department of Transportation, and the code usually contains 10 to 13 digits of combined letters and numbers.

Plant Code
Every manufacturer has its own 2- to 3-digit symbol code. You can find each manufacturer's code in this article by Tire Safety Group.
Tire Size
Unlike the tire size mentioned under the tire code above, the tire code under the DOT code is not for customers but for the manufacturer's traceability. The Rubber Manufacturers Association explained it in this document.
Brand Characteristics
The first set of 3 to 4 digits of the third group is the manufacturer's option and may include significant details about the tire including traceability. It will be easier for them to recall defective tires when necessary using these codes.
Manufacturing Date
The last four digits are the manufacturing date. The first two digits on the left are the week number, and the other two digits are the manufacturing year.
3. UTQG Code
The Uniform Tire Quality Grade (UTQG) code shows the three characteristics of the tire as a result of the test conducted by the manufacturer. These numbers, however, are just estimates.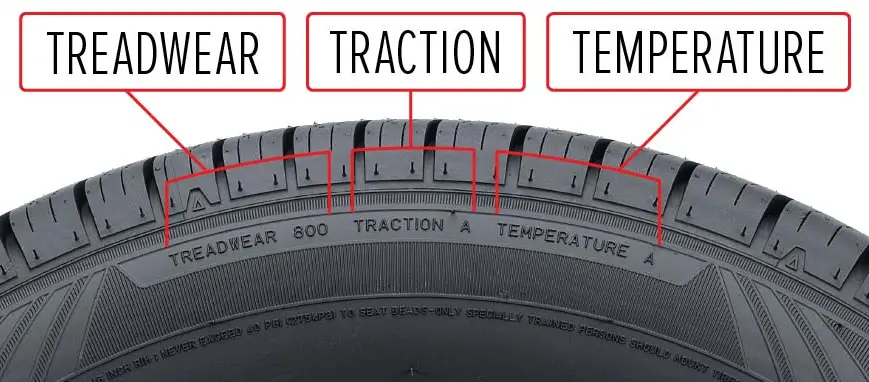 Treadwear
It is a three-digit code where 100 is standard wear. This is an estimate after the tire is tested by its manufacturer. The treadwear is rated only on normal conditions and can be irrelevant in extreme conditions, especially when using all-season tires on unpaved roads.
Traction
This is rated using letters AA, A, B, and C, from best to worst. This value is an estimate of stopping a vehicle on concrete, wet, or asphalt pavement, measuring in g (g-force).
Temperature Resistance
It is the same as traction in which letters are used. This shows at what speed a tire can handle the temperature: A for 115 mph, B for 100 to 115 mph, and C for 85 to 100 mph.
4. Type of Tire
There are several types of tires for your Tesla, so you must know what you're buying when shopping for new tires. The most common are all-season, performance all-season, ultra-high performance, winter/snow tires, and performance winter/snow tires. Additionally, there are off-road and all-terrain tires for AWD Tesla.
5. Fuel Economy Grades & Rolling Resistance
Firestone reports that fuel-efficient tires really help save on gas (electric in our case).
You can check if the tire is a fuel saver by looking at its rolling resistance. The lower the rolling resistance, the least energy it will consume, saving you precious dollars over time.
Another option is to get an OEM tire as they tend to be some of the most economical tires tested by the manufacturer.
Some tire manufacturers also provide fuel efficiency grades, so if you want to ensure your new set of tires does NOT impact your range negatively,
Make sure to ask the tire dealership for this information — so you can compare your options.
6. Warranty
Tire warranty ranges from 30,000 miles to as high as 75,000 miles. There is also a warranty of defects, but the most common is the tread warranty as mentioned above.
Though not all brands are truthful to their warranty claims when they find out you know a heavier-than-usual EV with some powerful motors…
Having both tread and defects warranty of at least 30,000 to 40,000 miles can provide peace of mind for many people.
7. Noise
All tires produce noise. The noise differs usually based on treads.
Off-road tires, when driven on paved roads, are louder because of their groves and size. Consult the tire dealership which tires produce less noise.
Some tires will actually have a level of road noise (in dB), like the one shown be
Check for these scorecards before buying a tire replacement and compare them with your current tires to ensure you're getting at least an equivalent road noise.
***
Now that you know about tires specs and the importance of choosing the best, let's talk about the five best tires for your Model 3.
Best All-Season Tires for Tesla Model 3:
The Michelin CrossClimate Plus is every Tesla owner's dream tire that provides maximum traction regardless of the weather condition.
Its tread is made of silica compound which provides excellent grip in both summer and winter. Its unique V-shaped tread pattern and uneven grooves provide maximum stopping ability on wet surfaces.
I replaced my Michelin PS4S with CrossClimate+ and the efficiency improved. It also provides more riding comfort than my previous tires.

AlanSubie4Life
Not only is the Michelin CrossClimate the best all-season tire, but also it is the best replacement for winter tires. T Sportline explains why in the following video.
What many owners also really like about the CrossClimate is its handling capability. Model 3 owner ArcticStation even pointed out several times that the CrossClimate is far superior to the factory Michelins.
Recommended Sizes:
(front) 235/35R20
(rear) 275/30R20
Pros
✅ Unique V-tread pattern that holds better on wet roads and snow
✅ Excellent handling and cornering
✅ Trusted by most Model 3 owners
✅ Rated as the best replacement for winter tires
5 Crazy Useful Tesla Tips and Tricks Few Owners Know About
These 5 rare tips can save you so much time and stress – and few owners know about them (even after years of ownership). Sign up below to learn more. It's free!
By subscribing, you agree to get emails from TeslaTuneUp. We'll respect your privacy and you can unsubscribe any time.
Best Winter Tires for Tesla Model 3:
We have a separate article that discusses the best winter tires for the Model 3, and you can find more details there if you are looking specifically for winter tires.
The Nokian R3 has been the favorite winter tires of the Tesla community because of its proven performance for a good number of years now.
One of the reasons why Model 3 owners love these tires is because of their efficiency.
The Nokian R3 is specifically designed to increase power efficiency. Plus, the company is committed to sustainable and eco-friendly manufacturing.
The Buzz, a respected YouTube channel dedicated to Tesla, rated the Nokian R3 as the best winter tire as seen in the following video.
Model 3 owner Suzen Zhen from Chicago has used her Nokian R3 for three seasons already and is still happy with it.
What is special about these tires is the patented snow claws between the tread that blocks the snow and ice, giving the tire maximum grip during acceleration and stopping.
The low rolling resistance helps save energy for electric vehicles, making it the best choice for the Model 3.
YouTuber Anna of A Media Life tested the tire on snow and concluded that the Nokian R3 provides comfort, safety grip, and controlled handling.
What separates the Nokian R3 from other winter tires is its Biobased Cryo Crystal 3 grip particles. The material is added and mixed with the rubber compound for maximum grip on ice.
Nokian makes the difference in real cold snow and ice and is the top brand here in Quebec, Canada.

GTiMart
Recommended Sizes:
235/45R18
235/40R19
(front) 235/40R19
(rear) 265/35R19
Pros
✅ Designed specifically to increase the efficiency of hybrids and EVs
✅ Trusted by the Tesla community due to its proven record
✅ Eco-friendly and sustainable manufacturing
Cons
❌ Limited stock in North America
❌ Limited to wet traction and may not do well on dry surfaces
Best Summer Tires for Tesla Model 3:
We have a separate article that discusses the best summer tires for the Model 3 in detail. Check it out if you are looking specifically for summer tires.
There are many reasons why the Michelin Pilot Sport 4S is the favorite summer tire of the Tesla community.
The tires were tested in Germany against the top 5 high-performance tire brands, and the participants ranked the PS4S first in:
Dry braking
Wet braking
Dry lap times
Being first in one of the above three categories is already quite an achievement, but being first in all three is exceptional.
One thing many Tesla owners are talking about is how it is a big upgrade from the Michelin Primacy MXM4. A Model 3 owner even said the tires transformed his car and called it "the best upgrade ever."
Another Model 3 owner who upgraded from Pilot S3 said it is as good as PS3 but is quieter.
One of the biggest upgrades of the Pilot Sport 4S is its wet grip and braking. This is due to the "functional Elastomer" and Silica that when mixed with the rubber, the tire's grip increases due to its elasticity.
This is the 4th set of tires that I got for this car since I bought it and so far they are the best. I can drive with confidence now as I feel safer.

gizmonty
Recommended Sizes:
(front) 235/35R20
(rear) 275/30R20
Pros
✅ Trusted by the Tesla community due to its proven performance
✅ Tested better against other top 5 brands
✅ Designed specifically for high-performance cars like the Model 3
Cons
❌ Some production lots don't have acoustic foam and can increase road noise.
Most Comfortable & Quiet Tires for Tesla Model 3:
The Continental ExtremeContact DWS 06 is one of the favorite all-season tires of the Tesla community not only because of its lower price compared with the Michelin PS4S but also due to its riding comfort and lower noise level.
In the following video, Model 3 owner Fernando C tested and compared the difference between Michelin PS4S, and although he said there is not so much noise difference, he prefers Continental because it's wider and cheaper.
A comment on the video from user xzibit8614 said there is massive riding comfort when his car wears Continental ExtremeContact.
Although the Continental ExtremeContact DWS 06 may not be the top-performing tire, it provides better riding comfort, is easy to handle, and wears slower and better than the OEM tires, according to another Model 3 owner.
At least five people recommend Continental DWS 06 alone in this discussion, and each of them has different reasons like comfort, cheap, better traction, and low noise.
Two people said they will use the DWS06 on their Model 3 because they have tested it in their other cars and are happy.
I bought Continental DWS06 and they are great. They are better than Michelin MXM4 in every way. My only concern is they're slipping on wet surfaces.

Eric Tastad
Recommended Sizes:
(front) 235/35R20
(rear) 275/30R20
Pros
✅ Tested and proven quieter than other top brands
✅ Wears better and wider than Michelin
✅ Cheap and provides better riding comfort
Cons
❌ Not recommended on wet roads
Highest-Quality Budget Tires for Tesla Model 3:
It's no secret that Goodyear is one of the biggest tire companies in the world. It's also the oldest tire company after its Kelly Tires acquisition. When it comes to reputation, Goodyear has more than 120 years of performance to boast.
You may think that the name Goodyear is always associated with "high cost" because of its rich history, but you're wrong.
In fact, the Goodyear Eagle Exhilarate is the cheapest tire on this list. Plus, they currently have a promo going on where you can get rebates and discounts when you buy a set of four.
The Eagle Exhilarate is an all-performance, all-season tire designed to handle wet and dry roads. It's padded with a high silica compound that improves wet traction while providing maximum stopping capability.
If you're a Model 3 owner who is on a tight budget but needs top-quality tires, the Eagle Exhilarate is your best choice.
Here is some feedback from other Model 3 owners:
Eagle Exhilarate performed well in both wet and dry conditions. They also produce lower noise and hold their grip better than ProContact, especially on corners. I don't have any complaints and would buy them again.

Jennifer Adamson Carnahan
I've been using Eagle Exhilarate for a month now and I'm really happy with them. They grip better than continental and they produce lower noise.

echeeyo
Recommended Sizes:
(front) 235/35R20
(rear) 275/30R20
Pros
✅ Best bang for the buck
✅ Produces quieter road noise
✅ Discounts and rebates if you buy a set of four
Cons
❌ Some users said they wear fast
Your Most Common Tire Questions Answered
What Type of Tires Do I Need?
The type of tires you need depends on what season and in what circumstances you intend to use them.
Here are the most common type of tires:
1. All-season tires
These tires are designed and manufactured to give comfort and handling on the highway. All-season tires can be used in non-extreme weather conditions like moderate summer and moderate winter. They are both heat and cold-resistant.
2. Summer tires
These tires are designed to handle both wet and dry conditions, but not extreme cold. They can handle wet surfaces but not the ice during winter. They perform well during hot summer and can handle extreme heat above 45° Fahrenheit.
3. Winter tires
Winter tires are designed specifically for snow and ice. They have deep grooves and heavy sipes.
They are considered a special type of tires because they cannot be used other than during winter. They would be damaged right away if used on dry surfaces.
4. Performance tires
These tires are heavy-duty and designed mostly for sports cars, luxury vehicles, and utility vehicles. They have better handling, especially on wet roads.
Most performance tires have larger sizes and have lateral grooves.
There are other types of tires like touring, off-road, all-terrain, and mud-terrain among others, but your Model 3 can be fitted with any of the four above.
Your decision will be based solely on your needs.
What Is TPMS?
The Tire Pressure Monitoring System is an electronic system that monitors the tire pressure of your Model 3 and alerts you when the pressure is low.
The following video explains what the low-pressure alert would look like.
What Is the Recommended Tire Pressure for My Model 3?
We suggest you use the tire pressure recommended by Tesla, which is 42 psi, but you may also consider what Elon Musk has to say below depending on your needs and the riding condition you want.
When Should I Replace My Tires?
Aside from the obvious physical appearance of wear and tear, you must consider the age of the tire, the tread depth, how many times it has been repaired or vulcanized, and if there is damage in some parts of the tire.
One of the best ways to know is to have them checked by professionals. If you have a record of mileage when you first buy your tires, you can also compare their appearance against the number of miles they traveled.
A tire tread depth gauge like Godeson, which is available on Amazon, is an inexpensive tool to check the tread depth, but if you don't have one readily available, you can use a penny to check whether your tire has hit the 2/32″ threshold.
Here's How To Do It:
Place a penny on the tread part of your tire where the deepest worn-out has occurred.
Point Lincoln's head down.
If the top of Lincoln's head disappears, then the tire is still good. If you can see the entire head, it's time to change your tire. This means the tread is no longer deep enough and is dangerously low. You can also get a super inexpensive tire depth gauge.
Do Tires Have an Age Limit?
Regardless of the age of your tire, most tire manufacturers recommend checking inflation pressure every month.
After five years, a professional inspection is needed to determine whether your tire is still roadworthy regardless of its tread depth. Even if you have relatively few miles.
Rubber can break down in time whether your car is always running or is just in your garage for years.
Do I Have to Replace All Four Tires at the Same Time?
This is the most common question people ask, especially budget-conscious Model 3 owners. The simple answer is YES, it's recommended that you replace all four tires at once.
Some people replace only the two front tires or the two rear tires.
That poses the following challenge:
The performance and handling of your car are designed with uniform tires. If one or two tires don't have the same tread depth or diameter, it can cause handling issues that can ultimately lead to safety problems.
However, if you need to replace less than four tires, choose only two tires that are similar or at least closely similar to what is currently installed.
The two new tires should ideally be installed on the rear axle and not on the front.
Should I Buy Used Tires with Similar Tread Depth to My Current Tires if I Have to Replace Just Two?
No. Buying used tires to pair with your already worn-out tires is not recommended.
Used tires are associated with risks since you don't know their history. They can have uneven wear and create noise and vibration.
It is also difficult to know if they have run underinflated or have some hidden defects.
The following image shows some of the used tires you want to avoid.
Do I Need Wheel Alignment After Getting New Tires?
Having wheel alignment after getting new tires for your Model 3 is highly recommended, but not necessary.
New tires can cause road-noise, rough rides, and even handling difficulties.
Wheel alignment ensures all tires balance with each other and the road. It can also avoid uneven tread wear and can help your new set of tires get more miles.
Do Tires Have Warranties?
Tires have warranties that vary by manufacturer, and some store dealerships may add their own.
Warranties also differ based on weather, and some include road hazards like punctures and tread life.
It is highly recommended that you thoroughly discuss tire warranties with the store and make sure you understand what is covered and what is not.
What Are Best Tires for Tesla Model 3 After All?
Based on dozens of forum threads that I went through, it is a no-contest for the Michelin CrossClimate Plus.
Not only is it the favorite all-season tire of the Tesla community, but also it's also a good replacement for winter tires.
If you are tight on budget and have no plan yet of buying a set of summer and winter tires, nothing beats the all-season Michelin CrossClimate Plus.
Zac Ludicrous
Mechanical engineer by profession. TSLA shareholder before the hype. EV enthusiast all day long. Zac enjoys learning about the future of battery technology, autonomy, and EVs. He considers Tesla Model 3 the most important vehicle of the 21st century -- and is in a quest to improve the ownership experience of every Model 3 owner he possibly can.
5 Crazy Useful Tesla Tips and Tricks Few Owners Know About
These 5 rare tips can save you so much time and stress – and few owners know about them (even after years of ownership). Sign up below to learn more. It's free!
By subscribing, you agree to get emails from TeslaTuneUp. We'll respect your privacy and you can unsubscribe any time.