The Tesla Model 3 center console has been a hot topic in the Tesla community ever since the release of this electric car.
Reservations, expectations, wishes… Tesla had to do so much to satisfy its customer base with the Model 3 center console.
Let me cruise you through the journey of the Model 3 center console, what changed over the years, what caused the changes, and much more in this ultimate guide.
We'll also go through the basics of the center console, such as its working mechanism, features, common problems and their solutions, etc.
Sounds interesting? Let's hop into it.
Tesla Model 3 Center Console Overview
Tesla is all about practicality while staying as minimalist as possible, and the Model 3's center console is a great example of that.
As shown in the picture, the center console is located between the front seats, extending from the dashboard to the back of the front seats.
You have a charging station, cup holders, USB ports, and empty compartments where you can keep your stuff like your wallet, keys, etc.
Here is a quick walkthrough video of the Model 3 center console from the EveryAmp YouTube channel:
Even though the center console was very practical, Model 3 owners weren't very satisfied with it, and they had some legit reasons (discussed later in the article).
Due to these issues, in 2021, Tesla revised its center console and did many useful upgrades.
So now there is a pre-refreshed center console and a refreshed center console.
What has changed and why? Let's go into the details.
Model 3 Center Console: Refreshed Version vs Pre-Refreshed Version
Before we delve into more written details, I'd like you to watch this video from a well-known Tesla reviewer David Narayan to have a short, sweet, and simple overview of the Tesla Model 3 center console upgrade:
Location and Aesthetics
Pre-Refreshed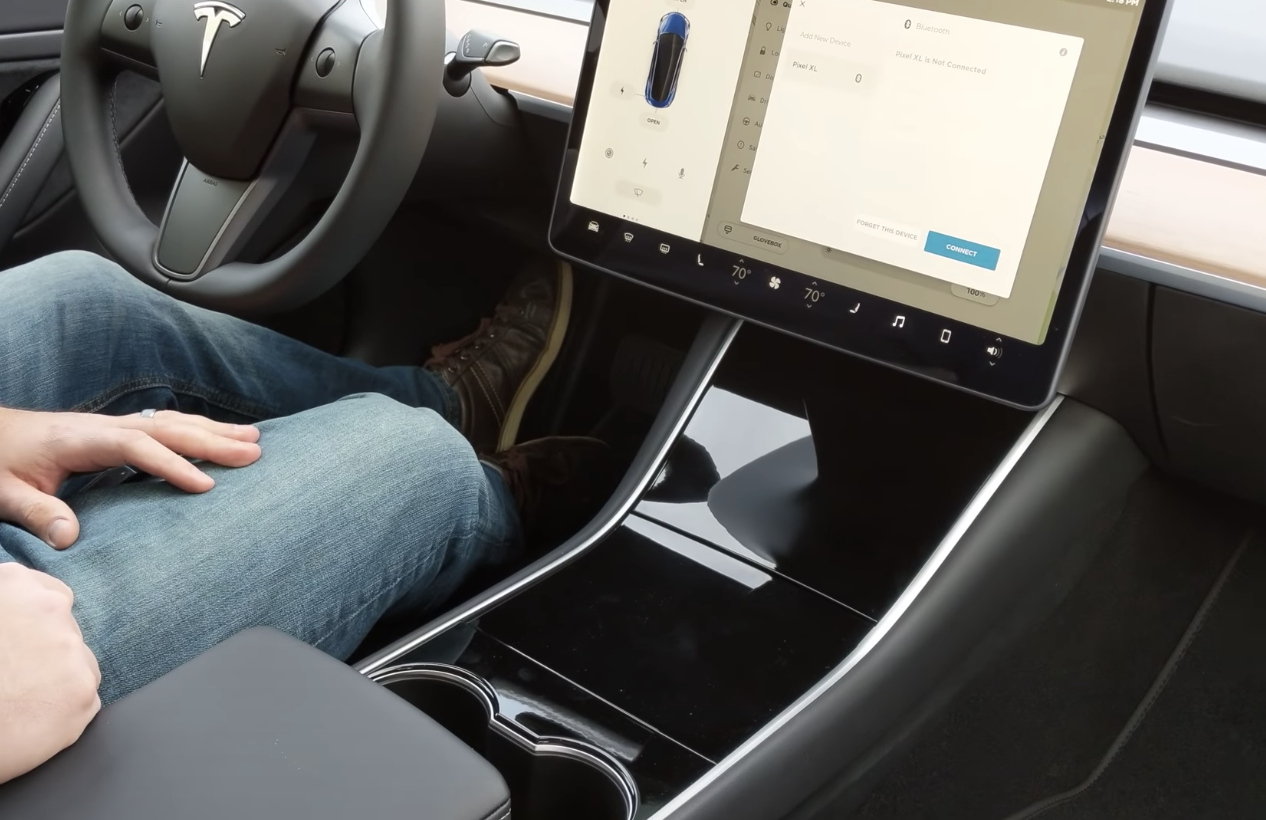 Pre-refreshed versions of the center console have a glossy piano black finish that is more prone to scratches and a fingerprint magnet.
Even though Tesla owners managed to fix these issues using some super practical add ons like wraps and covers, still, the pre-refreshed center console wasn't top-notch aesthetically.
Refreshed
Tesla ditched the glossy piano black coating in favor of a matte finish.
The phone charge is integrated in the top part, which is now encased in faux leather material on all sides.
Wireless Phone Chargers
Pre-Refreshed
Pre-refreshed center consoles don't have wireless charging bounty.
Although two USB ports are provided in the front compartment that can be used for phone charging, it is not that convenient as you have to fiddle with loose charging cables every time.
Refreshed
Certainly, the biggest evolution in refreshed center consoles is wireless phone charging.
These wireless charging pads provide a decent 15W to charge a Qi-enabled phone.
Integrated into the front compartment of the console, the wireless charging pads have enough space to charge two phones simultaneously.
The charging pads come with a non-slip silicon surface that prevents your phone from flying off due to a sudden change in inertia.
USB Ports
Tesla offers multiple USB ports in the cabin to enhance user experience. These multipurpose ports allow Tesla owners to:
Connect and charge USB devices.
Play audio files stored on their phone or USB device.
Save Sentry Mode and Dashcam video footage.
Pre-Refreshed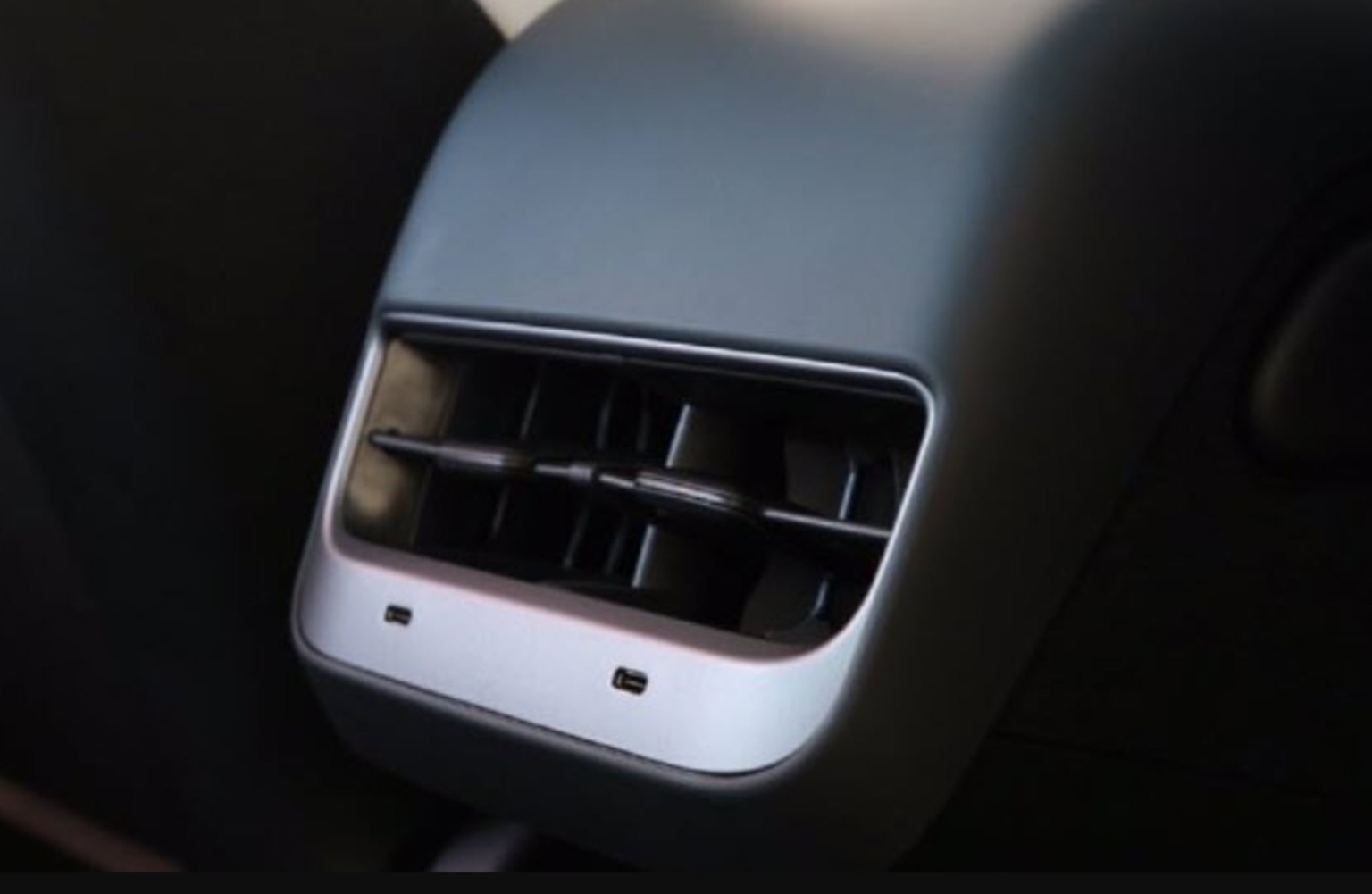 Similar to the refreshed version, the pre-refreshed version has two USB ports in the front and rear compartments located exactly in the same place.
But here's a slight difference!
USB ports in both front and rear compartments are USB-A (i.e., not compatible with USB-C devices).
Refreshed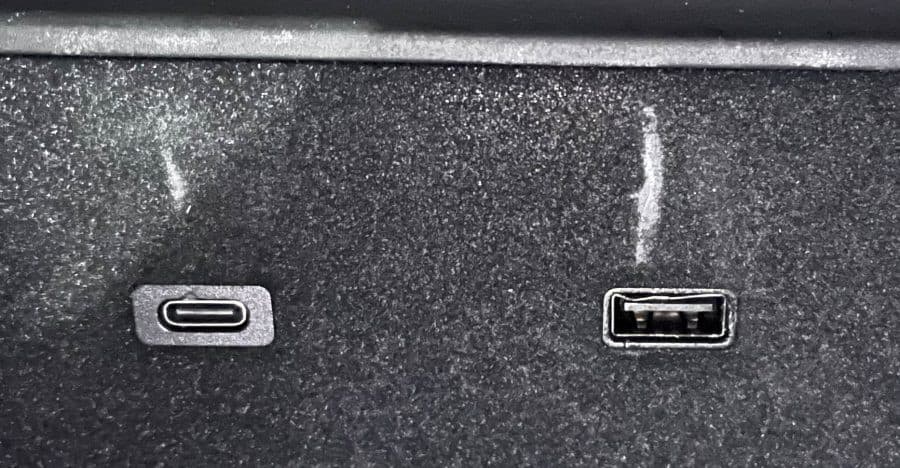 The refreshed center console has two USB ports, among which the left port is USB-C compatible, while the right port is USB-A.
Two additional USB-C compatible ports are also installed in the rear of the center console.
You can use these ports to charge your gadgets, but they do not communicate with the vehicle.
Storage Compartments
Both refreshed and pre-refreshed center consoles come with two storage compartments, one at the front under the infotainment screen and one at the rear end (main storage compartment) under the cover.
Pre-Refreshed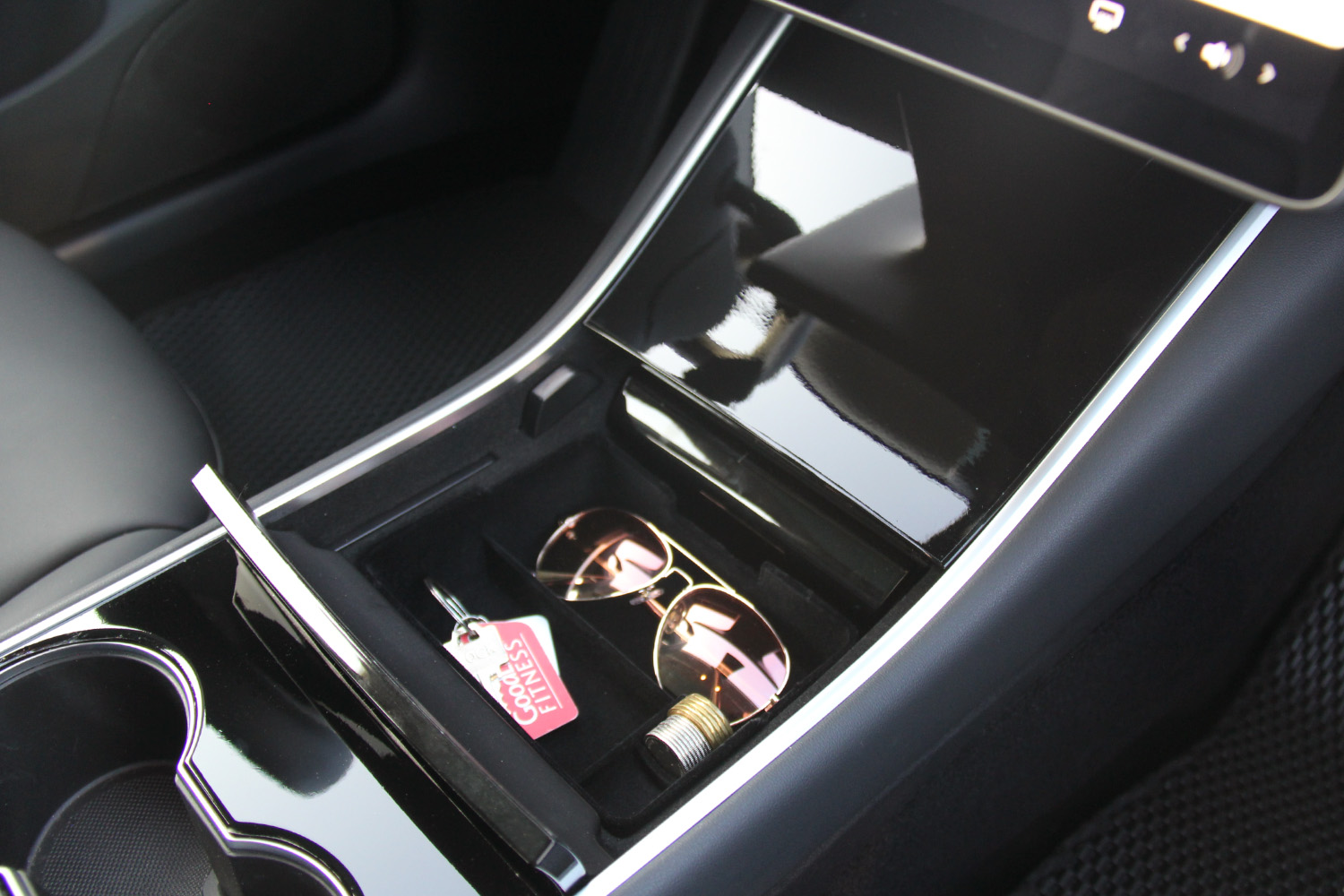 The main storage compartment of the pre-refreshed center console is opened by pulling its cover upward, while the front compartment has a flipping mechanism for opening.
Refreshed
Like in the pre-refreshed console, the cover of the main storage compartment is pulled upward, while the cover of the front storage compartments has a slide-to-open mechanism.
In a Nutshell…
Pre-Refreshed Center Console
Glossy piano black finish
More prone to scratches and fingerprints
Gives a sleek look to the interior
No wireless charging pads
USB-A compatible ports
The front storage compartment's cover is flipped to open it.
Refreshed Center Console
Subtle matte black finish
Scratch and fingerprint resistant
Gives an old-school look to the interior
Contains a wireless charging pad
USB-C compatible ports
The front storage compartment's cover is slid to open it.
5 Crazy Useful Tesla Tips and Tricks Few Owners Know About
These 5 rare tips can save you so much time and stress – and few owners know about them (even after years of ownership). Sign up below to learn more. It's free!
By subscribing, you agree to get emails from TeslaTuneUp. We'll respect your privacy and you can unsubscribe any time.
Common Problems With the Model 3 Center Console and Their Solutions
Storage Compartments? No… More of an Abyss!
YOU have been a victim of this!
In fact, it's absolutely safe to say that every Model 3 owner, at least once, has gone through the frustration of finding something he/she left in the abyss that is the Model 3 center console.
But worry not.
Make way for the aftermarket brands… They manufacture highly functional storage organizers for the Tesla Model 3 center console that lets you take advantage of the available space properly.
Best Model 3 Center Console Organizer: Tesla OEM 
Tesla's organizer tray is certainly the most recommended center console organizer on the market.
The Tesla OEM organizer package comes with two trays in flock material, one for the front compartment and one for the rear compartment.
The front tray has two compartments, while the rear tray doesn't have any compartment, keeping in view the ideal serviceability of the organizer.
Even though the Tesla OEM organizer tray provides you with a minimalist design with good quality, it has one downside: it's only available for the refreshed center console.
So if you have a pre-refreshed center console in your Model 3, then you'll have to look for some other aftermarket options.
Here is our roundup of the 7 best Tesla Model 3 center console organizers highly endorsed by the community.
The Pre-Refreshed Center Console Is a Fingerprint Magnet
The pre-refreshed center console has a piano black finish that is easily scratchable, a fingerprint magnet, and almost impossible to clean.
Model 3 owners like you, however, can get rid of these issues by simply using wraps specifically cut out for the Tesla Model 3 center console. Here is my top choice:
Best Wrap for Model 3 Center Console: EV Wraps
EV Wraps is a proven product per Model 3 owners that fits just right and gives an incredible look to your center console while getting rid of the shiny surface that attracts all fingerprints.
These wraps are also very slim and do not meddle with your key card signal even the slightest. Moreover, they also provide an OEM look, making your center console fingerprint and scratch-resistant.
My Center Console Won't Open or Close
There are several reasons that could cause this issue. Let's see what actual owners experienced:
I did have this issue. It wasn't completely stuck, but when I got my hand underneath it, I found a thin piece of plastic (almost paper-thin) that was creating an obstruction. I pulled it out and it hasn't stuck since.

swesson
Someone also reported that there are a couple of cables running behind the console (e.g. OBDI) and if they aren't tucked away properly, they can obstruct the console from opening.

vandacca
This happened to me after a service center visit. The panel wouldn't open all the way because it was jammed by a cable connector about the size of a wine cork that had fallen into the mechanism after the service visit. I reached in, felt the obstruction, pushed the connector out of the way, and got the cover to open fully. But now it doesn't stay open. SC refastened the harness and tried to repair the cover mechanism, but concluded the hold-open spring has somehow gone missing – they couldn't find it. Replacing the whole console now

RossRAllen
It seems that stuck wires are mostly the reason for obstruction, and the remedy seems to be a brief visit to the service center.
How to Clean the Model 3 Center Console
Here's a simple guide to clean your center console smoothly without any hassle:
Buy some good interior cleaner (like P&S Xpress) of your choice from the market.
Pour it into a spray bottle with an adequate dilution ratio.
Get a high-quality microfiber towel.
Spray the cleaner on the console and wipe it gently off the surface using the towel.
Boom! You got your clean and shiny center console back.
You can also watch this short video tutorial by Hawaii Tesla & Detailing to have more practical insights:
Frequent Buyer Concerns
Is the wireless charging facility in the Model 3 compatible with my phone?
Yes. The iPhone 8 or later, Galaxy Note9, S9, S9+, Note8, S8, S8+, S7, S7 edge, Note5, S6 edge+, S6 edge, S6, and various Qi-certified phones from other manufacturers can be used with the Model 3 wireless phone charger.
Is it possible to fit a refreshed center console in a pre-refreshed Model 3?
Even though changes in the refreshed center console were very minimal, still, if you want to swap your old center console with the refreshed center console, you can do it quite easily.
Follow these basic steps to swap your Model 3 center consoles:
Disconnect the micro USB and CAN BUS cables from your Tesla and remove the old center console.
Take off the cup holder sections from both center consoles.
Eliminate the security controllers from the center consoles and swap them without any hesitation because they'll fit perfectly.
After swapping, now place the center console back together.
Install the new center console and connect it back together.
Switch on your Tesla Model 3 and check if your key card is working.
Still confused on how to swap center consoles?
TESBROS (a famous Tesla reviewer) elaborates on how you can do it by yourself with ease and grace in the following video:
Can I get the refreshed console from Tesla?
Do you have a pre-refreshed center console in your Model 3?
Don't worry your head about this as you can buy it easily from the Tesla Parts Catalog online and get it delivered to your doorstep with a very minimal fee, or you can easily purchase it from a local Tesla outlet in your town.
Conclusion
Ultimately, Tesla always listens to its customer base and rectifies whatever concerns they have. The same has been the case with the Tesla Model 3 center console.
I have laid down everything there is to know about the Model 3 center console.
I hope it answers all your queries and helps you have a better experience with your electric car's center console in the future.
If you think I missed something or you'd like to give a suggestion or ask a question, feel free to comment down below whatever comes to mind.
Ciao!
Muhammad Hassan
Engineer by trade and writer by passion, Hassan is an automotive enthusiast who thinks EVs are the future. At TTU, he discusses the coolest features and products Model 3 owners look for -- so they can better experience their cars. In his free time, he enjoys tea, reading, and listening to podcasts.
5 Crazy Useful Tesla Tips and Tricks Few Owners Know About
These 5 rare tips can save you so much time and stress – and few owners know about them (even after years of ownership). Sign up below to learn more. It's free!
By subscribing, you agree to get emails from TeslaTuneUp. We'll respect your privacy and you can unsubscribe any time.