Looks familiar?
I'm sure you've seen this scene many times.
Without a frunk luggage, your frunk could turn into a chaotic mess like this (no offense to the owner!).
Using a frunk luggage specifically designed for the Model 3 could help tidy up your frunk, organize your stuff, and offer you immediate access to your things.
But to be honest, it is not easy to find a frunk luggage designed specifically for the Model 3, and you should consider yourself lucky for finding this article.
After spending more than six hours in Tesla community forums and Model 3 social media groups, we identified the six best Model 3 frunk luggage used by Model 3 owners so that you no longer have to spend long hours searching.
Keep in mind though that this article is dedicated specifically to frunk luggage and not frunk organizers—two similar products that people often confuse.
Frunk Luggage vs Frunk Organizer: What's the Difference?
To help you buy the right product for your needs, we must first clarify and answer one of the most asked questions by new Tesla owners. Although both frunk luggage and frunk organizers are designed to keep your things neat in the frunk, they are totally different.
Frunk organizers are not necessarily bags that you can remove from the frunk and carry anywhere you want. Though there are some that can be carried away, most are designed to be fixed and stationary.
But all frunk organizers have something in common—they have multiple compartments to hold different sorts of cargo.
The frunk luggage, however, are bags designed to fit in the frunk and can be carried away easily. They also have compartments and pockets like backpacks.
Frunk organizers are for things that can always be stored in the frunk, while frunk luggage are for things that you always carry like clothes, personal care stuff, gadgets, etc.
4 Benefits of Having a Frunk Luggage
1. Cleanliness and Organization
Imagine stuffing your frunk with a lot of different things, from clean clothes to electronic devices, dry goods, and bottled drinks, and every time you pick something, you have to dig and rummage through all of your stuff! This does not always end well.
2. Accessibility and Saves Time
Having a frunk luggage saves you a lot of time in searching for your stuff because you know where to find them.
3. Protects the Frunk
Putting stuff directly inside the frunk without organizing them could result in a catastrophic end. Liquids and powdered items can splatter inside your frunk and damage your car if they are not put together properly.
4. Protects Your Things and Keeps Them Secure
Yes, your electronic devices can be damaged if they are not separated from other hard objects. This is the reason why bags and luggage always have sleeves. Powdered and liquid materials cannot be put in the same compartment.
5 Crazy Useful Tesla Tips and Tricks Few Owners Know About
These 5 rare tips can save you so much time and stress – and few owners know about them (even after years of ownership). Sign up below to learn more. It's free!
By subscribing, you agree to get emails from TeslaTuneUp. We'll respect your privacy and you can unsubscribe any time.
Best Tesla Model 3 Frunk Luggage
Oscar & Hamish is a British brand, and it is considered the "fanciest set of bags" for the frunk.
Designed and handmade in England, it has a premium quality and is made specifically for the Model 3 and fits all versions.
It is a set of two bags, which means you don't always need to carry all your things as you can leave the other half and carry only the things you need in the other half.
The Oscar & Hamish Model 3 frunk luggage is made of high-quality automotive vegan leather, so if you are looking for a product that is recyclable, environmentally friendly, and sustainable, this is for you. If, however, you want another material, they also offer a synthetic option.
This is the first time I've seen a Model 3 frunk luggage that fits perfectly. I am using a different product for my Model S but when my Model 3 arrives, I'll definitely get one of these straight away.

Will Fealey
The luggage can fit many things like gadgets, clothes, and other personal care stuff. It has a dedicated compartment for a laptop/iPad/notebook so it's safe from drops, bumps, and scratches.

Whether you carry it by hand or shoulder, it is designed for comfort, with an extra padded strap for easy shoulder carry.

"We've got O & H and we are very pleased, however, supplies recently become limited because they started producing Covid masks. Might be available on pre-order."

M3noob
✅ 2 bags in one. You can divide your things and carry only what you need.
✅ Made of vegan leather, but option for synthetic is also available
✅ Stylish and designed specifically for the Model 3
✅ Handmade
Tesloid Model 3 frunk luggage bags are specifically designed to fit the Model 3 and are a cheaper option for Oscar & Hamish.
The luggage has detachable straps and carry-on handles that are perfect when traveling by plane. Both bags have dual zippers and a laptop sleeve.
The Tesloid frunk luggage matches the dimension and shape of the frunk, and even when they are filled, you don't have to worry about the height touching the hood. Its design is perfect for frunk space efficiency, and it is made of sturdy materials, so you don't have to worry about damaging or ripping off the bags when putting heavier stuff.
"These Tesloid bags looks closely similar to Oscar and Hamish and since I can't order the latter, I'll get Tesloid instead."

Glan gluaisne
Check out the following video to see how the Tesloid frunk luggage fits nicely inside the frunk:
✅ Designed specifically for the Model 3
✅ Perfect as carry-on airplane bags
✅ 2 smaller bags are always easier to carry than 1 big piece of luggage.
❌ May not fit in Model 3 versions later than 2020
❌ No other compartment or pocket than the laptop sleeve
If you need cheap, but high-quality luggage for your Model 3 frunk, you can't go wrong with Bomely Fit.
The Bomely Fit frunk luggage is a set of two identical carry-on bags that are designed to perfectly match the shape and size of your Model 3 frunk without hitting the hood when closed.
Load your clothes in one bag and a pair of shoes in the other, along with some personal belongings, and you are ready to go. A set of two carry-on bags is always better than a single bigger and heavier bag, especially when traveling.
Both bags have detachable shoulder straps made of strong and sturdy nylon material. They are made of waterproof Oxford fabric sewn in three-layer fabric.
When empty and not in use, the bags can be folded easily for quick storage, with minimum space needed.
✅ Perfectly fits the shape and dimension of the Model 3 frunk
✅ Fits 2017–2022 Model 3s
✅ Made of sturdy Oxford fabric with waterproof outer layer
❌ No inside pocket or any division or separate compartment
The Green Drive two-piece luggage is a product of passion for Tesla.
Two French Tesla owners decided to make this product because they couldn't find anything in their country that fits into their Model 3 frunk; hence, the Green Drive frunk luggage was born.
Green Drive is an official partner of Tesla Owners Club France, so it makes sense that the company is producing top-caliber products like this frunk luggage to satisfy their fellow Tesla owners.
Like the first three products we mentioned above, the Green Drive frunk luggage is a set of two identical bags made of Oxford 600D polyester fabric, which is a sturdy and strong material for bags, perfect for heavy travels.
One unique feature of this luggage is its handles. You can carry the bag without spilling its content in case you put anything with a liquid content inside.
France is known for manufacturing high-quality products, so quality is not something you should worry about when purchasing from a French brand.
✅ Official partner of Tesla Owners Club France
✅ Two identical bags fit perfectly inside the Model 3 frunk
✅ Made of high-quality Oxford 600D fabric from a country known for producing luxury goods
❌ A bit pricey for some and shipping costs from France can add more expense.
❌ Available only in one color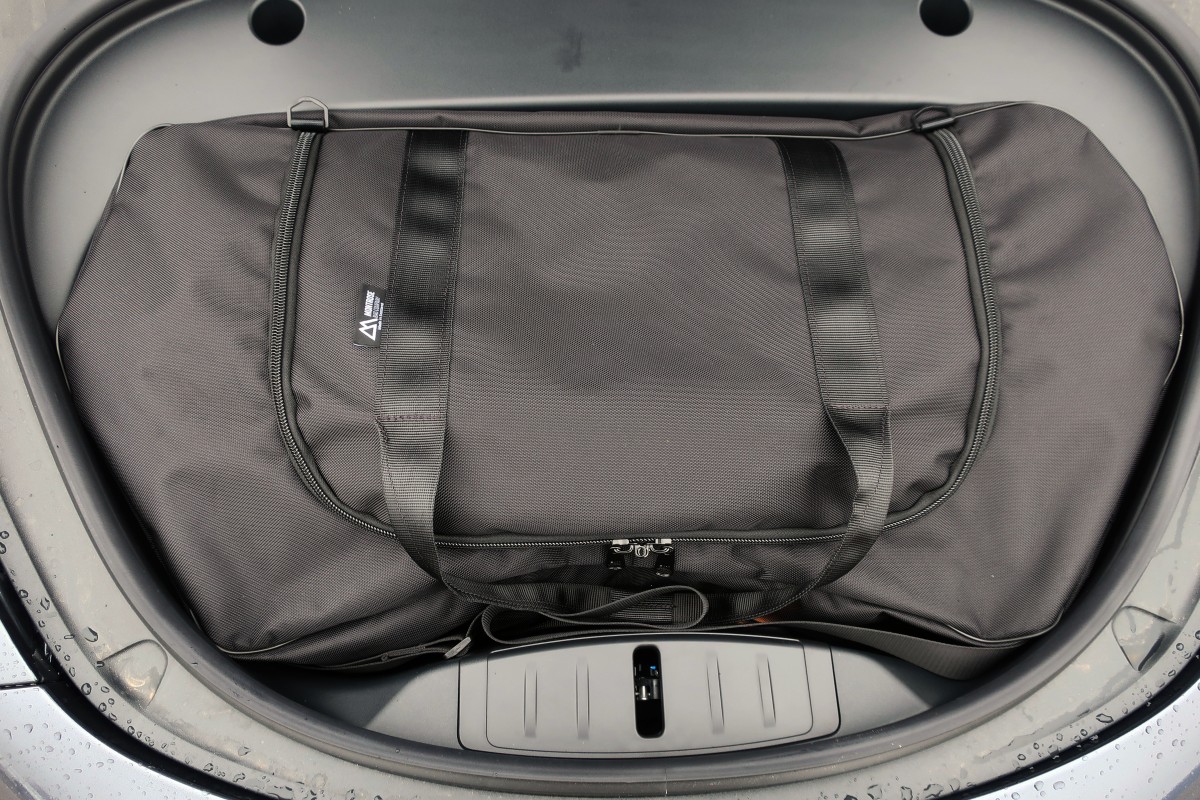 The Montrose Tesla Model 3 frunk bag is the first single frunk luggage in this list. This luggage is massive and can store up to 88 liters of mixed stuff. If you are traveling heavy, the Montrose frunk luggage is a no-brainer.
This Model 3 frunk luggage is best for people who love going outdoors or are always going to game practice or the gym. It can hold clothes, balls, shoes, large towels, and similar stuff and can be carried easily by hand or shoulder.
The bag is also ideal for holiday use and picnics.
Made in Scotland, the Montrose Model 3 frunk luggage is designed based on the contours of the frunk, so there is no issue of overfilling even when it is totally full.
Another advantage of the Montrose frunk luggage against its two-bag competitors is its availability in many colors, such as white, black, blue, red, and gray, so you can pick a color similar to your Model 3. It is also available in a smooth matte finish.
Made from durable Astro fabric, the bag is tear-resistant, easy to clean, and waterproof, but washable. It can also be flattened when not in use, so storing it when empty is not a problem.
✅ Available in 5 colors with a matte finish option
✅ Single luggage makes it easier to carry
✅ Made by a well-known bag manufacturer in Scotland
✅ Designed specifically to fit Model 3
❌ Not recommended for 2022 Model 3s
❌ Shipping from the UK could add delays and cost
This is the first time we are including a luxury option because I think the Frunkles Model 3 frunk luggage is too good to not be included in this list.
When talking about quality products, the first thing that comes to our mind is their country of origin and price.
According to Forbes, Germany ranks first in the list of 11 countries that produce the highest quality of goods, and no wonder why this Model 3 frunk bag is worth a buy. Surprisingly, the United States, Japan, and France are tied at number 8.
The Frunkles Model 3 frunk luggage is designed and handmade by a small traditional family business in Germany.
The luggage is made of the finest nubuck leather and secured with a robust metal zipper. We all know that Germany produces some of the best steel in the world, so expect the metal parts of this luggage to be top-notch.
The bag has a capacity of 45 liters, which is more than enough to keep your personal stuff for short to medium travels.
This is definitely the best frunk luggage if you want to travel in elegance and style.
✅ Made of the most durable leather material, nubuck
✅ Designed and handmade in Germany
✅ One bag fits most of your personal travel stuff
❌ Not recommended for everyday use
Tesla Model 3 Frunk Luggage Buying Guide and Q & A
I already have a backpack that perfectly fits inside my Model 3 frunk. Do I still need a frunk luggage?
Whether you need a frunk luggage or not solely depends on your needs. Backpacks, especially those with metal frames, are not advisable to use as a frunk bag because the metal parts can damage your frunk lining. Besides, small backpacks that fit in the frunk still leave space outside. This extra space can be utilized if you are using a Model 3-specific frunk luggage.
Should I buy a double-bag or a single-bag frunk luggage?
Again, it depends on your needs. If you need a bigger bag to carry bigger personal items, I'd say go with a single duffel-like luggage. However, if you only need to bring lighter things and don't have to carry the entire content of your frunk, choose the two-bag luggage. That way, you can just pick the things you need to bring and leave the rest in the frunk.
Can I store canned and bottled drinks inside the frunk luggage?
Although most of the frunk luggage we mentioned above are waterproof and leakproof, they are not designed for liquid items. Instead, I suggest you buy a Model 3 frunk cooler. A frunk cooler can keep your drinks cold and prevent them from spilling.
Final Thoughts
A frunk luggage is a must for every Tesla Model 3 owner if you want to keep things secure and organized in your frunk. Having one could help you optimize your frunk cargo space and save you time.
The six products above are the top choices of the Tesla community, both in the United States and Europe.
Although Oscar & Hamish is our top pick for several reasons, it can be challenging to find it as it is often out of stock, so be sure to consider that when buying, especially if you need it immediately.
If it is unavailable, you can always get the Tesloid Model 3 frunk luggage instead. It looks almost exactly the same and is produced in the United States (which means fast delivery!) and is a bit cheaper compared with Oscar & Hamish. 
If you have other product suggestions that we can add to our list or have any experience with these products, let us know in the comments. We'd love to hear from you!
Zac Ludicrous
Mechanical engineer by profession. TSLA shareholder before the hype. EV enthusiast all day long. Zac enjoys learning about the future of battery technology, autonomy, and EVs. He considers Tesla Model 3 the most important vehicle of the 21st century -- and is in a quest to improve the ownership experience of every Model 3 owner he possibly can.
5 Crazy Useful Tesla Tips and Tricks Few Owners Know About
These 5 rare tips can save you so much time and stress – and few owners know about them (even after years of ownership). Sign up below to learn more. It's free!
By subscribing, you agree to get emails from TeslaTuneUp. We'll respect your privacy and you can unsubscribe any time.