I examined 27 Tesla Model 3 carbon fiber steering wheel replacements closely — and considered what Tesla owners care about to pick the best.
Hold your wallet, dear.
Below I list the 7 most beautiful and tempting steering wheels of all.
Best Tesla Model 3 Carbon Fiber Steering Wheel Overall: SUMK
This luxurious and elegant steering wheel will get you plenty of compliments for a deal of a price.
It's one of the few steering wheels within Amazon with a decent number of reviews.
Customers receive their packages in as little as 2 days — while competitors can take 4-6 weeks to ship their steering wheels.
If you want a handsome carbon fiber steering wheel without breaking the bank (or waiting for months), this is the one you need.
It isn't the most innovative design by any means — and unfortunately, you can't customize every detail like other products.
But with all the tools you'll need to replace your steering wheel in 30 minutes —
And with customers go as far as saying it improves the driving experience,
This product is certainly worth the investment.
Check out the latest price. It's very competitive with other products — and you can have it on your hands in days.
Pros:
Fits: all Model 3 / Y years and trims.

✅ Competitively priced
✅ Fastest shipping, potentially same day
✅ Comes with all installation tools
✅ Available in black and white to match interior
Cons:
❌ Not a customizable design
Runner-Up Tesla Model 3 Carbon Fiber Steering Wheel: RPMTesla
Due to its higher price, confusing logistics (explained below), and 4- to 6-week shipping time,
RPMTesla would be my second choice.
Design is similar but you get to customize the finish (glossy vs. matte) — and unlike SUMK, the leather isn't perforated which may fit your tastes better.
The installation instructions are super helpful as usual.
(Even if purchase from a different brand, you'll always benefit from watching RPM's installation videos.)
To potentially skip the line, keep in mind that they rotate 50 steering wheels.
Give them a call to see if they have the Tesla Model 3 carbon fiber steering wheel you're looking for in stock.
Oh, and don't let the price scare you.
You'll see a price tag close to 2 grand…
That price includes a $600 deposit.
They'll refund you those $600 once they receive your original steering wheel.
If you visit their store physically, such deposit isn't necessary
You should also see 20% discount once you add the steering wheel to cart, which lowers the price below $1,000 USD.
Jumping through these hoops makes the buying experience somewhat confusing.
But given how happy Tesla owners have been according to their own forum comments, this steering wheel is worth a shot.
Pros:
Fits: all Model 3 / Y years and trims.

✅ 1,000+ products sold.
✅ Many word-of-mouth recommendations on Tesla forums.
✅ Comes with all installation tools
✅ Detailed installation instructions
Cons:
❌ Higher price
❌ Confusing purchasing experience
❌ Long shipping time
If you're into racing modifications or want a fully-personalized carbon fiber steering wheel, you'll love Real Carbontastic products.
Their design with more accentuated curves looks much more aggressive.
Here's just an example of a personalized steering wheel:
You have plenty of choices to personalize further:
19 color options, including 'none' and 'special color request', for the top center stripe.
18 color options (including special request) for the stitching color.
Regular leather, perforated leather, and Alcantara for the grip material.
Glossy or matte for top and bottom carbon fiber.
4 options for the button trim cover finish.
5 options for the Y trim around the buttons.
You can even have colored carbon fiber and a personalized logo by request.
There's a caveat, though:
The more you customize, the less likely is that their 15-day return guarantee will apply to you.
Also, at this price point, I'd also expect some installation tools. It's a shame they don't include any.
Despite this, they're still the one of the top carbon fiber steering wheel sellers among Tesla owners and premium automotive brands like BMW, Mercedes, and Audi.
Pros:
Fits: all Model 3 / Y years and trims.

✅ Extremely customizable design
✅ Record of quality among premium car owners
Cons:
❌ Very expensive
❌ Long shipping time
❌ No installation tools included
Best Budget Tesla Model 3 Carbon Fiber Steering Wheel: Aramox by Ferlei
Carbon fiber steering wheel choices at a decent price are few and far between.
This is one of the few.
Although no center trims are provided,
(You'll have to transfer the original trims and wrap them separately)
The design is interesting enough to make the cut.
Like others, you'll have to wait 4-6 weeks to get this product on your hands but this time for a different reason:
This steering wheel comes directly from China.
Don't let that scare you, though. — you can find nearly identical products being sold for 2-3 times more.
I wouldn't be surprised if this Chinese brand supplies these high-margin sellers.
Read: you're likely getting the same quality product for much less.
That puts my concerns at ease despite the product being newer within Amazon.
Pros:
Fits: all Model 3 / Y years and trims.

✅ Relatively inexpensive carbon fiber steering wheel
✅ Likely the supplier for sellers with 2-3x higher prices
Cons:
❌ Long shipping time
❌ No installation tools included
❌ Not a customizable design
Notable Mentions:
Popularly known for their racing & luxury accessories, RevoZport made it to this list as it was mentioned often in Tesla forums. 
They have a solid reputation, plenty of happy customers, and their steering wheel has a few customizations options I like.
Such options include none other than the Roadster-inspired yoke steering wheel — like the refreshed Model S was supposed to have.
For people who dare to be different, this is a solid choice.
If you're a fan of Tesla's minimalistic design, TSportsline created the perfect steering wheel for you.
The video below shows the product is simply the OEM steering wheel with a carbon fiber top. Nothing more, nothing less.
If you simply want an OEM-like steering wheel with carbon fiber on top, they're a great choice.
If you're looking for a unique design, though, you're better off somewhere else.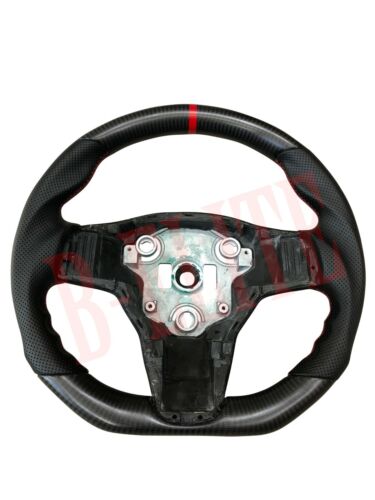 Although not a particularly well-known brand by any means, this steering wheel design is actually my second favorite.
I like how the perforated leather extends further than other products.
The red center stitching and stripe gives it a very racing and aggressive feel — and you'll get your hands on the product in as little as 2 days.
Complementary Product to Consider
If you bought a steering wheel similar to our budget choice (which includes no center trims),
I wrote an article with everything you need to personalize your steering wheel trims with vinyl wraps and caps.
Short on time? Here are the highlights of the best overall steering wheel wrap on the market:
Available in 6 colors
Fits: all Model 3 / Y years and trims.
✅ Automotive-grade 3M 2080 vinyl
✅ Easy to install
✅ Perfect fit
✅ Thin layer. No interference with buttons.
❌ May peel off prematurely
Our Tesla Model 3 Carbon Fiber Steering Wheel of Choice
SUMK impressed me with their combination of fast shipping, unique design, low price, and a track record of positive reviews.
Their perforated leather makes it look very elegant — and SUMK has both black and white available to match your Model 3's interior.
All things considered, unless you're truly in love with a different design, SUMK is the best choice overall.