Made-in-China Model 3s come with both a Tesla and "Model 3" emblem in the trunk: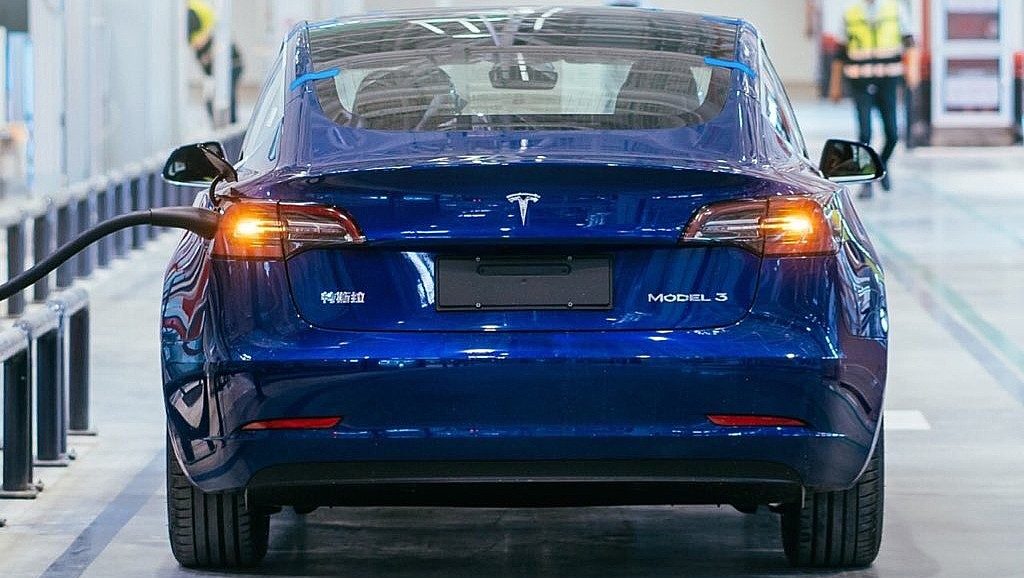 Yours, more than likely, doesn't.
Fortunately, many brands sell aftermarket "Model 3" emblems, colored logos, Roadster-like letter-by-letter badges, and more.
I compiled the highest-rated Tesla Model 3 emblems in the market today.
Sit back, relax, and scroll down to discover your favorite one.
Update: They have apparently discontinued this product. Click above to see the other options they have available.
Inspired by the Tesla Roadster, this T-E-S-L-A emblem gives the Model 3 an incredibly dope swagger.
Y'all know what I mean?
Surprisingly, it also has an OEM/factory look.
Plenty of customer reviews echo my sentiment.
Upon researching, I noticed the brand (and its founder) is very interactive with customers and the Tesla community as a whole.
In any unfortunate event, rest assured that service won't be a problem.
The product comes with a "logo removal kit" to eliminate the risk of paint damage.
Many admit removing the Tesla logo requires patience.
Others position the T-E-S-L-A emblem below the logo (without removing)—although I personally don't like how it looks.
The emblem is available in multiple two-color combinations, so you can pick the one that suits your fancy.
They have also other badges/emblems available, including:
E bars
Trim names: Long Range / Performance / All-Wheel Drive
Dual Motor
"P3D+"
And much more!
The alignment template that the T-E-S-L-A emblem (Gen 2) includes isn't as helpful as intended:
It helps people with letter spacing, but for some reason, some still struggle to ensure all letters align horizontally.
Also, they use overseas suppliers. When stock isn't available, waiting times can be as long as eight weeks.
If the product you want happens to be available now, I encourage you to grab it before someone else does.
Pros:
Fits: Universal. All Teslas.
✅ Inspired by Tesla Roadster
✅ Outstanding customer service
✅ Comes with logo removal kit and alignment template
✅ Multiple colors and emblems available

Cons:
❌ Horizontal alignment may be a challenge
❌ Long waiting times if stock isn't available
Best "T" Logo Replacement or Add-On: MS Auto
If you lost your logo or want an OEM-like emblem with a different color, this logo may be your best choice.
It's made of chrome, so expect nearly aluminum-like corrosion resistance.
Chrome also makes the product much more affordable—as much as half the price compared with similar emblems.
If you like your OEM badge as it is though, consider placing this emblem elsewhere.
Some Tesla owners confirm this product looks great on the front fenders, just below the side cameras.
The seller does seem to be brand-new as the product page doesn't have a detailed product description.
I wouldn't be surprised if the product disappears in a few months.
But as long as it's being sold, it's worth the investment for owners who want an emblem replacement—or an add-on.
Pros:
Fits: Universal. All Teslas.
✅ Chrome product. Won't rust out.
✅ OEM look
✅ Very affordable

Cons:
❌ Only available in silver (just like the original emblem)
5 Crazy Useful Tesla Tips and Tricks Few Owners Know About
These 5 rare tips can save you so much time and stress – and few owners know about them (even after years of ownership). Sign up below to learn more. It's free!
By subscribing, you agree to get emails from TeslaTuneUp. We'll respect your privacy and you can unsubscribe any time.
Best "Model 3" Emblem: EV Wraps
Available in chrome and black
Sure, people don't NEED to know what you're driving.
But look at it. It just looks… complete.
This emblem does what some might say Tesla should have offered by default.
The product, unfortunately, doesn't include an alignment template.
The letters may not be straight by default, so you'll have to realign them by yourself before installing the product.
Still, it's rather a straightforward installation; Model 3 owners who bought this emblem took as little as two minutes to install it.
Customers confirm that the quality feels as if it came from the factory.
And while blue Model 3 owners say their car looks great with the chrome version, red and white Model 3s will look absolutely gorgeous with a matte black emblem.
Feel free to pick your favorite.
Pros:
Fits: All Model 3 years and trims
✅ Not a strange look. Chinese Model 3s already have it.
✅ Easy, <5-min install
✅ Longest warranty (7 years)
✅ Available in chrome and black

Cons:
❌ No alignment templates included
Best 3D Tesla Shield Logo: CARRUN
Available in silver, black, and red
This 3D Tesla shield really stands out.
So much so that it "looks expensive and adds a sexy touch" according to customers.
I would NOT use the emblem on a Tesla vehicle though.
To me, it just doesn't match Tesla's minimalistic nature.
To spark your creativity, one person placed this Tesla emblem on an F-150 pickup truck. (Funny, isn't it?)
Another Tesla owner placed the emblem on a golf cart.
They own a Tesla but admit the golf cart is more of a conversation starter when someone visits their home.
You're free to use it on your vehicle.
Just remember that this emblem will weigh significantly more due to its zinc material and thicker design.
Pros:
Fits: Universal
✅ Zinc-made product. Won't rust out.
✅ Premium feel
✅ 60-day refund guarantee
✅ Available in black and silver

Cons:
❌ Thicker and heavier than the original logo
❌ Doesn't blend in with Tesla's minimalism
Notable Mentions:
The emblems above are my favorite.
But if you're interested in something different, I'm including other Tesla Model 3 emblems that have great reviews below and can complement the look you're after.
This emblem makes a fantastic gift idea to Elon and SpaceX fans.
Bound to be a conversation starter at Superchargers or among Tesla enthusiasts, it'll help more people know about the ways in which Elon is improving humanity.
Install it on your car to honor the greatest inventor of our era and feel great knowing you're contributing to his mission!
Unless looking to buy a dual-motor Model 3, this emblem isn't something the average joe will understand, let alone care about.
Regardless, many people have installed this on their Model 3.
After all, most cars on the planet only have one motor or engine.
Who said you can't tell the world your car has two motors?!
Maybe that helps them deduce how that plays a role in your crazy 0-60 acceleration.
Actually, this emblem looks fantastic in the center console, proof that it can be used in various ways.
You might use the bars as door edge protectors or maybe to replace the "3" on a "Model 3" badge.
(Tesla intended to call the car the Model E before Ford killed "SEX.")
There are many ways to go about it. Get creative!
OEM Replacement by Tesla:
At just $25 a pop as of this writing, you can make an appointment through your Tesla app to request an OEM replacement.
In fact, if a shop removed your badges while wrapping your car or doing a similar job, you may ask Tesla to bill the installer's account.
More often than not, shops will take care of it.
Frequent Buyer Concerns:
Will removing Tesla's logos damage my paint?
No.
Fortunately, the products that require logo removal include a kit to properly debadge your Tesla.
You can buy these removal kits separately as well (usually sold out, unfortunately).
The risk of paint damage is virtually none when you use the proper tools.
Just be careful and follow the kit instructions.
Watch this video to learn about the debadging process in detail:
NOTE: Keep in mind that early Tesla Model Ys (built pre-April 2020) have their logos attached differently and can't be removed.
For Model Ys built after that period (and the rest of the lineup), there should be no problem using the exact process shown above.
Will these custom Tesla Model 3 emblems give an undesirable, non-factory look to my car?
It depends.
Often, some Model 3 owners actually want their cars to stand out—as long as it doesn't look forced.
In my opinion, the only one that looks a bit "out there" is the 3D Tesla logo. Personally, I wouldn't want it in my car's exterior.
The rest blend in with the car very well.
Want a Different Emblem Color?
Sometimes, you just want to color your logo—black to match a chrome delete or carbon fiber or red to stand out, etc.
If that's the case, wrapping your logo may do the trick.
Here's the best logo decal kit I found and a link to a detailed buying guide to check out other options.
Available in dozens of colors.
✅ Easy to install (in minutes)
✅ Decals cover exterior and interior logos: side cameras, front logo, trunk logo, steering wheel, and all 4-wheel center cap.
✅ An extra side mirror and wheel center cap decal
✅ 3M automotive-grade vinyl wrap
✅ 90-day warranty and free replacements
❌ Exterior logo decals may crack and peel prematurely after multiple car washes
❌ May not fit refreshed Model 3 (which has slightly bigger hood and trunk logos, as well as no side camera logos).
What Tesla Model 3 Emblem Should You Choose?
Personally, I love this combination for a black Model 3.
I might have placed a "Model 3" emblem rather than "Dual Motor."
But I can't make any global recommendations.
What looks fantastic to me may look horrendous to you.
Just scroll up and envision which Tesla Model 3 emblem (or emblems) will look the best on your car based on your preferences.
Zac Ludicrous
Mechanical engineer by profession. TSLA shareholder before the hype. EV enthusiast all day long. Zac enjoys learning about the future of battery technology, autonomy, and EVs. He considers Tesla Model 3 the most important vehicle of the 21st century -- and is in a quest to improve the ownership experience of every Model 3 owner he possibly can.
5 Crazy Useful Tesla Tips and Tricks Few Owners Know About
These 5 rare tips can save you so much time and stress – and few owners know about them (even after years of ownership). Sign up below to learn more. It's free!
By subscribing, you agree to get emails from TeslaTuneUp. We'll respect your privacy and you can unsubscribe any time.