How practical is the Tesla Model 3 trunk really?
After reading several blog posts and going through a lot of YouTube videos, I have come up with credible owner-reviewed information about the Tesla Model 3's trunk and cargo space in this conclusive guide.
Let's dive into the details.
Why Cargo Space Is an Important Factor to Consider Before Buying a Car
If you're into Tesla, chances are you're a family man—or someone who'll soon have a family.
Now let's suppose you're going to a beach party or on a vacation with your family, all packed up, ready to depart…
But when you start putting stuff in your trunk, you realize there is not enough cargo space and you'll have to leave some of the essential things behind.
I don't know about you, but it'd frustrate me!
So that's why taking cargo space into account is of utmost importance before you select a car for yourself.
As you're reading this guide, I'd suppose you are into a Tesla Model 3 specifically and would like to know everything about its cargo capacity.
Quick summary: The Model 3 has the most cargo space than any other five-seater sedan in its league.
Model 3 Cargo Space Overview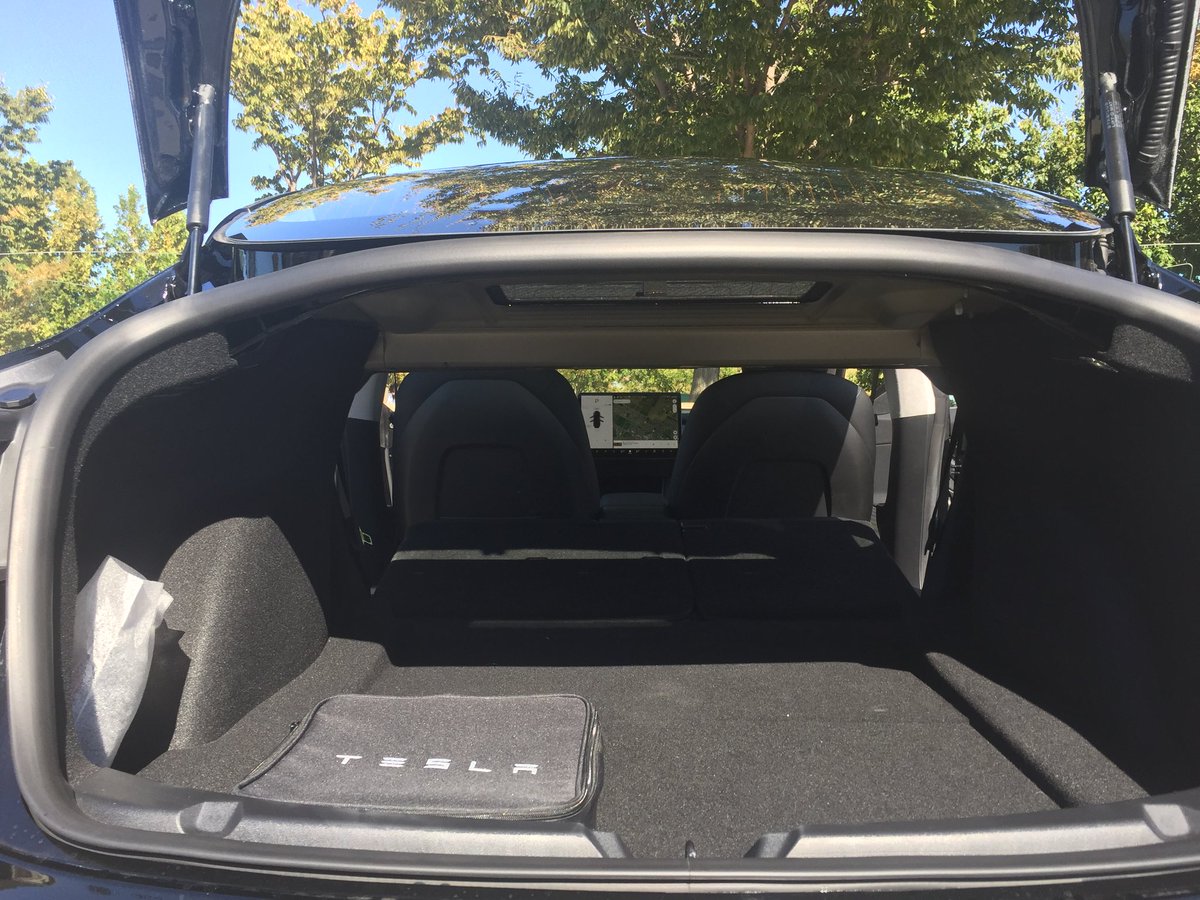 Cargo capacity is something you'll like about the Model 3, especially if you have a family.
The front trunk (frunk) has a capacity of 3.1 cu ft (88 L) and can hold up to 25 kg. According to Tesla's standards, carrying more than 25 kg might cause harm to your vehicle.
The Model 3's trunk volume is 19.8 cu ft, including the sub-trunk storage area, but that's not all. You can expand the trunk space by folding the rear seats. This will increase the trunk space to 43 cu ft.
To put things in perspective, with the seats folded down, the Model 3's cargo capacity can comfortably accommodate 15 carry-on luggage or a full bed kit, allowing you to spend a cozy night in your car.
We won't expand on this any further as this guide is mainly focused on the Model 3 rear trunk only. So let's start with our actual subject matter.
5 Crazy Useful Tesla Tips and Tricks Few Owners Know About
These 5 rare tips can save you so much time and stress – and few owners know about them (even after years of ownership). Sign up below to learn more. It's free!
By subscribing, you agree to get emails from TeslaTuneUp. We'll respect your privacy and you can unsubscribe any time.
Model 3 Rear Trunk: What Secrets Is It Hiding
The Tesla Model 3 appears to be a compact and minimalist vehicle, but appearances can be deceiving. What looks to be a little room may hold a large amount of space, much like the tent in the Harry Potter films.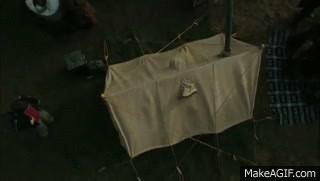 Per Tesla, the Model 3 comes with a 15 cu ft trunk.
Many enthusiasts and journalists have revealed that the 15 cubic feet doesn't even include the underfloor storage, not even the pockets on either side.
The total space in the trunk, if you include every dimension, is around 19 cubic feet.
Alex from the Alex on Autos YouTube channel walks us through the real-time analysis of how big the Model 3's rear trunk actually is:
The trunk is 37 inches wide and 42 inches long, which is ample for carrying up to two full-sized suitcases and two small duffel bags, but the 18 inches of height might be a limiting factor.
The underfloor space adds about 3 cubic feet of storage to the trunk. If you remove the cover for this area, it can easily fit one rolling hand-carry suitcase or even a trunk cooler.
Strollers with adjustable heights will have an easier time fitting into the trunk. Strollers with bigger tires or bulky seats might require some care.
It's difficult to guess how big a 15 cu ft trunk is unless you see it.
How about packing seven luggage suitcases, including an extra-large suitcase, a TSA-approved carry-on, and other regular carry-ons?
Your Model 3 trunk won't mind at all.
Expert Tip: Invest in a Tesla Model 3 trunk organizer for safer, better, and cleaner storage of your luggage.
Possibilities With Seats Folded
1. Plenty of Space to Store Heavy Luggage
Folding your seats can give way to a plethora of possibilities. You can store more luggage, possibly a furniture item, appliances, and the list goes on.
Tesla has played smart here by making the seats fold flat at a 60/40 arrangement, allowing you to expand the trunk.
When you fold the rear seats, the 15 cu ft trunk expands to a massive 43 cubic feet of space.
Again, how big is 43 cubic feet? Think of 15 carry-on suitcases, a dismantled king-size bed, or a dismantled BMX.
The Model 3 can take care of that!
Here is Bjorn Nyland giving a real-time demo of cargo space with the seats of the Model 3 folded:
2. Sleep Overnight in Your Car
Storing extra luggage is not the only luxury folded seats provide.
One of the major reasons for Tesla introducing this feature is to let you get comfortable in the cabin by enabling Camp Mode.
Camp Mode transforms your vehicle into a comfy and airy cabin. When your Tesla is in Camp Mode, the ventilation, lighting, temperature, and even music are all maintained.
You can choose an appropriate bed kit, set it up, turn Camp Mode on, and have a cozy sleep.
Bjorn Nyland did it with -8 degrees Celsius outside temperature. Check out his experience:
A Word of Warning
Carrying more weight than the limit specified by the manufacturer can be lethal in various ways.
For starters, it'll increase the braking distance, creating a possibility of collision with other vehicles in front. Moreover, if weight is more on either side of the car, it can mess with the handling of your car.
So it's strictly advisable that you don't carry more weight than the specified limit, which is 190 kgs or 418 lbs for the Model 3 per Tesla.
Model 3 vs Model Y Trunk Space
I found this very valuable YouTube video from Jeremy Helbert YouTube channel that compares the trunk space of the Model 3 with the Model Y using dirtbags. For a visual idea, this video is a gold mine:
Hopefully, this video will give you a clearer idea of how much stuff you can store in your Tesla Model 3 trunk.
How to Open the Model 3's Trunk
Tesla changes the specs and features of its car often, but the Tesla Model 3 trunk has stayed almost the same.
There are four ways demonstrated by Tesla through which you can open the Model 3's trunk.
To open it, first ensure your car is in Park and then do one of the following:
Touch the associated Open button on the touch screen.
Double-click the rear trunk button on the key fob.
Touch the rear trunk button on the mobile app.
Press the switch located under the rear trunk's exterior handle.
The Model 3 must detect a valid key before you open the trunk. (Source: Tesla)
The above-stated options will not actually open the trunk. They'll only unlock it, and you'll have to open it manually as the trunk is not electrically powered.
But if you're interested in this feature, Tesla does offer a power liftgate retrofit. You can check for its availability at your nearest Tesla service center.
If you prefer an aftermarket power liftgate kit, there are some incredible options available in the market. Here is our roundup of the 4 Best Tesla Model 3 Power Liftgate Kits. Check it out for more insights.
When your trunk is electrically powered, it can be closed in multiple ways:
Touch the associated close button on the touch screen.
Press the switch located by the rear trunk's exterior handle.
Double-click the rear trunk button on the key fob.
If the power trunk faces obstruction while closing, it stops and gives two chimes. Remove the obstruction and try closing it again. (Source: Tesla)
The opening height of the electrically powered trunk is also adjustable:
Open the trunk and then manually lower or raise it to your desired opening height.
Press and hold the button on the underside of the trunk for three seconds until you hear a confirmation chime.
Confirm that you have set it to the desired height by closing the power trunk and then reopening it.
The Model 3's trunk can also be opened from inside. If you get locked in the Model 3's trunk for some reason, you can use its interior emergency trunk release to get out (Bad news for kidnappers. Don't go kidnapping on a Model 3!)
To do so:
Firmly push the button in the mentioned direction of the arrow to release the latch.
Push the rear trunk open.
Third-Party Tutorials
How to Open the Trunk from the Screen
How to Open the Trunk Using the App
Tesla Power Liftgate
Common Tesla Model 3 Trunk Issues
Rain in the Trunk Issue
When you open the trunk in the rain, water that gushes through the back window appears to be able to enter the trunk. Bjorn Nyland explains it better:
While Tesla claims to have resolved the issue, it still occurs on certain vehicles from time to time.
Quick solutions include investing in rubber seals and mats, but if you want an in-depth solution to this problem, head over to our ultimate guide to the Tesla Model 3 rain fix.
Backup Camera Issues
It should only worry you if you have an older Tesla Model 3.
The backup camera on the car has a wire that apparently gets worn down over time and causes the screen to display a flickering image or at times no image at all.
Tesla had issued a recall for 2017–2020 model year cars and provided free-of-cost lid repairs on all cars. Almost 475,000 cars were called by the company around the United States over this issue.
If you're facing this issue, you should visit a Tesla service center to get it resolved.
Trunk Not Closing
Lastly, some users complained about not being able to close their trunks easily.
This problem did not have any evident solution as this was more of a factory issue than a quality issue.
Simply oiling the hinges has been said to have solved the issue. Every Amp goes in a bit more detail, sharing a cheap fix for this problem:
Final Thoughts
So here we are in our conclusive segment.
I've laid down pretty much everything you need to know about the Model 3's trunk.
It's big, and it's practical, but it cannot go beyond its limits, so use the space wisely.
If you're new to a Tesla car, this trunk and its amazing features are going to blow your mind.
Want to tell us about your experience filling the Tesla Model 3 trunk? Hop into the comment section.
Muhammad Hassan
Engineer by trade and writer by passion, Hassan is an automotive enthusiast who thinks EVs are the future. At TTU, he discusses the coolest features and products Model 3 owners look for -- so they can better experience their cars. In his free time, he enjoys tea, reading, and listening to podcasts.
5 Crazy Useful Tesla Tips and Tricks Few Owners Know About
These 5 rare tips can save you so much time and stress – and few owners know about them (even after years of ownership). Sign up below to learn more. It's free!
By subscribing, you agree to get emails from TeslaTuneUp. We'll respect your privacy and you can unsubscribe any time.