Anxious? Excited? Trust me, I know the feeling of getting a new car.
And when that car is a Tesla Model 3, a car that many dream to have in their garage, excitement goes above the roof.
I also know for sure that you can't wait to equip it with the best accessories that'll enhance its beauty, protect it, and make your driving more enjoyable.
Let me tell you: you're in for a treat. This has been my single focus for over a year, and I have the insights into the best accessories (and specific brands) owners actually buy.
Without further ado, let's get into the details.
Top 10 Tesla Model 3 Accessories (& the #1 Product in the Product Category)
#1: 3D Floor Mats to Protect Your Interior
Someone might already have suggested you invest in durable floor mats, and that totally makes sense.
For me, it's the very first accessory you should buy for your Model 3.
Why?
Well, for starters, nice floor mats greatly increase the visual appeal of your car.
Secondly, if the floor mat is in place, you won't have to clean the floor of your Model 3 every time your shoes bring dirt inside or you end up spilling a beverage or food on the floor.
Finally, you'd definitely want to keep the resale value of your car intact. Floor mats will protect the car's floor from any unfortunate damage due to dirt, pebbles, etc.
Best Model 3 Floor Mats Overall: 3D MAXpider
Following the initial Model 3 delivery, 3D MAXpider was one of the first floor mats made available.
They're THE tried-and-true option for edge-to-edge protection of interior floors.
These are the Tesla Model 3 floor mats that the community highly suggests and that YouTubers have been raving about for years.
All Model 3 years are covered with variations for the years 2017–2019 and 2020–2022.
Here is a 3D MAXpider durability test from the DÆRIK YouTube channel:
>>If you want to explore more options, here is our roundup of the 6 Best Tesla Model 3 All-Weather Floor Mats. Get all the details you want.
#2: Ceramic Coating to Protect Your Body Paint and Keep It Clean
Dirty cars are unacceptable. But washing it every othersecond day, or every week, for that matter, is not so easy either.
So what's the solution? Ceramic coating.
It acts as a thin glass sheet that repels dust, dirt, and minor scratches. Also, it makes cleaning your car a breeze.
To put it in the fewest words, ceramic coating is the cheapest and most efficient way to protect the paint of your car while keeping it clean.
Chemical Guys' supplies are used by several shops that charge big bucks. Their clay bar + luber packages guarantee a contaminant-free, ice-smooth surface.
To eliminate micro-scratches, remove the thin plastic layer that comes with the clay bar. Don't drop the bar; it must be kept clean to do its role, or it will be discarded.
Consider splitting the bar or placing a clean container beneath the area you're working on.
The medium kit is the best choice for older vehicles (or automobiles that used to park outside).
>>For more details and aftermarket options, dig into our buying guide of the best Tesla Model 3 ceramic coating.
#3: Mud Flaps to Keep Dirt, Rain, and Mud From Splashing on Your Car
Mud flaps are a must-have Model 3 accessory if you prefer your car clean and don't want to wash it as frequently.
Because not only do they keep dirt, rain, and mud from splashing on your car, but also they prevent sand and gravel from kicking up and damaging the car's body.
Thus, mud flaps are a no-brainer if your Tesla will be driving on salted roads, snow, mud, or gravel on a frequent basis. The Model 3 has had frequent paint damage issues as a result of suboptimal driving conditions.
Hence, adding a pair of mud flaps to your Model 3 will significantly prevent damage and safeguard its resale value.
Best Tesla Model 3 Mud Flaps Overall: Tsolutions
Tsolutions is the only authentic brand that claims to install Model 3 mud flaps with "no drilling necessary" — and all of their customers agree.
They employ inventive engineering to integrate these flaps into existing OEM attachments, with no holes or paint damage required.
Despite being somewhat more expensive, Tsolutions deserves our endorsement because of its design that addresses every complaint of Model 3 users.
>>For more details and aftermarket options, dig into our buying guide of the best Tesla Model 3 mud flaps.
#4: Screen Protector to Avoid Damaging Your Touch Screen
Glare, fingerprints, and scratches are just a few of the reasons why your Tesla needs a good screen protector.
The touch screen is the most significant and often utilized component of your Tesla Model 3. It plays a critical part in the overall operation of your vehicle; thus, it must be secured.
Fortunately, many aftermarket brands manufacture quality screen protectors that perfectly serve their purpose.
If you haven't gotten one for yourself yet, it's time to take action immediately. Any damage to your screen won't be repaired cheaply.
Best Model 3/Y 15″ Touch Screen Protector Overall: Abstract Ocean – Matte
For a variety of reasons, including simplicity of installation, glare reduction, fewer fingerprints, and finger-gliding smoothness, this matte screen protector is the Tesla community's favorite.
It comes with an all-in-one microfiber screen cleaner that makes cleaning and maintaining the protector a breeze.
Its easy-to-install feature is one of the key reasons why the community appreciates this screen protector. It comes with an easy-to-install installation frame that clamps into the screen for a smooth and painless installation.
Not many competitors offer the same luxury. Get it and make your screen secure.
>>For more details and aftermarket options, dig into our buying guide of the best Tesla screen protectors.
#5: Jack Pad Adapters to Protect Your Expensive Battery
What if you or a professional from a service facility accidentally damages your $30,000+ battery by jacking it up in the incorrect place?
Isn't that terrifying?
By using jack pads, anybody raising the car will have a very definite and designated contact point for the jack, lowering the risk of the vehicle being lifted off the battery by accident.
So one of the first things that a new Model 3 owner should do right away is invest in a quality jack pad adapter as sooner or later, he'll have to jack up his car.
Best Tesla Model 3 Jack Pad Adapter Overall: Teslapuck
It's no wonder that they're the most popular option among the bunch, given that they started off making jack pucks for Teslas. A Tesla owner designed the pads to safeguard his own vehicle.
Look no further than these pads if you're searching for a sensible and economical way to safeguard your vehicle anytime it's raised.
They perfectly fit the Model 3, S, and X.
>>For more details and aftermarket options, dig into our buying guide of the best Tesla Model 3 Jack Pad Adapters.
#6: Center Console Organizer for the Abyss That Is the Model 3 Center Console
It's true — the Model 3 center console, as commonly thought by the community, is an abyss. It's a challenge to find your keys or ring or whatever of small size in it.
Solution? A Model 3 center console organizer.
While it's a widespread view among Model 3/Y owners that they should've been included from the start, Tesla hasn't acknowledged that sentiment.
However, Tesla does offer one as a separate product that you can buy at very affordable rates. Many aftermarket brands also offer organizers of different designs and utilities that you can choose from according to your preferences.
Best Tesla Model 3 Center Console Organizer: Tesla OEM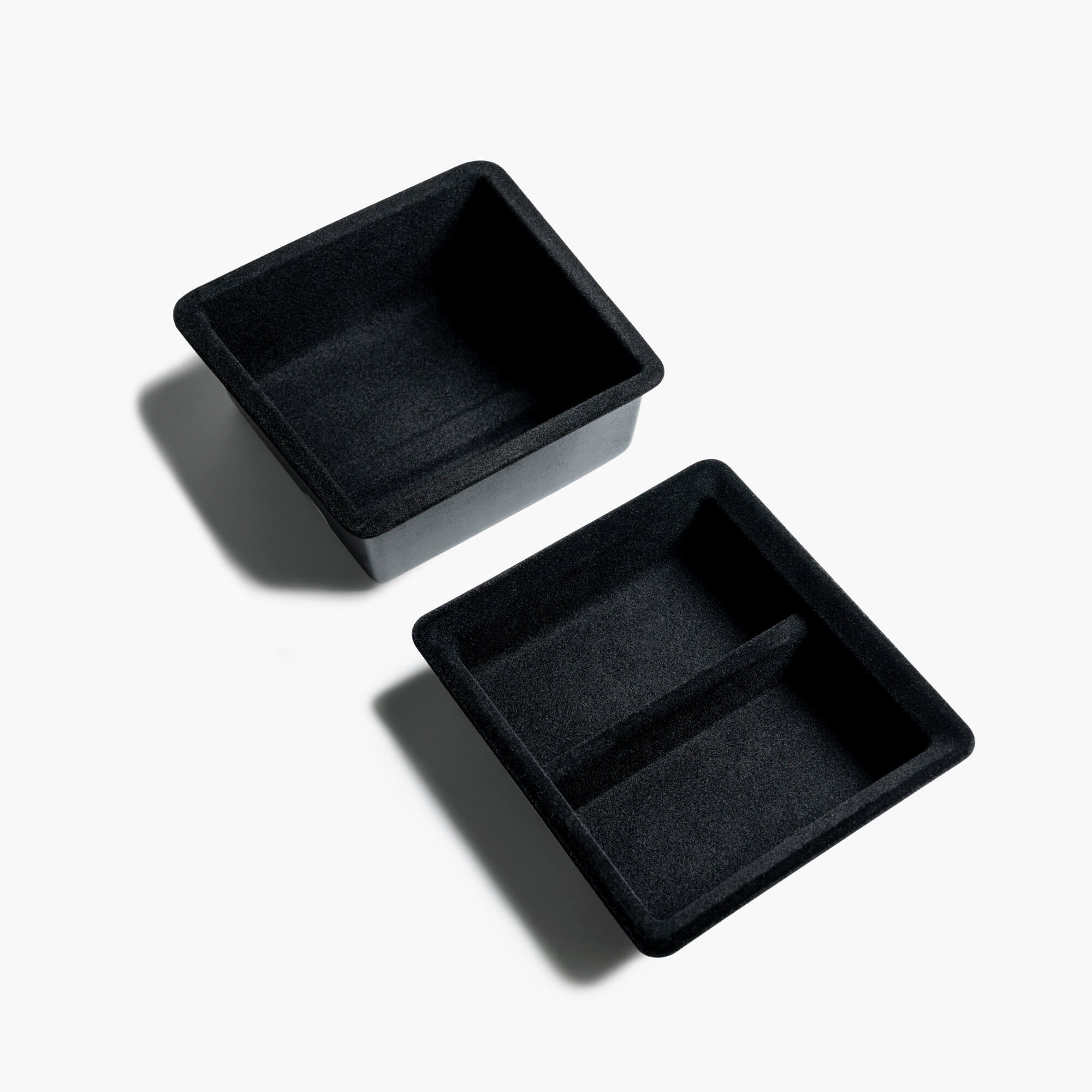 Many Tesla owners consider it a "must-have item" that should have come standard with the car from the start. Two flock trays are included in the package: one for the front, next to the charger, and another for the back/armrest.
It's essentially a two-for-one offer.
This is your best choice if you're seeking a center console organizer that hundreds of owners have found to be worthwhile.
>>If you want to explore more options, here is our roundup of the 7 Best Tesla Model 3 Center Console Organizers. Get all the details you want.
#7: Spare Tire for Emergency Flat Tire Situations
Getting a flat tire is inevitable. You are bound to stand and stare all annoyed at the flat tire and curse your luck, as well as the weather if it's unforgiving.
To save further frustration, keeping a spare in your Model 3's trunk won't hurt a bit — especially on long trips.
But the Model 3 must come with a spare!
I hate to burst the bubble, but Tesla doesn't include a spare tire (they have their reasons).
Aftermarket brands come to the rescue. Interestingly, there is only one company as of this writing that offers a proper spare for the Model 3.
Best Tesla Model 3 Spare Tire Overall: Modern Spare
All Model 3 trims, including the 18″ Aero Wheels and the 19″ Sport Wheels, are compatible with the Modern Spare spare tire.
It comes with highway-capable (81 mph) tires from reputable companies such as Continental and Pirelli.
A tool set with a jack and all the gear you'll need to fix a flat tire are also available from the company.
Overall, given the hundreds of Model 3 owners who suggest it, I'd recommend it without hesitation.
>>If you want to explore more options, here is our roundup of the best methods to fix a flat tire on the Model 3. Get all the details you want.
#8: USB Drives to Store Sentry Mode's Footage
Tesla Sentry Mode's footage has helped catch many criminals involved in theft and vandalism cases.
That footage has to be stored in a reliable storage device so that it remains safe and can be used when needed.
That's why investing in a reliable USB drive right after receiving your car is crucial.
Below is the most recommended USB drive by the Tesla community for this purpose.
Best Tesla Model 3 USB Drive Overall: Samsung T7
Samsung T7 is the product the Tesla community has chosen after "burning through" multiple USB drives.
With ample storage of 500 GB, 96% positive ratings, and a 4.8-star average, SAMSUNG T7 is certainly the uncrowned king of this niche.
So if you are a Tesla owner looking for a USB drive with higher storage, quick speed, and near-perfect rating that would work flawlessly for years to come, this is your safest bet.
With the recent on infotainment upgrade to HW 3, I purchased the Samsung T7 500 GB SSD online for $119.99 (Amazon). Upon its arrival, plugged it into the USB port, went to the settings, safety & security screen, clicked on format Drive, and was surprised how fast that was. I am so impressed with having now Sentry provide for 4 views of the drive and the "save on honk" feature. The video detail from the 4 cameras is very good.

Bmac
>>For more details and aftermarket options, dig into our buying guide of the Best USB for Tesla Sentry Mode.
#9: Interior Cleaner to Keep Your Model 3 As Good As New From Inside
No matter how careful you are, time will come when there'll be spilled beverage, pizza crumbs, and other sort of unwanted things on your car's seats that you'll want removed as soon as possible.
That's why investing in a quality interior cleaner will never be a bad idea, especially for new car owners.
Best Tesla Model 3 Interior Cleaner Overall: CarGuyz
This is a low-cost, high-performance interior cleaner that requires little effort and contains no harsh chemicals.
The product has shown to be effective and safe for the Model 3's inside and has a pleasant scent that Tesla customers like.
The device reliably cleans even 12+ years of accumulated dirt in one falling swoop, according to Amazon reviewers.
>>For more details and aftermarket options, dig into our buying guide of the best Tesla Model 3 Interior Cleaner.
#10: Air Freshners to Keep the Car's Interior Fresh
Sweat, pets, that salami sandwich you just ate… No matter what the source, your Model 3's interior will stink every now and then.
That new Tesla smell will disappear far more quickly than you'd expect.
Because of that, getting a long-lasting and refreshing air freshener for your car must be your immediate priority after its delivery.
PURGOO is the air freshener that has gained the highest acclaim from the Tesla community.
Most air fresheners lose their effectiveness after 15–45 days, but PURGOO can keep your car's cabin fresh for up to 12 months.
Look no further if you want a refresher that destroys smells (from dogs, cigarettes, etc.), lasts a long time, and is affordable.
>>If you want to explore more options, here is our roundup of the 6 Best Air Fresheners for Tesla Model 3. Get all the details you want.
Final Thoughts: Top 10 Tesla Model 3 Accessories
If you ask me about the top 2 to 3 products that you should get for your new Model 3, I'd encourage you to invest in the following right away:
Heavy-Duty Floor mats: Keeping your electric vehicle clean should be your top most priority. Start with making your car's floor secured. 
Ceramic Coating: One day, you got the delivery; the next day, there's a scratch on your car's body! Invest in ceramic coating before that dreadful day.
Touch Screen Protector: Per the Tesla community, Tesla's screen is prone to fingerprints, glare, and minor scratches. So a protector is a must-have!

That's certainly not all. Try to get your hands on all the products suggested above as soon as possible as each of them is recommended for the betterment and safety of your $50,000+ car.
Zac Ludicrous
Mechanical engineer by profession. TSLA shareholder before the hype. EV enthusiast all day long. Zac enjoys learning about the future of battery technology, autonomy, and EVs. He considers Tesla Model 3 the most important vehicle of the 21st century -- and is in a quest to improve the ownership experience of every Model 3 owner he possibly can.
5 Crazy Useful Tesla Tips and Tricks Few Owners Know About
These 5 rare tips can save you so much time and stress – and few owners know about them (even after years of ownership). Sign up below to learn more. It's free!
By subscribing, you agree to get emails from TeslaTuneUp. We'll respect your privacy and you can unsubscribe any time.